Eco Lifestyle And Home News – November 2018

Dear Friends, Clients, Business Associates and Neighbors,
November 2018 marks the twenty third edition of Eco Lifestyle and Home Newsletter produced by Kachina Mountain Realty. We offer Real Estate & Lifestyle news in the email newsletter covering Santa Fe, Taos Ski Valley, Taos County and beyond.
In this edition, we offer the following:
Lifestyle: Simplify
Real Estate Market Update
Money Matters
Santa Fe Real Estate News
Taos County Real Estate News
Home Decor Insights
Aeowyn's Dog Treats
Calendar of Event Links for Santa Fe, Taos Ski Valley, Taos County & all around New Mexico
Entertainment Links for Santa Fe, Taos County & around New Mexico
---
Lifestyle
Simplify
"The ability to simplify means to eliminate the unnecessary so that the necessary may speak." ~ Hans Hoffman

"Out of clutter, find simplicity. From discord, find harmony. In the middle of difficulty lies opportunity." ~ Albert Einstein
As we approach the busy holiday season, we all seem to get involved with more activities, commitments and responsibilities that can quickly overwhelm us. Our daily lives can quickly become entangled in a maze of clutter, multi-tasking, complications, and stress.
Simplifying your life doesn't necessarily mean doing without.
To simplify ones life, does not mean you have to live without possessions or to live in frugality, but to slow down and live a more balanced, deliberate, healthier and thoughtful life.
I am in the process of moving towards a simpler way of being and have gathered some quotes that are inspiring me to re-examine my life as I prepare for the coming new year.
" Simplify your life amplifies your future." ~ Unknown
"If you can't explain it simply, you don't understand it well enough." ~ Albert Einstein
"Our life is frittered away by detail… Simplify, simplify." ~ Henry David Thoreau
"Simplicity is the ultimate sophistication." ~ Leonardo da Vinci
"Life is really simple, but we insist on making it complicated." ~ Confucius
A few steps to simplify ones life…
1. Moderation
2. Embrace your own version of simpler living
3. Declutter, own less
4. Live debt free
5. Spend time disconnected to technology
6. Limit negativity
7. Eat well & move
8. Give back
9. Make time….
10. Find gratitude several times a day
#5 is very hard for me, as I am always connected to technology because of my clients needs. #10 & #6 is what has kept me sane in this turbulent political times; and the love of my standard poodle!!!
Thank you for reading our newsletter & feel free to pass it on to other kindred spirits. ~ Dianne McKenzie
---
Real Estate Market Update
At Last, A Positive Housing Report!
The National Association of Realtors® (NAR) just issued the first positive pending home sales report in months. Pending sales, a leading indicator for existing home sales, rose slightly in a month which saw declining sales of existing homes and a fairly devastating report on sales of newly constructed ones.
NAR's Pending Home Sales Index, a measure of newly signed contracts for existing home purchases, rose 0.5 percent to 104.6 in September from 104.1 in August, driven by increases in both the West and Midwest. The Index has now increased in only two of the last six reports.
While the September uptick was hopeful for upcoming sales numbers, pending sales are generally expected to turn into closed transactions within the next two months, the PHSI is down 1.0 percent September 2017, the ninth straight month of annual declines.
Analysts polled by Econoday had expected the index to remain unchanged from August. Their predictions ranged from an 0.5% decline to a half percentage point increase.
Lawrence Yun, NAR chief economist, called the monthly increase "a good, stabilizing trend." He says despite the continued year-over-year declines, "This shows that buyers are out there on the sidelines, waiting to jump in once more inventory becomes available and the price is right."
He continues to point to the lack of inventory of moderately priced homes and falling affordability as factors restraining the housing market but looked back to recent history to show the housing climate is still favorable. "When compared to the year 2000, when the housing market was considered very healthy, and home sales figures were roughly equivalent, the affordability conditions were much lower compared to now," he said. 'So even though affordability has been falling recently, the demand for housing should remain steady."
While the economy, is thriving it has yet to have a substantial impact on the real estate market, but Yun thinks that may be about to change. "The general condition of the economy is excellent, it simply has not lifted home sales this year. Home prices are still rising, so people who are purchasing are still seeing wealth gains."
He addressed recent discussions regarding how high home prices and rising mortgage rates may be making renting a better financial decision than buying, countering that homeownership is still the path to long-term financial health. "Excluding periods of subprime lending, homeownership has consistently led to wealth gains," said Yun. "If people are willing to purchase a home within their budget, they will likely continue to accumulate equity."
Let's see what happens after the elections, as the events have been rather tragic, sad and disheartening. Hope & resilience for thriving in the near future.
~ Dianne
---
Money Matters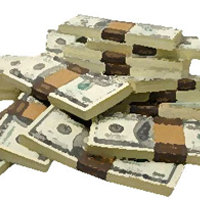 New Mexico Housing Market Remains Strong
In just nine months of 2018 New Mexico home sales have topped year-end numbers reported for the past ten years.
Connie Hettinga, New Mexico Association of REALTORS (NMAR) President, reports "24,061 home sales have been reported for January through September 2018. This is over 2,000 sales more than reported for all of 2017, which broke records over previous years."
September 2018's 2,632 sales were nearly 60% higher than the number reported for September
2017.
"The good news for buyers, even with rising interest rates, is that median prices are beginning to level off," according to M. Steven Anaya, NMAR CEO. "The year-to-date median of $200,000 has remained unchanged for the past four months." Median price indicates that half the properties sold for a higher price and half sold for a lower price.
January – September 2017
Sales: 16,232
Median: $190,000
January – September 2018
Sales: 24,061
Median: $200,000
September 2017
Sales: 1,648
Median: $200,000
September 2018
Sales: 2,632
Median:$199,000
The average number of days a New Mexico property is on the market continues to stay around the 70-days mark. September's average days on market was 66. The time on market varies considerably from market to market. In Los Alamos County where the labs are hiring, homes are on the market less than a month. Bernalillo, McKinley, Sandoval, Santa Fe, Socorro, and Valencia Counties also reported days on market under the state-wide average.
The trends and numbers reported are only a snapshot of market activity. If you are interested in buying or selling, consult a REALTOR familiar with your market area; he/she can provide
information on specific trends in your neighborhood.
Visit: Mortgage News Daily »
---
Santa Fe Real Estate News
New Santa Fe Listing:
Aldea de Santa Fe Courtyard Home –
3 Altura Vista
Single Family | 3 Bedrooms, 3 Bathrooms 2,234sqft | Price: $536,000 | MLS# 201804578
Now PENDING
Finely crafted hacienda open floor plan is the quintessential Santa Fe lifestyle coveted courtyard home, by award winning Casa De Vistas. Upscale artisan old world finishes throughout flow graciously to the walled courtyard & include architectural elements: skylights, antiqued alder cabinets, hand adzed wood doors, iron hardware, sconces & chandeliers, beams with 11ft high ceilings, 2 wood/gas lighter fireplaces, vintage exterior courtyard entry doors, travertine tile floors.
The gourmet kitchen opens to the living dining area & features: granite tile counter tops, island, stainless steel appliances, laundry area & sink. The spacious primary master suite opens to the courtyard & features: tray ceiling, kiva fireplace, walk-in closet. The elegantly appointed master bath features a custom old world vanity, granite tile countertop, glass/tile shower, whirlpool tub.
The guest wing serves as a 2nd master suite. The 2nd bathroom doubles as the guest & house bath. Accessed from the outside rear courtyard & located above the garage, is the casita: 3rd bedroom/office/studio, full bath & large closet. The casita balcony has spectacular unobstructed views in all directions to the Sangre de Cristo, Jemez Mtn ranges & a glimpse south to the Sandias. Beautiful sunsets & night views of Los Alamos city lights. Courtyards feature: stamped concrete paths, low-maintenance landscaping, covered portal & fountain. Attached 2 car garage + onsite parking. Open space on quiet street. 10 min to town.

View more information »
---
Santa Fe Listing
Single Story Home For Sale in Vista Primera Santa Fe, New Mexico
7516 Kachina Loop
Single Family Home | 3 Bedrooms, 2 Baths – 1,694 sqft | Price: $360,000 | MLS #201803926
Located within the private, coveted and gated family community of Vista Primera, this charming single story, 1,694 sqft, 3 bedroom, 2 bath, 2 car garage, Pueblo style home reflects the traditional Santa Fe Style. The welcoming private entry front yard offers extensive landscaping and a soothing water feature.
You enter the front door by passing under 100 stars, into a small foyer that opens to a spacious living room with a wood burning kiva fireplace, complete with beam ceilings. The bright and open living/kitchen/dining area is perfect for entertaining. The sunroom, currently used by the owner/artist as a studio, would make a great home office, crafts room or a simply an oasis in which to read and watch the local bird activity.
The entire property is lovingly maintained and landscaped with low-maintenance drip system, mature trees, perennials and water features of both pond and a fountain. The back yard is reminiscent of a secret garden with an ample patio for BBQ's – a great place for morning coffee and to watch the birds. Southwest ambiance abounds as you dine al fresco in the garden adjacent to a water feature with the seasonal sounds of visiting birds, setting the mood in this tranquil retreat, complete with mature landscaping in a serene natural garden setting.
A wonderful sense of seclusion and privacy is in store for you, in this exceptional home that artfully engages the feeling of a sanctuary with shade trees and a bubbling fountain inviting outdoor gatherings, while upholding the Santa Fe traditions of gracious living, at an affordable price.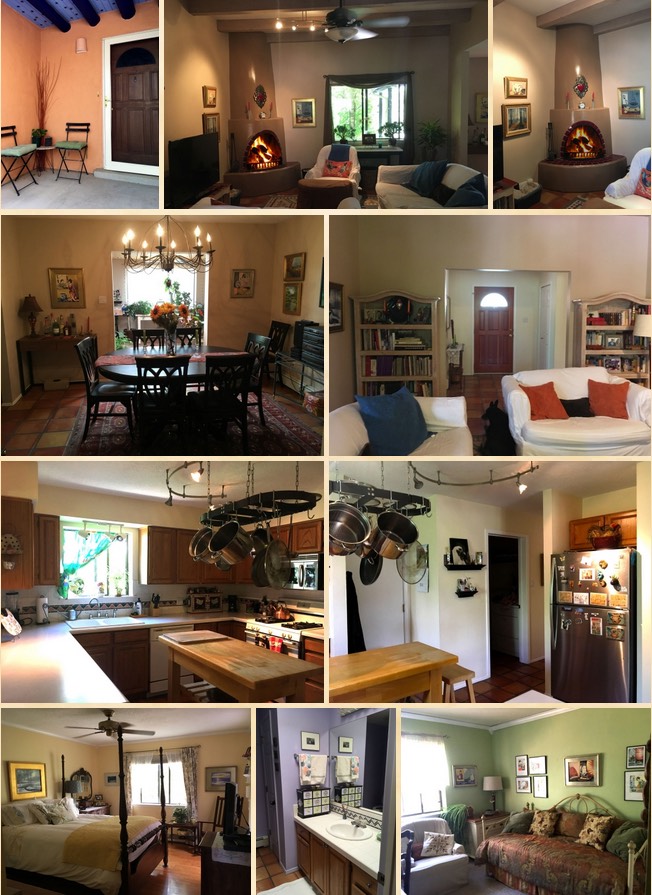 ---
Aldea Lots
According to the real estate pundits, the coming wave of residential sales in 2018, is in view lots with new construction. To prepare for this wave, it is a good time to buy a lot in anticipation of the real estate surge. There are very few and far between quality view lots for sale on the west side of Santa Fe and these the best!
The Barranca Lots: 1 Amazing View Lots Remaining!
7 Camino Barranca | Lot Size Acres 0.180 | MLS #201700364 | Listing Price: $97,500 PENDING Closing in November

Considered the prime location with one of the 4 best remaining lots now all available for sale. Lot #455 captures views that will delight with 180° views. Come build your dream home with coveted views to the Sandias & Ortiz to the south, with west Jemez mountain sunset views and east sunrise views of the Sangre de Christo mountains. These 4 contiguous lots have the most prized views in all of Aldea. Builder package available for all 3 lots: Lots #454, #455, #456, & #457, please inquire.
Aldea Stats
2018 Stats: Sold, Pending, Listed

SOLD: 29 Homes, DOM 81 | 2 Lots, DOM 451
PENDING: 6 Homes | 1 Lots
LISTED: 8 Homes, Avg $550,706 | 2 Lots, Avg $67,500
Aldea de Santa Fe consists of 345 acres, with 205 acres of perpetual open space with 13 miles of walking trails, basketball & tennis courts, community center, (which offers yoga classes, exercise equipment & gathering space for events), a local cafe, superbly located in the high-value northwest corridor of Santa Fe County, with easy access to Highway 599, all just 10 minutes from downtown Santa Fe.
---
Las Campanas Real Estate News
2018 Stats: Sold, Pending, Listed.
SOLD: 46 Homes, DOM 132 | 20 Lots, DOM 35
PENDING: 9 Homes | 6 Lots
LISTED: 48 Homes, Avg $1,509,116 | 73 Lots, Avg $144,473
Las Campanas is the only luxury master-planned community in Santa Fe. Stretching across 4,700 acres surrounded by pristine high desert, the community is comprised of exclusive neighborhoods. Las Campanas is also home to The Club at Las Campanas, where members can enjoy two award-winning Jack Nicklaus Signature golf courses, the 46,000 square foot Hacienda Clubhouse, a peerless Equestrian Center and the Fitness & Tennis Center, which includes a luxurious spa.
There are currently 48 homes for sale in Las Campanas.
14 Homes under $1,000,000
34 Homes over $1,000,000
There are currently 73 Lots for sale in Las Campanas.
33 Lots under $100,000
40 Lots over $100,000
Black Mesa
Las Campanas recently announced the release of the first new custom home neighborhood in over 10 years! Black Mesa, is their new 44 acre neighborhood consisting of 25 larger, estate sized mountain and golf view properties. The minimum size home in this section will be 2,500 sqft, with lots ranging from 1.02-2.58 acres. The property contains a centerline crest that rolls down in both directions off the roadway, creating dramatic unobstructed views.
Overlooking the sweeping mountain vistas of the Sangre de Cristo and Jemez Mountains, Las Campanas' new Black Mesa neighborhood offers a unique collection of homesites boasting the largest lot sizes in the best section of the Las Campanas property with awe-inspiring mountain views and centrally located to their finest amenities: golfing and the Hacienda Clubhouse.
Let me take you on a tour and arrange a stay at Las Campanas!
$1,000 Gift Card Offer
When you choose me to be your Real Estate Agent/ REALTOR®, I will give you a $1,000 Gift Card to the place of your choosing upon successful closing of your Las Campanas Developer Homesite in Las Campanas in 2018*.
A gift card allows my buyers to use it for the purchase of goods or services. It is a thank you from me to you, for trusting me with the most important transaction: the closing of a Developer Homesite in Las Campanas.
*Offer cannot be combined with any other offers
*Offer does not apply to past transactions
*Offer not valid or assignable to third-parties
Pulte Homes in Las Campanas
Pulte Homes has just announced the opening of their new development in Las Campanas. There are 4 designs, 3-5 bedrooms, 2.5-4.5 bathrooms, 2-4 garages, 2,669 sqft- 3,936 sqft, starting at $619,900+ to $714,990.
$500 Gift Card Offer
When you choose me to be your Real Estate Agent/ REALTOR®, I will give you a $500 Gift Card to the place of your choosing upon successful closing of your Pulte home in Las Campanas in 2018.*
A gift card allows my buyers to use it for the purchase of goods or services. It is a thank you from me to you, for trusting me with the most important transaction: the successful search, negotiation and the buying of your new Pulte home in Las Campanas in 2018.
*Offer cannot be combined with any other offers
*Offer does not apply to past transactions
*Offer not valid or assignable to third-parties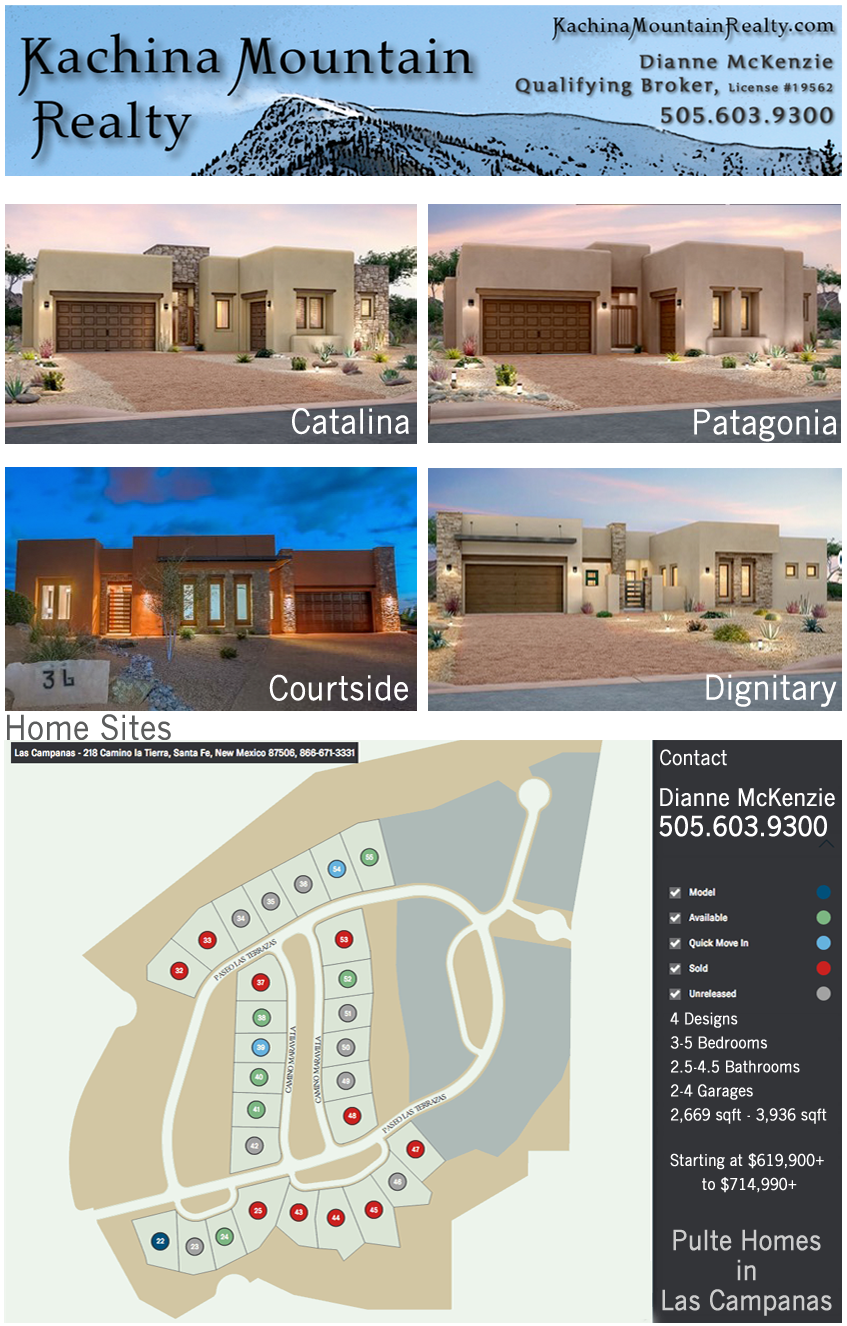 ---
Marketing Properties, Not Just Listing Properties
If you are thinking of selling your property, why not list it with a realtor who will market the property, not just list it in the MLS? By actively marketing your property, the property gets the most exposure to other realtors and to the general public through online blogging, email campaigns & the typical MLS exposure.
Call me, Dianne, 505.603.9300, to discuss your property needs, or for a tour of Lots & Homes in Aldea, Las Campanas and the Santa Fe region.
Visit the website for Santa Fe information: RealEstatePropertiesSantaFe.com
Visit the Kachina Mountain Realty company main website: KachinaMountainRealty.com
---
Taos Real Estate News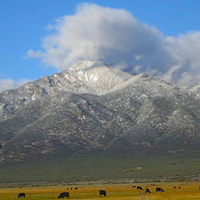 Real Estate Summary For Taos Area
Experience the Quintessential Authentic Taos Adobe Compound
Main House & Casita: 4 Bedrooms | 3 Bathrooms | 2 Kitchens | 2,024 sq.ft. Interior living spaces | 1,107 sq.ft. exterior living spaces
TCAR MLS#: 101801 | SFAR MLS#: 201802629
Priced to Sell: $380,000
The main dwelling is a charming 1,574 sq.ft. single story territorial style home with 18" thick walls and traces its history to about 100+ years old. Well maintained and lovingly remodeled with modern conveniences, this property possess the following features: city water & sewer, natural gas, granite countertops, stacked washer/dryer, thermopane windows, multiple skylights, forced air heat, gas–log Jøtul stove for additional comfort and ambiance. Diamond plaster walls throughout, with nichos, vigas /wood ceilings, Saltillo tile, wood plank & stone floors, custom arched wood doors, antique style lighting fixtures, and eat-in country kitchen where culinary delights will create memorable experiences.
Southwest ambiance abounds as you dine al fresco in the 563 sq.ft. 15' deep recessed portal (covered patio with skylight) adjacent to a water feature "stream" with the seasonal sound of a flowing acequia, setting the mood in this peaceful oasis, complete with mature landscaping in a serene natural garden setting. Separate fenced outdoor spaces include an additional south facing portal with yard, a north side portal at the entrance of the home, and an east side yard with a storage shed, useful for gardening or recreational equipment and is included. There are plenty of possibilities to customize this landscape by adding a greenhouse, small orchard, vegetable/flower garden, children's play area or simply enjoy the graciousness of this very adaptable bucolic setting.
The delightful 450 sq.ft. casita is located over part of the main home with its own private exterior stair access with a pleasant 218 sq.ft. viewing deck overlooking the treetops and the lovely Ranchos pastures, where you can peacefully enjoy a glass of wine as the sun sets or a cup of coffee as the sun rises. Rent the self-contained romantic attic apartment casita or use as a personal guest space or office/studio. Amenities include: covered parking, gas-log heat stove, wood plank floors, cozy kitchen, stacked washer/dryer, large skylights, new porcelain fixtures, a sit-in tub with shower, wainscoting and plenty of charm.
This enclave is a perfect investment opportunity for full time or vacation living, excellent location for vacation rental or investment property rental. Several of the rooms in the main house open to the portals with exterior doors and would make an excellent home office or art studio. Ample parking is provided for residents and their guests. Live in one, rent the other or use as a home office, guest house or art studio, the options are flexible and endless! Property has a great rental history.
This quiet neighborhood compound is conveniently located within walking distance to Ranchos de Taos historic district, close with shops, restaurants and is rich in history. Just 4 miles north to the town of Taos, there are more restaurants, shops, galleries, museums, 15 minutes to Taos Pueblo, 25 minutes to Taos Ski Valley, 5 minutes to the Taos country club & golf course, 15 minutes to the Gorge on back roads, this enclave is also convenient to traveling south to Santa Fe & beyond.
View lots of photos: visit the property»
---
Selling & Buying Real Estate in Taos
If you have been thinking about selling your home, now is probably a good time. Inventory is low and the demand for quality homes is up.
Recently, I have received inquiries from out of town buyers who are researching homes in the Taos area. These buyer profiles are looking to live in a safe community, with a country atmosphere, small homes, with flexible spaces. They are wanting to move to the area, but can't find the properties that offer amenities that don't include huge HOA fees. They want walking trails, localized eateries, a small grocery store, community activities and a sense of neighborhood. The are either downsizing their home and retiring or wanting a second home. They are wanting to go smaller, but the quality of their lifestyle and home features are upscale. "Does such a community even exist?" they ask. In the coming months, I will be featuring such a community.
---
Home Decor Insights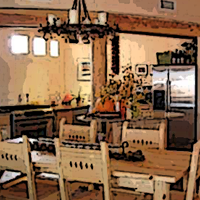 I redecorate seasonally to help celebrate the seasons. I love seasonal garland, especially LED lighted garland, wreaths and dried flower arrangements that help set the mood during the seasons. This time of year, though, is my favorite, as I have stated many times.
Since this months editorial is about simplicity, I want to emphasize the concept of seasonal decor that can last 3-4 months and be reused in years to come. I find inspiration at William Sonoma, Pottery Barn, Balsam Hill, for example. It is not the things that make me happy, it is the feeling I get, the essence of the season that stirs my emotions. Nature is at the center of my inspiration, as I gather up the falling leaves as they change colors. The season is about abundance, harvest, preparing for winter, chopping wood, raking leaves, sitting besides a warm fire, drinking tea, hot chocolate, and being grateful.
Gratitude is at the heart of everything. Resilience, acceptance, moving on, simplifying ones life, cultivating gratitude and being positive in attitude. A quote often comes to mind:
"In the midst of winter, I found there was, within me, an invincible summer." ~
Seeing ones cup as half full, finding the best in everyone, approaching life with a positive perspective goes along way to simplifying ones life and there lies true happiness! I am thankful for all my clients, associate friends and family. They are my teachers, and for that, I am grateful.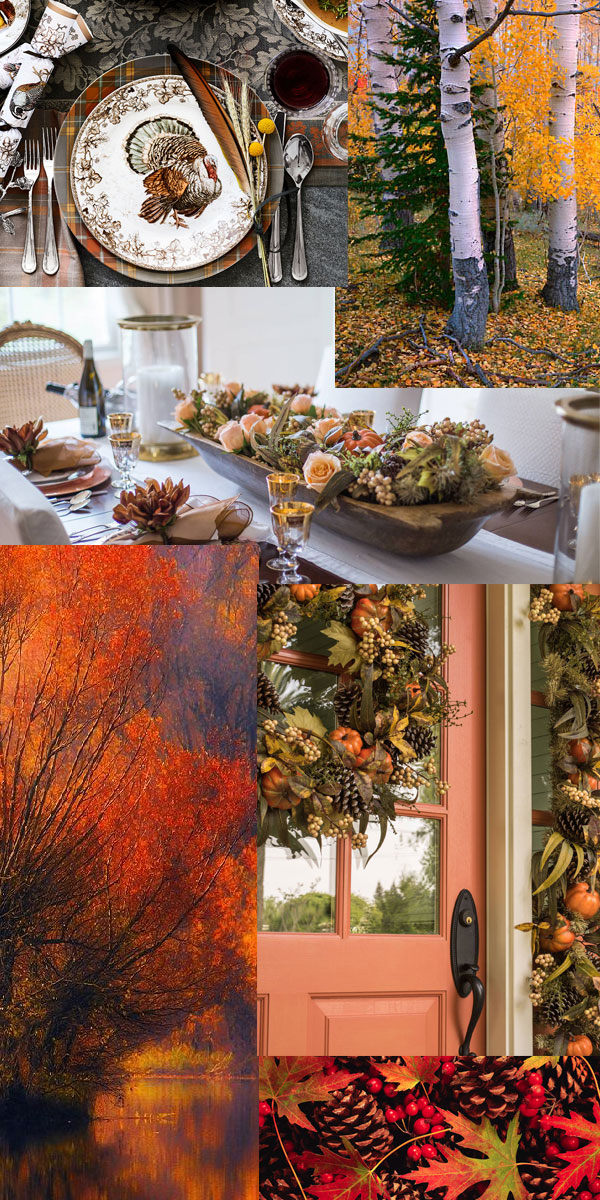 For ideas on decorating with spring in mind, check out Pinterest and explore a whole new way to spend your time online and check out my Pinterest page: KachinaRealty Happy pinning!
While you are surfing the "net" check out Flipboard for a variety of news and lifestyle reading.
---
Aeowyn's Dog Treats
Aeowyn is our 14.11 year old apricot standard poodle, retired service dog, Comet Studios visionary, Kachina Mountain Realty office receptionist and CFO (Chief Fun Officer).
Aeowyn is the inspiration for this dog treat recipe book. Her enthusiasm and her keen intense interest while we cook, has greatly encouraged our recipe development. While she loves to watch us cook, she prefers to taste test everything. We have confined her taste testing to vegetables, fruits and dog treats. She prefers not to share her treats or her toys, being that she is our "only" dog.
However, if you would like to receive Aeowyn's Dog Treat Recipe e-booklet, please send me an email for your free copy.
Pumpkin, Zucchini & Carrot Treat Crisps
Ingredients:
1 medium shredded zucchini
1 cup 2 small shredded carrots
2 cups of rice flour (any flour could be used)
1 cup of rolled oats, uncooked
1 can (15 oz) pumpkin (not pie filling)
½ cup of dried or fresh finely chopped parsley
1 cup of water +/- adjust as needed
*Parchment paper & rolling pin for rolling out the dough, Pizza cutter, Ruler for cutting straight lines & a dog to snoopervise.
Method:
Preheat oven to 350° F.
Place all ingredients in a bowl. Stir until thoroughly combined. Add water as needed to combine the ingredients. Divide into 4 balls.
Roll out dough ball between parchment paper* to 1/8″ -1/16" thickness in rectangular shape to fit baking sheet. Discard top parchment paper. Transfer rectangular dough with the bottom parchment paper to baking sheet. Use pizza cuter to cut dough in parallel strips to create a checkerboard of 1" squares. Use a ruler to help cut straight lines.
4. Bake 35-40 minutes until no longer soft. Remove from oven and place upside down to remove parchment paper while hot.
Roll out dough ball between parchment paper, 1/8" consistent thickness in rectangular shape to fit baking sheet. Discard top parchment paper & save for next baking tray. Use pizza cuter to cut dough in parallel strips to create a checkerboard of 1" squares. Use a ruler to help cut straight lines. This technique makes the process super fast. Don't move the squares—leave them in place on the parchment paper and place on baking sheet.
Bake 35 minutes, slightly brown. Remove from oven, remove parchment paper and cool. This recipe uses 4 baking sheet/trays. These treats are chewy because of the dried apples & are very tasty. Recipe makes enough treats to fill a 3 quart storage container. Recipe makes enough treats to fill a little more than 3 quart storage container with some to share with dog friends & keep in tins around the house. You can keep the dog treat crisps up to 1 week at room temperature in an airtight container or in an airtight container in the refrigerator up to 4 weeks.
*"The parchment paper makes the rolling easy, with no mess & cutting the crisps with the pizza cutter is super fast. I love these crisps because they are thin & I get to eat more. More is always better than less. After all, more is more!!!!" – Aeowyn
These treats are very tasty.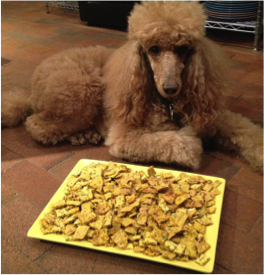 Aeowyn sits waiting to taste test her dog treats. She "snoopervises" the whole process from start to finish. She tests every batch after the treats are removed from the oven and cooled.
Posing with her treats is the least favorite part of the process, as she is anticipating eating all of them at once. She can get rather bored with the photo shoots unless she is rewarded for her patience.
So far she has never rejected a recipe. Her favorite treat is the one she just ate!
---
Calendar of Events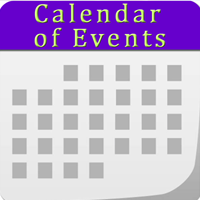 New Mexico has long been a center for arts, culture, classes and gourmet food. With such a strong art market, there are hundreds galleries to explore and experience, along with a wide selection of thriving restaurants. Our Museums feature culture, history and traditions of the region and the world. Santa Fe, Taos County and beyond have something scheduled every day & night of the week, all year long.
---
Entertainment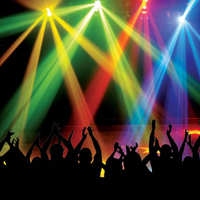 If there's one thing you can count on when spending time in New Mexico, it's the treasured experiences and wide selection of entertainment: music venues, great sporting events, theatrical and musical entertainment as well as year-round festivals.
From festivals, music concerts and dance performances to theatrical offerings by local and touring groups, the performing artists work hard to keep its locals and visitors entertained by both New Mexico performers and acclaimed stars from around the world.
---
About Kachina Mountain Realty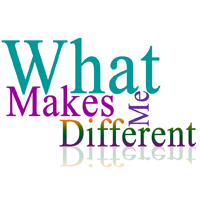 I am passionate about real estate development. I consider myself a "Dream Maker", and strive to help my clients manifest their dreams and lifestyle goals.
I believe that, "…the dreams which accompany all human actions should be nurtured by the places in which people live and work".
To promote this possibility, I encourages my clients to develop and share their dreams and lifestyle goals as part of the process of selling, buying or investing in property.
I have over thirty years of business experience as an executive producer, web architect, social media marketer, business developer, architecture assistant, real estate marketing developer and real estate consultant.
I am a licensed real estate qualifying broker for Kachina Mountain Realty & an accredited ACRE® real estate consultant. I have worked in the Santa Fe & Taos real estate market for years. I specialize in working with buyers and sellers who are looking for a solid real estate investment.
Contact me, Dianne McKenzie, for your real estate transactions & let me help you manifest your dreams!
I am readily available by cell phone, text, (505.603.9300) & email. I return calls promptly, seven days a week!

---