Lifestyle
Santa Fe is one of the most interesting art centers in the world. Nicknamed, "The City Different", this culturally diverse region has a small town atmosphere with the sophistication of a large city. Santa Fe is well known as a center for arts that reflect the multicultural character of the city with Native American, Hispanic and Anglo influences.
The Santa Fe area is a true artist's colony with a 400-year old Spanish heritage and 1000-year old American Indian culture. This tri-cultural blend creates a unique community of regional foods, arts, festivals, and lifestyles. Santa Fe has a distinctive architecture style: pueblo, territorial & federal, with adobe walls, brick floors & viga ceilings, warm bright colors, mixed with eclectic furnishings of old & new.
Santa Fe style is a mixture of cultures, creativity & a unique contemporary Southwest style. Santa Fe style is more than Native American design and includes a mixture of Spanish, Mexican, and cowboy influences found not only in its art, music, clothing, furniture, architecture, but in its food as well. The distinctive taste of the red & green chile, is unique to the region and it can be found in the local foods in appetizers to main courses & in desserts & beverages!
A land of wide-open spaces and historical places, the Santa Fe area has much to offer and discover with its very unique beauty, enduring culture and the people that make Santa Fe and Northern New Mexico the Land of Enchantment. Seated on the high-desert mesa at the foot of the Sangre de Cristo Mountains, rich with art and steeped in history, Santa Fe is located in the northern part of New Mexico, almost halfway between Albuquerque, New Mexico and Colorado Springs, Colorado.
Scenic day trips are a beautiful way to explore and experience Santa Fe and northern New Mexico. There are driving tours of our area's enchanted circle, historic churches, weaving communities, cowboy country, hot springs, and wide-open spaces.
The Santa Fe area is a year-round recreation destination with four distinct seasons: – in spring the area blossoms with whitewater rafting, gallery hopping, and gourmet dining; in summer everyone takes advantage of the warm days & cool nights with outdoor activities from morning until after dark, live music on the Plaza & more; the autumn harvest season is abundant with adventures available to everyone, which includes hiking, ballooning, trout fishing, horse back riding & mountain biking; and in this winter wonderland, Santa Fe is in its true glory with snow capped garden walls, mountains of deep powder with endless skiing and snowboarding through the Sangre de Cristo Mountains.
The Santa Fe area has many festivals throughout the year celebrating Native American, Hispanic and Anglo traditions, including art fairs, music festivals, American Indian ceremonial dances, yuletide events and much more.
There is a certain romance about Santa Fe, that has an irresistible appeal of its lifestyle, its casual elegance enlivened by a dynamic, ever-changing mixture of the old and the new, the East and the West, the simple and the sophisticated.
---
Santa Fe Neighborhoods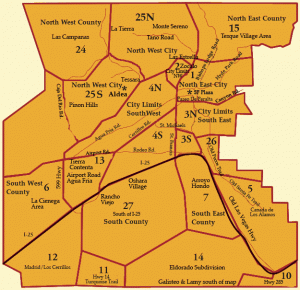 Santa Fe is unique due to its historic nature and cultural diversity. The city of Santa Fe has 5 distinct sections, with the Center Section being at the core of the City Limits of Santa Fe, and then divided into four distinct city-quadrants, each of which are unique neighborhoods and communities.
The character, style and charm of each section is determined by the unique terrain, access to services, schools, price point and degrees of privacy.
To the east side of town, there is the mountain range of the Sangre de Cristos.
To the west the high desert landscape of juniper and pinon dominate the landscape. Preferences for woods and hills or desert vistas with 360 degree views, privacy or amenities, will help determine which part of the city you will gravitate to.
Northeast Neighborhoods
Estancia Primera – is a development with community pool, tennis courts and Clubhouse for private parties. It consists of single family homes, townhomes and condominiums. Hiking distance to downtown for the agressive walker. Across Hyde Park from Estancia Primera are the gated townhome communities 800 and 1000 East, built along an arroyo, many with western sunset views.
Hyde Park Road Area – There are several scenic neighborhoods that border Hyde Park Road as it ascends to the Santa Fe Ski Basin. Many of them have sweeping views of the city lights and/or the surrounding mountains.
Los Cerros Colorados – A little further up the mountain are the upscale communities of Los Cerros Colorados on the south and Sierra del Norte on the North. Both are newer developments with homeowners' associations to keep covenants in place. New and resale homes, along with building lots, are available for purchase. Lots in these communities are at least an acre each, making for a country feel within the city limits.
Santa Fe Summit – Before reaching the Ski Basin is the gated community of Santa Fe Summit with its elegant homes and tall Ponderosa pines. Some building lots are still available.
Tesuque – Ten minutes north of Santa Fe, this village is in close proximity to the Opera, Tano Rd., and Las Campanas. Neighboring the Tesuque Pueblo Indians, this area was discovered in the 1920s, and continues to be a mix of generational families and newcomers who share this natural valley setting. The area is marked by large lots and beautiful homes, many with historic value. Amenities include the Tesuque Village Market and an elementary school.
Los Caminitos – A gated community of 78 large, forested lots, averaging more than 10 acres each, in the foothills above Tesuque Village, bordering the Four Seasons Rancho Encantado resort on one side and Santa Fe National Forest on the other. Despite proximity to the opera and the highway to Los Alamos and Taos, Los Caminitos residents enjoy the most privacy and immediate access to nature of any substantial community close to the city of Santa Fe. Views from the 6900 to 7500 ft. elevations take in all of the surrounding mountain ranges as far away as Albuquerque and Colorado, along with dark, star-filled night skies and the lights of Los Alamos, 30 miles to the west. Association fees are about $2,000 per year, and include road maintenance, a clubhouse, swimming pool, tennis courts and miles of hiking, biking and riding trails within a 573-acre dedicated wilderness area.
Northwest Neighborhoods
Las Campanas – A premier golf course & gated community features two signature courses by golf legend Jack Nicklaus with eighteen hundred lots on five thousand acres. A central clubhouse with full amenities, tennis and equestrian center, makes this a favorite among second-home owners and retirees, with homes starting at around $1 million.
La Tierra – Spacious neighborhoods which can offer large tracts of land, a gentle, rolling landscape, heart-stopping Sangre de Cristo and Jemez views, a few horse properties, and some incredible homes that are priced up to several million. The expansive La Tierra area includes many individual neighborhoods such as: La Tierra, La Tierra Nueva, Salva Tierra, Tierra Grande, Tierra Preciosa, Tierro del Oro, Los Suenos, La Serena, Colinas Verdes, La Mirada, La Vida, Sundance Estates, Las Dos, La Mariposa, El Prado, Tano Road, and Arroyo Calbasas. The area also includes Casas De San Juan, Sangre De Cristo Estates, Puesta Del Sol, Pinon Hills, and all other subdivisions off Camino La Tierra.
Aldea – A New Urbanist development, Aldea is a Spanish word meaning 'small village'. The development is based on traditional Spanish Colonial towns where homes are gathered about a central commercial and civic plaza. Built on a series of dramatic ridges, the village has expansive views of the surrounding mountains. The properties' rugged landscape and scale of distances create a sense of privacy and a sense of spaciousness. A variety of housing types are part of this new urbanist community: single family homes, townhomes, patio homes and LiveWork lofts with prices ranging from $250k – $850,000.
Monte Sereno – A six hundred acre master planned development located in the near North West section of Santa Fe, close to Hwy 285 but not bordering it. With spectacular Sangres views and mature vegetation and trees, this prestigious area offers uniquely beautiful view sites and new custom homes. 1.7 acre properties.
Tessera – Tessera is the newest Homewise Homes community. Located in the hills of northwest Santa Fe and an adjacent neighbor to Aldea, Tessera features stunning mountain views, generous dedicated open space and an extensive trail system. Built to exacting standards and quality, the to-be-built homes at Tessera are ideal for those who enjoy customizing their home finishes to suit their personal taste. Home sites boarder greenbelt for a private and natural ambiance. Close proximity to La Tierra Trails, public golf and more. Tessera is located next to Aldea and just minutes from downtown Santa Fe with easy access to I-25 and Los Alamos.
Zocalo – A residential condominium community designed by the renowned architect Ricardo Legorreta. Located in the North West hills and just 3 minutes from downtown, these condos feature vibrant colors and geometric angles and shapes that are the signature of contemporary Mexican architecture. Price points are accessible, and the community stands out as a unique example of the forward-concept design trends in Santa Fe.
The Reserve – The 260 unit condominium community offers two floor-plans to prospective buyers. The Reserve at Santa Fe has 1 and 2-bedroom floorplans that reflect selective simplicity and contemporary condo living. Each unit is equipped with stainless appliances, and evaporative cooling. The amenities include a state of the art fitness center, year round heated pool and spa, clean and safe laundry facilities, a security gate and well maintained grounds.

West Alameda – This close-in, established single family neighborhood has a wide owner demographic, and in some cases, expansive views. It is widely considered to be an area with good values, comprised mostly of older homes, many of which have been remodeled. This district extends from St. Francis west out both sides of Alameda and is bordered by the Santa Fe River on the south, and Paseo de Vista on the north.

Southeast Neighborhoods
Historic East Side/Canyon Road – Many of the homes date back centuries, these neighborhoods offer charm, coziness and are historical. A mix of multi-generational families and newcomers, eastside houses are often hidden behind high walls & flanked by the narrow trenches of the Acequia Madre, bringing to mind Santa Fe's agrarian past. Some areas of Santa Fe are known for their views, the eastside is known for its gardens. Canyon Road, is known for its galleries, restaurants, and Friday night gallery openings. Further up Canyon Road to the east lies Upper Canyon Road, featuring long-established residences, the upper end of the Santa Fe River, and the Randall Davey Audubon Center, encompassing 135 acres and miles of hiking trails.
Guadalupe Historic District – Railyard – Bordered on the east by the ancient Santuario de Guadalupe, and on the west by St. Francis Drive, this charming neighborhood is a collection of renovated adobes and up-and-comers. The lots are small and well kept, with neighborhood amenities include a short walking distance to nearby shops, restaurants and downtown Santa Fe.
South Capitol – Located just south of the State Capitol building, "the Round House", and bordered by Old Santa Fe Trail to the east and Guadalupe to the west, this quaint neighborhood was established in the early twentieth century and features a number of different architectural styles, from red brick, to adobe, to wood frame. Old growth tall trees, wide sidewalks and close proximity to downtown give this area a real central-city feel. Wood Gormley Elementary is located in the middle of the neighborhood.
Quail Run – An upscale community in the city of Santa Fe. The Club house is a convenient drive to the sites and sounds of the historic Plaza. Only two miles from the Santa Fe plaza.
The Montecito is a retirement community located in picturesque Santa Fe where senior living is celebrated in ultimate resort style. Here, generous amenities complement a breadth of daily activities and like-minded people who share stories from the past and look forward to the memories they have yet to create. Experience senior living in our lavish community, rich in conveniences with everything you need and want at your fingertips. At the heart of it all is our renowned clubhouse, El Centro, where scores of carefully orchestrated amenities blend seamlessly together to foster a lifestyle of active independence.
Eldorado – A planned community development started in 1980's located twenty minute drive from downtown Santa Fe, Eldorado's spacious wide open lots offer country living. With over 5,000 residents, Eldorado is a family neighborhood, and features a central shopping center, elementary school, library and a community club house with pool and other amenities. Eldorado lot sizes typically range from 1 – 2 acres. Garages are required with all homes and single-story construction is predominant. Many of the larger roads are paved and all roads are maintained by Santa Fe County. Annual homeowner fees of approximately $300 pay for the staff at ECIA, pool, tennis courts and park areas. Homes are priced from $200k to 600k.
Arroyo Hondo – Known for being a horse-friendly community, with most lots sized at 5 or more acres and many properties having horse facilities. Protected open spaces and private trails run throughout the neighborhood. Access to town is just 20 minutes away from shops, services, medical facilities, movies, and more. The El Gancho Health Club is nearby, as are the popular dining spots of Harry's Roadhouse and The Steaksmith. The best of country living can be enjoyed in this well-established area. Residential property values range from $500,000 to over $2,000,000.
Highway 285 South East – The area encompassed by the Highway 285 corridor runs from the intersection with Old Las Vegas Highway and Interstate 25 on the north down to the communities of Lamy and Galisteo on the south. There are numerous distinctive subdivisions which have been created in the last 20+ years from the former Alva Simpson Ranch, with terrain ranging from rolling, pinon and juniper-studded hills to open grasslands. Restrictive covenants within the individual subdivisions create a look and lifestyle choices, such as to live with or without horses, to have flat or pitched-roof homes, to have large acreage or more closely-set homes. Some feature special ecological considerations, such as the shared wetlands for waste-water recycling at Rancho del Bosque. The Art Barns encourage home studios and allow for art sales. Some of the well-known neighborhoods along the Highway 285 corridor include Alteza, Dos Griegos, La Paz, Mejor Lado, Los Caballos, Tierra Colinas, Los Vaqueros, The Ridges, Cielo Azul, Old Road Ranch, the Art Barns, and East Ranch. Lots typically range in size from 2 – 12.5 acres. Each area has its own distinctive appeal.
Wilderness Gate – Wilderness Gate is a mountain community with tall ponderosa pine, pinon and juniper. It lies between the Historic Eastside and the Santa Fe National Forest. The homesites are predominately 5 acres and orient to the West. The covenants allow single-family dwellings, a private garage, recreational facilities and non-rental: studio, workshop and guesthouse. There is wonderful hiking and the community allows horses. Home prices range from $800,000 to $1,000,000 plus.
The Museum District – The Museum District is located south of the Historical Eastside with the Old Santa Trail running through the district just below the Sangre de Cristo foothills. The feeling of the area is country, yet it's only minutes to downtown. The homes found in this district are rarely under $750,000 and many are over $1,000,000. Depending on the orientation of the home, there are views both east and west. Western views have beautiful sunsets while Eastern views are of the magnificent Sangre de Cristo Mountains or the Santa Fe Ski Basin. The Museum District derives its name from the four internationally acclaimed museums located in the area. The Museum of International Folk Art, houses the largest collection of Spanish Colonial and Hispanic folk art in America. The Museum of Indian Arts and culture includes more than 50,000 pieces of prehistoric, historic and contemporary basketry, pottery, textiles, jewelry, clothing and artifacts crafted by the native peoples of the Southwest. The Wheelwright Museum of the American Indian is the third museum found in the district. Native American art is emphasized in the eight-sided building inspired by a traditional Navajo Hogan. The Museum of Spanish Colonial Art is the newest museum on Museum Hill and features objects found throughout the Spanish Colonial world.
Galisteo and Lamy – When the Eastside prices peaked, the artists and families moved ten miles south for more space. Eldorado's shopping center plus a cine-plex service the area. There are 4,000 acres of wilderness for hiking. The houses are on no less than an acre plus. Farther down the road are two traditional villages, Lamy and Galisteo, with larger spreads and ranch flavored ambiance. Galisteo Village is an old historic sheep-ranching center and Lamy is a true railroad town where the saloon is now a museum. Closer in, the Thornton Ranch has been carefully broken into conservation units around their planned village cluster.
Southwest Neighborhoods
Casa Alegre – Developed by Allen Stamm in the 1950s, this older Westside neighborhood is sandwiched between Agua Fria and Cerrillos Rd. on the north and south, and bordered by Maez Road and the Indian School on the west and east. This area features close proximity to shopping, schools, and churches, as well as a number of internal parks. Home prices range from $100k to $300k.
Alameda Condos – Located in the heart of new Santa Fe are 145 one and two bedroom residences in close proximity to some of the best shopping, restaurants, recreation and services the city has to offer, with breathtaking mountain vistas and all within a short drive of the famous Plaza. The first of it's kind in the community, this three story "high-rise" encircles a beautifully designed inner courtyard with pool, and outdoor fireplace with patio seating. This property boasts 100 garages and full clubhouse amenities that include state of the art fitness center, a wine tasting room, wireless internet lounge, office spaces, a wet bar and catering kitchen.
Park Plaza – Located in the Park Plazas subdivision, these homes and townhomes were built from the mid and late 1970's until approximately 1995. Park Plazas is a mature and "user friendly" neighborhood with welcoming entries and intimate cul-de-sacs. The additional land is used for lush common areas, walking trails, tennis courts, outdoor exercise areas, playgrounds, a ball field and outdoor storage. Walton Chapman and Chapman Homes filled the need for a planned unit development within the city limits of Santa Fe by building 442 "zero lot line" single family townhomes and free standing homes with smaller and more manageable yards in the same density zoning as homes on large lots. These are not condominiums.
San Mateo – This condominium and townhouse community is located only a few miles from downtown Santa Fe. It's nestled on 11 tranquil acres of mature Ponderosa and Aspen trees and lush grass. Some features include granite countertops, wooden Pella windows, jetted tubs, stainless steel appliance, Kohler fixtures, washer and dry hookups and Berber carpet, tile or wood flooring. Amenities include a heated pool, hot tub, fitness center, clubhouse, grills by pool and pet stations.
Rancho Viejo – Just south of Santa Fe and near the Santa Fe Community College, Rancho Viejo is a Southwestern landscaped community and reflects the rich cultural heritage of New Mexico. Designed as a collection of villages, each with its own central gathering plaza and bordering preserved open space, Rancho Viejo creates a sense of living amidst nature, complemented by community amenities and well-designed homes. Over 50% of the land is preserved as natural open space and parks. Miles of paved trails through natural open space offering expansive mountain views for walking and biking.
Save