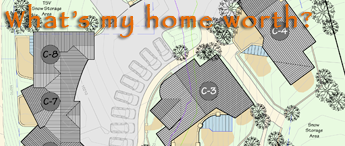 Homes that do not sell are more than likely overpriced. The market is not rejecting the home, it is rejecting the price of the home. In today's ultra competitive real estate market buyers will only purchase a home that offers them the best value for every dollar spent. What's My Home Worth?
One of the first decisions you will make once you have decided to sell your home is the price. One of the most important things that will determine the value of your home is a CMA (Comparative Market Analysis.)
A CMA will include many factors in determining the price of your home, such as:
Square footage
Age
Number of bedrooms and bathrooms
Lot size
Amenities such as fireplaces, swimming pools, views, kitchen/ bath upgrades, any remodels, repairs needed, landscaping, etc.
Your location, location amenities, property features & views
CMA's are designed to help you set the price of your home in an educated manner.
CMA's will include homes that have recently sold in your neighborhood to help you determine the best price to help you get your home sold.
If you would like a professional CMA for your home, please request a CMA from me, your real estate agent. I will be happy to help you determine the best price for the sale of your home! Contact us now! »
---
Save