Lifestyle
Taos is a small town located in New Mexico. With a population of 5,763 people and many surrounding neighborhoods, Taos is the 39th largest community in New Mexico. Taos is located in the north-central region of New Mexico in the Sangre de Cristo Mountains and incorporated in 1934. Other nearby communities include Ranchos de Taos, Cañon, Taos Canyon, Ranchitos, El Prado, and Arroyo Seco. The town is close to Taos Pueblo, the Native American village and tribe from which it takes its name.
Beginning in 1899, artists began to settle in Taos; six formed the Taos Society of Artists in 1915. Over time, the Taos art colony developed. Many paintings were made of local scenes, especially of Taos Pueblo and activities there, as the artists often modeled Native Americans from the pueblo in their paintings. Some of the artists' studios have been preserved and may be viewed by visitors to Taos. These include the Ernest L. Blumenschein House, the Eanger Irving Couse House and Studio—Joseph Henry Sharp Studios, and the Nicolai Fechin house, all of which are listed on the National Register of Historic Places. Influential later 20th-century Taos artists include R. C. Gorman and Agnes Martin.
The Taos valley, Rio Grande and Taos mountains provide many opportunities for recreation, such as fly fishing, rafting, mountain biking, golfing, hot air ballooning, llama trekking, horseback riding, and more. In the winter many people come to Taos to ski & snow baord. Wheeler Peak, at 13,161 feet, is the highest peak in New Mexico. The Taos area has four ski areas – Taos Ski Valley, Red River ski area, Sipapu (ski area) and Angel Fire ski area. Other winter activities include hot air ballooning, horseback riding, snow-shoeing, cross-country skiing, ice skating, ice fishing and snowmobiling.
Taos is an extremely ethnically-diverse town. The people who call Taos home describe themselves as belonging to a variety of racial and ethnic groups. People of Hispanic or Latino origin are the most prevalent group in Taos, accounting for 47.52% of the town's residents (people of Hispanic or Latino origin can be of any race). The greatest number of Taos residents report their race to be white, followed by Native American. Important ancestries of people in Taos include German, English, European, and Italian.
The greater Taos area is made up of several unincorporated areas and neighborhoods that separates out as if they were their own destinations or towns. Unincorporated areas around Taos have distinctive names that represent the ancient traditions of naming a place for a stream or topographic feature. Arroyo Hondo, Arroyo Seco and El Prado are all such places. These are not towns and have no political jurisdiction, they are simply places that help folks zero in on a very specific neighborhood. Within Taos itself are many such neighborhoods that may comprise no more than six "blocks." The original and authentic, part of this fascinating northern New Mexico area lies on the outskirts of the town– particularly to the north, west, and east, which areas still boast spectacular and unspoiled hiking, sight-seeing, rafting, and a host of other activities. The town itself only has one road running through it, and this road is congested most times of the day, unable to handle the amount of local and tourist vehicles which converge on it daily.
Neighborhoods of Taos
Plaza and Vicinity. More than four centuries after it was laid out, the Taos Plaza and adjacent streets remain the community's hub of commercial and social activity. Dozens of independent shops and galleries, along with several notable restaurants, hotels and museums are located here. The plaza is a gathering center and within a short walk a block in any direction—especially north and east—are abundant offerings.
South Side. The first Spanish settlers were agrarian, and many families continue to till the fertile land south of Taos, an area anchored by tiny Ranchos de Taos, which is home to iconic San Francisco de Asís Church, memorialized by Georgia O'Keeffe and photographer Ansel Adams. The main approach road into Taos from the south, NM 68, is lined with gas stations, convenience stores and motels.
Taos Pueblo. The Pueblo is the ancient beating heart of the entire valley, the historic and architectural basis for everything that Taos has become. A small casino in this area is a short drive northeast of the plaza has been spared commercial development and remains a neighborhood of modest homes and farms. The Pueblo itself is the sole draw for visitors and worth a visit.
El Prado. As you drive north from Taos toward Arroyo Seco and points north or west, you'll first take the main thoroughfare, Paseo del Pueblo Norte (U.S. 64) through the small village of El Prado, a mostly agrarian area that's notable for having several of the area's best restaurants, B&Bs, and shops. A new eco community will soon to be announced in this neighborhood.
West Side. Taos is encircled by the Sangre de Cristo mountains on the east, to the west, extending from downtown clear across the precipitously deep Rio Grande Gorge (and the famous bridge that crosses it), the landscape is dominated by sweeping, high-desert scrub and wide-open spaces. The west side is mostly residential and makes for a scenic shortcut around the sometimes traffic-clogged plaza (from Ranchos de Taos, just follow NM 240 to Blueberry Hill Road to complete this bypass).
East Side. Weimer is conveniently located just minutes from the city of Taos and is a very highly desirable neighborhood and place to live. Take a walk or a hike in the east side district of Weimer and you'll find a neighborhood dotted with both Pueblo- and territorial-style homes, all tucked up against the foothills of US Forest Service land. This popular neighborhood is centrally located, near Holy Cross Hospital and other medical services, as well as the town's Youth and Family Center.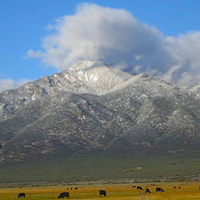 Arroyo Seco. Set on a high mesa north of Taos, this funky, hip village and arts center is an ideal spot to browse galleries, grab a meal at one of a handful of excellent restaurants, or simply pause to admire the dramatic views before driving on to the Enchanted Circle or Taos Ski Valley. You'll find a few excellent B&Bs here as well.
Taos is a place of convergence – of cultures, of people, of opposites, of like minds and different perspectives. Taos is known as an artist colony, a world-class ski resort, and an ancient community. Known for clean air and long vistas, visitors come to experience rich spiritual traditions, fine art and the beauty of the endless landscape. They come to Taos for creative inspiration and the abundant outdoor recreation.
Visit Taos for events and information »
---
Taos Pueblo:
Taos Pueblo is the only living Native American community designated both a World Heritage Site by UNESCO and a National Historic Landmark. The multi-storied adobe buildings have been continuously inhabited for over 1000 years.
As the longstanding cultural root of the Taos community, the Pueblo is generally open to visitors daily from 8am to 4:30pm, except when tribal rituals require closing the Pueblo. Late winter to early Spring the Pueblo closes for about ten weeks.
---
Home of Taos Pueblo, the euro-alpine Village of Taos Ski Valley, The Town of Taos and a colorful array of surrounding communities, our region's "Enchanted Circle" offers a more authentic and deeply rooted cultural experience than any other Rocky Mountain ski resort area.
A land of wide-open spaces and historical places, the Taos area has much to offer and discover with its very unique beauty, enduring culture and the people that make Taos and Northern New Mexico the Land of Enchantment. Seated on the high-desert mesa at the foot of the Sangre de Cristo Mountains, rich with art and steeped in history, Taos is located in the northern part of New Mexico, almost halfway between Albuquerque, New Mexico and Colorado Springs, Colorado.
Located high up in the mountains 21 miles away from the Town of Taos, the Village of Taos Ski Valley offers gracious Euro-Alpine hospitality and mountaineering traditions that warmly welcome you, your family and friends to our community.
---
Village of Taos Ski Valley
The Village of Taos Ski Valley is situated in the Sangre de Cristo Mountains of Northern New Mexico—a three-hour drive from Albuquerque, only two hours from Santa Fe and 15 miles northeast of Taos via US Highway 150. Local Native Americans never inhabited this valley. First settled as a bustling camp named Twining by a group of hearty and adventurous miners in the 1800's, this area is now inhabited as Taos Ski Valley by hearty and adventurous skiers and outdoor enthusiasts.
As the Taos Ski Valley Resort grew, the community was incorporated in 1996 as the Village of Taos Ski Valley (VTSV). Today VTSV contains only about four miles of roads and is bordered by steep tall mountains of the Carson National Forest on two sides and Wheeler Peak wilderness at the upper south end. At an elevation of 9200 feet, it is the highest incorporated community in the state of New Mexico. Today the Village has 62 businesses including Lodging to suit all budgets, fine and casual dining and unique village stores.
Taos Ski Valley's existing lodging blends rustic ski lodge charm with authentic euro-alpine chalet style elegance that was originally introduced by the Blake family and fellow ski resort pioneers like Jean Mayer. Today, Taos Ski Valley offers a variety of ski-in, ski-out condominiums, quaint bed-and-breakfasts, luxury hotels and individual cabin rentals throughout the valley.
---
Kachina Village (located at The Top of Taos Ski Valley, 2 miles from the Village Core)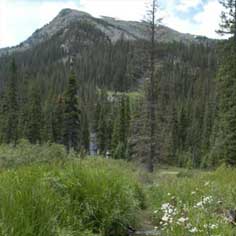 Located in the Kachina Basin at the road's end pinnacle of Taos Ski Valley at just over 10,000 feet (1,000 vertical feet above the Village Core) surrounded by majestic mountains within the Carson National Forest and the Wheeler Peak Wilderness, Kachina provides a very unique rustic mixed-use "wilderness" commercial complement to Taos Ski Valley's primary mixed-use commercial Village Core. Master planned with a finite amount of development opportunities, a few keystone elements of this village are already in place, including the Bavarian Lodge, six Bavarian Chalets, the Phoenix Grill, two luxury mountain homes, Wheeler Peak Condominiums, a small firehouse, a snow making facility and direct lift four access to Taos Ski Resort's winter recreation areas with return trail access to Taos Ski Valley's lower base village.
---
Taos Ski Valley Climate
Taos Ski Valley, New Mexico, gets 21 inches of rain per year. The US average rainfall is 37 inches. Snowfall is 146 inches. The average US city gets 25 inches of snow per year. The number of days with any measurable precipitation is 103 days. On average, there are 290 sunny days per year in Taos Ski Valley. The July high is around 76 degrees. The January low is 4 degrees. Our comfort index, which is based on humidity during the hot months, is a 70 out of 100, where higher is more comfortable. The US average on the comfort index is 44.
Check out the snow conditions at: http://www.snowforecast.com/TaosSkiValley
---
Enchanted Circle
Distance: 84 miles/136 KM
Driving Time: 2-1/2 to 3 hours – 5 hours to several days
Route: From Taos Plaza, Hwy. 64 north to Hwy. 522 north to Questa; Hwy. 38 east to Red River, then 64 south to Eagle Nest; Hwy 64 west to Angel Fire; continuing on Hwy. 64 west to return to Taos.
The most popular tour in northern New Mexico, is the National Forest Scenic Byway circling Wheeler Peak, the highest in New Mexico at 13,161 feet. A drive along this famous route will introduce you to several of New Mexico's unique ecosystems and a vibrant demonstration of her geology. Most popular during the summer, when the mountain passes are easiest to manage, the drive promises extraordinary views, abundant flora, and a unique perspective on New Mexico's history and development, as well as a welcome respite from the summer heat.
The famous loop passes through several towns, which are rich with recreational opportunities, including Taos, Taos Ski Valley, Questa, Red River, Eagle Nest, and Angel Fire. The trip can take a minimum of five hours, and up to several days, depending on how thoroughly one wishes to experience the plentiful offerings. Most drive the trip clockwise, starting in Taos and ending in Angel Fire before returning via Taos Canyon.
---
Taos Area of Northern New Mexico
The Taos area is an artist's colony with a 400-year old Spanish heritage and 1000-year old American Indian culture. This tri-cultural blend creates a unique community of regional foods, arts, festivals, and lifestyles.
The Taos area is a year-round recreation destination – in spring with whitewater rafting, in summer and fall with a myriad of adventures including hiking, ballooning, abundant trout fishing, horse back riding & mountain biking, and in winter with mountains of deep powder with endless skiing and snowboarding through the Sangre de Cristo Mountains.
Scenic day trips are a beautiful way to explore and experience Taos and northern New Mexico. There are driving tours of our area's enchanted circle, historic churches, weaving communities, cowboy country, hot springs, and wide-open spaces.
The Taos area has many festivals throughout the year celebrating Native American, Hispanic and Anglo traditions, including art fairs, music festivals, American Indian ceremonial dances, yuletide events and much more.
---
Save
Save
Save
Save
Save
Save