Eco Lifestyle and Home News – May 2023
Dear Friends, Clients, Business Associates and Neighbors,
May 2023 marks the 85th edition of of Eco Lifestyle and Home Newsletter produced by Kachina Mountain Realty. We offer Real Estate & Lifestyle news in the email newsletter covering Santa Fe, Taos County and beyond.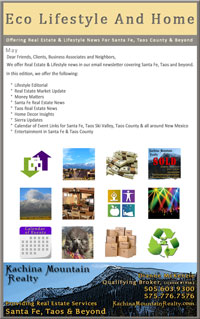 In this edition, we offer the following:
Lifestyle: Joy
Real Estate Market Update
Santa Fe Real Estate News
Taos County Real Estate News
Home Decor Insights
Sierra Updates!
Calendar of Event Links for Santa Fe, Taos Ski Valley, Taos County & all around New Mexico
Entertainment Links for Santa Fe, Taos County & around New Mexico
---
Lifestyle
Joy
Joy is the feeling of great pleasure. You know when you feel it, as it is pure delight, jubilation. Joy comes from triumph, exultation, rejoicing, gladness, glee, exhilaration, exuberance, elation, euphoria, bliss, ecstasy and rapture. Joy is the emotion of great happiness caused by something exceptionally good; keen pleasure; elation expressed physically through open posture, bright eyes, smiles and laughter.
Joy is a stronger, less common feeling than happiness. Joy is that sudden burst of emotion that goes beyond happiness. Joy can be experienced from any good activity, food or company. Joy is a spontaneous emotional expression. We don't have to think about it — we just feel it. We feel it in our bodies, warm and light, and we can see it in the bodies and on the faces of others. We can experience joy by encountering something delightful, or we can conjure it in the mind, through memories or imagination. But we can't fake it. Joy is visceral and spontaneous.
"The potential for joy is an intrinsic and essential part of our minds. While happiness needs to be pursued or explained, joy is already within us, ready to be stirred and released. For whatever reason, evolution found joy to be a critical mechanism for guiding us towards things that enhanced the survival of our species. Joy is the most powerful signal of our thriving, and the capacity to feel it is our birthright as humans."
Joy is at the core of what transforms existing into living. While joy is often not a daily emotion, joy can be cultivated.
"Awakening Joy" is a 5 month internationally recognized Internet course created by noted teacher and author, James Baraz. The course is designed to awaken joy through a curriculum of principles and practices that incline the mind toward well-being, happiness and ease. Led by James, the course features a range of renowned guest speakers with talks on mindfulness, gratitude and intention with accompanying audio, video and written materials, and a series of supporting practices to deepen insight and cultivate more joy. Over 12,000 people worldwide have experienced the power of "Awakening Joy", and the course has been celebrated in media publications such as O Magazine. Bill Gates has recommended "Awakening Joy" on his Summer Reading List. Website: Awakeningjoy.info
I have taken this course several times and while I often do not feel I am experiencing a lot of joy in my life, I experience moments of joy when I cuddle my dog, Sierra, with our heart-to-heart hugs, run my fingers through her long poodle locks and receive her affectionate licks. She brings me blissful joy like nothing else. When I am able to create art, I feel a deep sense of joy. So while I am choosing to awaken joy from within, I am also practicing gratitude for what I do have in my life: love, friends, family, good health, supportive business associates, appreciative clients and I live and work in a wonderful place with my husband and Sierra.
Thank you for reading our newsletter & feel free to pass it on to other kindred spirits. ~ Dianne McKenzie & Sierra
---
Real Estate Market
The Santa Fe housing market is somewhat competitive. Homes in Santa Fe receive 3 offers on average and sell in around 51 days. The median sale price of a home in Santa Fe was $539K last month, up 9.4% since last year. The median sale price per square foot in Santa Fe is $332, up 6.4% since last year.
In March 2023, Santa Fe home prices were up 9.4% compared to last year, selling for a median price of $539K. On average, homes in Santa Fe sell after 48 days on the market compared to 34 days last year. There were 115 homes sold in March this year, down from 140 last year.
Housing Stats From New Mexico Association of Realtors February 2023 report: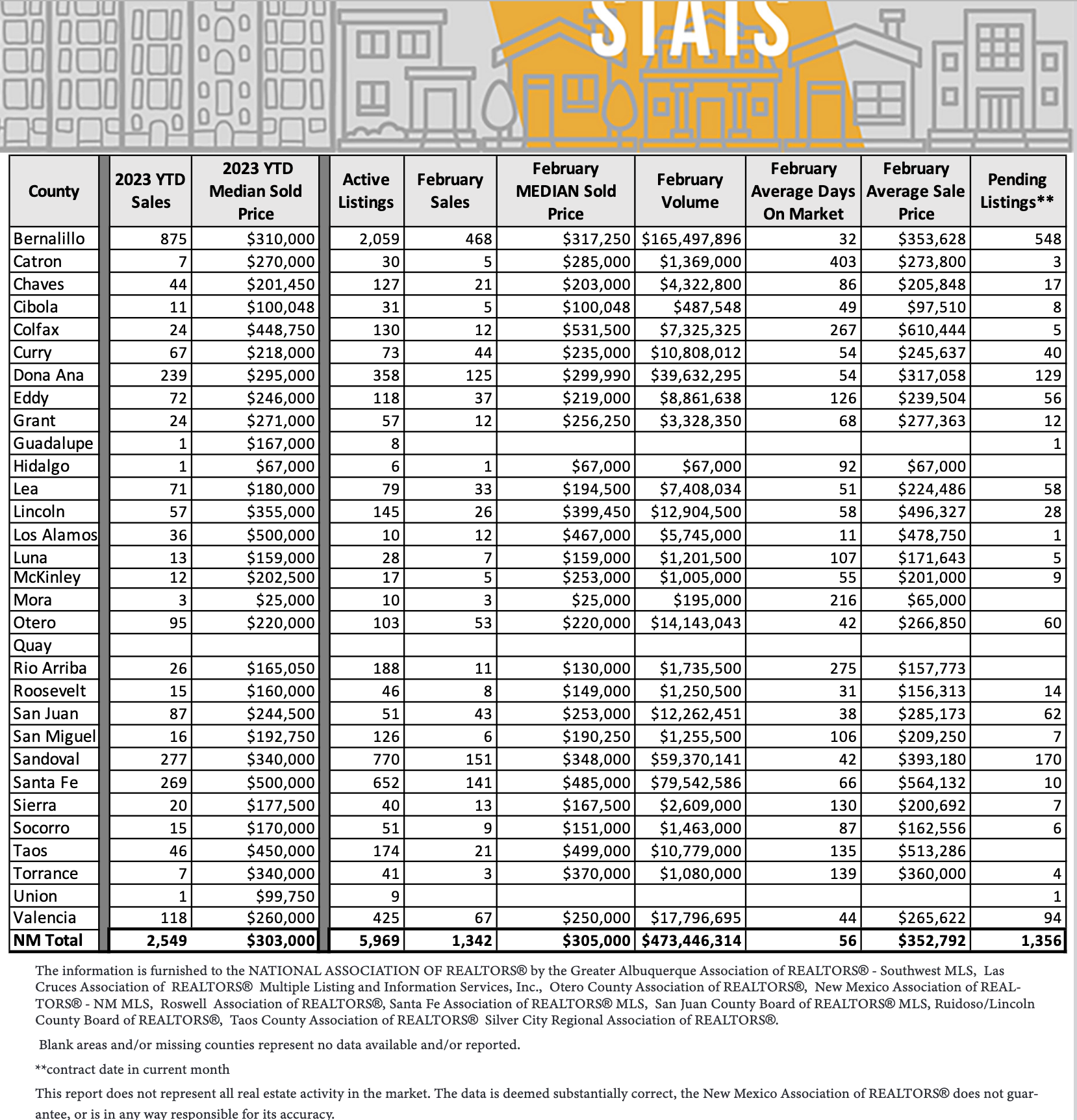 ---
Santa Fe Real Estate News
Aldea Real Estate Stats

2023 Stats: Sold, Pending, Listed
SOLD: 6 Homes, DOM 47 | 1 Lots, DOM 56
PENDING: 7 Homes | 0 Lots
LISTED: 2 Homes, Avg $839,000 | 1 Lots, Avg $90,000

Aldea de Santa Fe consists of 345 acres, with 205 acres of perpetual open space with 13 miles of walking trails, basketball & tennis courts, community center, (which offers yoga classes, exercise equipment & gathering space for events), a local cafe, superbly located in the high-value northwest corridor of Santa Fe County, with easy access to Highway 599, all just 10 minutes from downtown Santa Fe.
Aldea Listings:
Aldea Pending: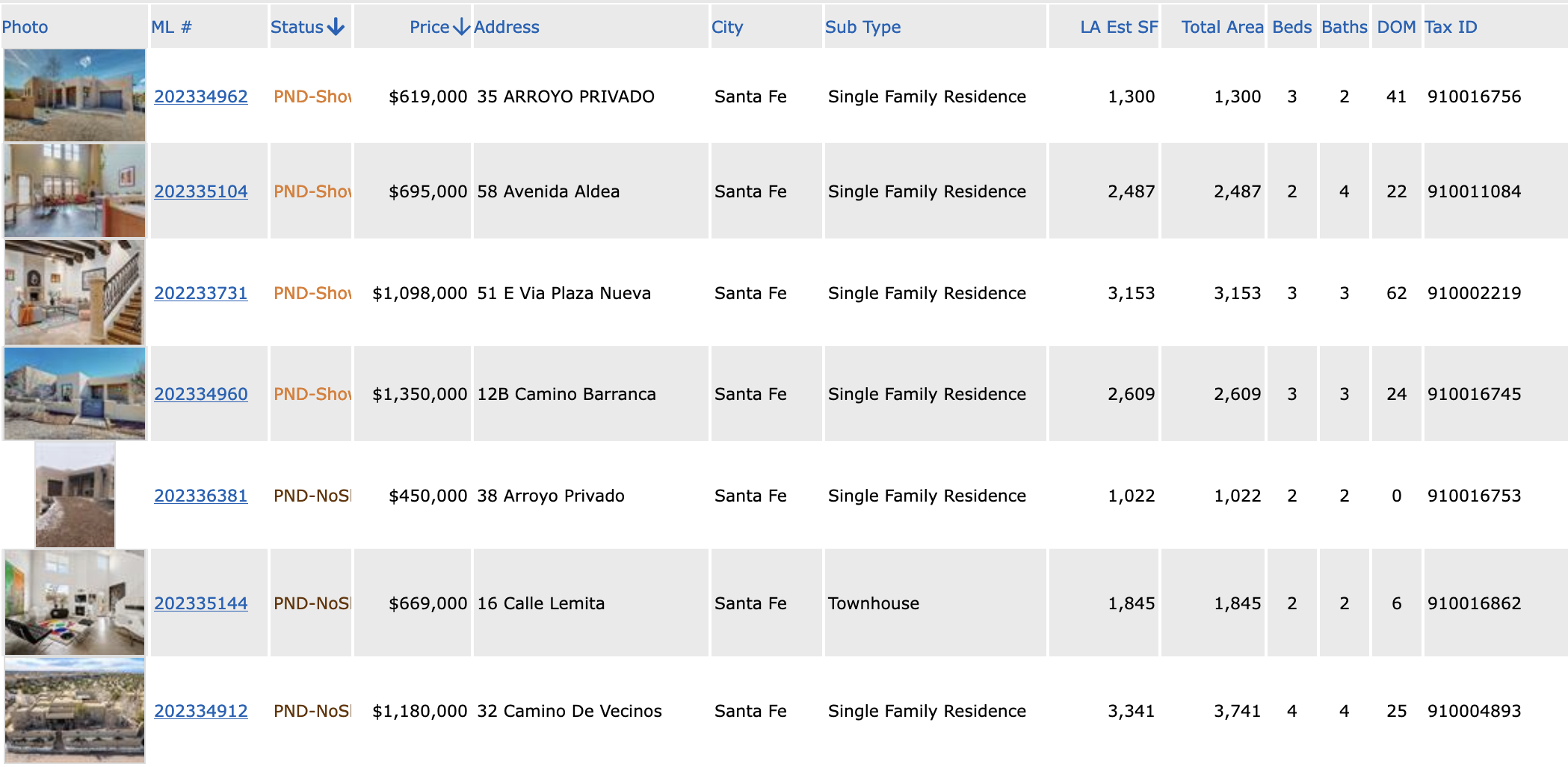 Listed:
27 Camino Esperanza in Aldea | Santa Fe, New Mexico
SOLD!

Residential Lot | MLS #202234155 | Price: $140,000.00
Come build your dream home on the last available view lot in Aldea, with outstanding mountain views, pinon & juniper trees and native grasses, located on a peaceful cul-de-sac. This is the perfect site to build your new home. This prime property has stunning expansive coveted panoramic 180° sunset views west to the Jemez mountains, south views to the Sandias, and Ortiz mountains to the southeast. Lot #258 is marked by open space, with miles of walking trails, and vista seen for miles. Easy access and easy to build on this gently sloping terrain. All underground utilities are at the street and mailboxes are located in the cul-de-sac.
This highly desirable lot in the Aldea Community, provides 205 acres of open space with 13 miles of walking trails, basketball & tennis courts, community center, (which offers yoga classes, exercise equipment & gathering space for events), a local cafe, all just 10 minutes from downtown Santa Fe. Enjoy Santa Fe's stunning natural beauty and the many amenities of the surrounding area.
---
Las Campanas Real Estate Stats

2023 Stats: Sold, Pending, Listed
SOLD: 21 Homes, DOM 108 | 1 Lots, DOM 84
PENDING: 17 Homes | 4 Lots
LISTED: 17 Homes, Avg $2,707,529 | 38 Lots, Avg $253,209
Las Campanas is the only luxury master-planned community in Santa Fe. Stretching across 4,700 acres surrounded by pristine high desert, the community is comprised of exclusive neighborhoods. Las Campanas is also home to The Club at Las Campanas, where members can enjoy two award-winning Jack Nicklaus Signature golf courses, the 46,000 square foot Hacienda Clubhouse, a peerless Equestrian Center and the Fitness & Tennis Center, which includes a luxurious spa.
There are currently 17 homes for sale in Las Campanas
0 Homes under $1,000,000
17 Homes over $1,000,000
There are currently 38 Lots for sale in Las Campanas
3 Lots under $100,000
35 Lots over $100,000
Let me take you on a tour in Las Campanas!
---
Marketing Properties, Not Just Listing Properties
If you are thinking of selling your property, why not list it with a realtor who will market the property, not just list it in the MLS? By actively marketing your property, the property gets the most exposure to other realtors and to the general public through online blogging, email campaigns & the typical MLS exposure.
Call me, Dianne, 505.603.9300, to discuss your property needs, or for a tour of Lots & Homes in Aldea, Las Campanas and the Santa Fe region.
Taos Office: 575.776.7576
Visit the website for Santa Fe information: RealEstatePropertiesSantaFe.com
Visit the Kachina Mountain Realty company main website: KachinaMountainRealty.com
---
Taos Real Estate News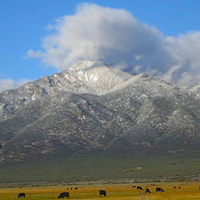 2023 Stats: Sold, Pending, Listed

*SOLD: 32 Homes, DOM 131 | 31 Lots, DOM 331
*PENDING: 24 Homes | 19 Lots
*LISTED: 63 Homes, Avg $751,509 | 151 Lots, Avg $223,411
* Areas tracked:
Lower North, Upper North, West North, Town of Taos, Taos Ski Valley, South West, South East
See map for areas »
Taos is very different than Santa Fe in many ways. With a population of 5,763 people and many surrounding neighborhoods, Taos is the 39th largest community in New Mexico. The greater Taos area is made up of several unincorporated areas and neighborhoods that separates out as if they were their own destinations or towns. Unincorporated areas around Taos have distinctive names that represent the ancient traditions of naming a place for a stream or topographic feature. Arroyo Hondo, Arroyo Seco and El Prado are all such places. These are not towns and have no political jurisdiction, they are simply places that help folks zero in on a very specific neighborhood. Within Taos itself are many such neighborhoods that may comprise no more than six "blocks."
Selling real estate in Taos county is challenging for sellers, buyers and realtors, as the typical closing time for a property averages 90+ days, compared to under 30 days in Santa Fe. I have closed properties in Santa Fe under 20 days. There is a shortage of title companies which the realtors can work with in Taos. The back log of properties waiting to close often creates buyers to back out and leave the sellers in the same cycle for closing when the next offer comes in. Many buyers become frustrated as their lenders charge additional hold fees or back out all together. Below are some statistics that highlight the problem.
Pioneer Title
As of August 26, 2022, Pioneer Title has opened an office in Taos at 204 Paseo del Pueblo Norte, Suite A, Taos NM 87571, telephone: 866-294-4100. It remains to be seen if closing times will shorten in the coming months, but it is progress for realtors as well as sellers and buyers in Taos County.
Recently, I have received inquiries from out of town buyers who are researching homes in the Taos area. These buyer profiles are looking to live in a safe community, with a country atmosphere, small homes, with flexible spaces.
Buyers are wanting to move to the area, but can't find the properties that offer amenities that don't include huge HOA fees. They want walking trails, localized eateries, a small grocery store, community activities and a sense of neighborhood. They are either downsizing their home and retiring or wanting a second home. They are wanting to go smaller, but the quality of their lifestyle and home features are upscale.
"Does such a community even exist?" they ask.
In the coming months, I will be featuring such a community.
If you have been thinking about selling your home, now is probably a good time. Inventory is low and the demand for quality homes is up.
Call our Taos Office: 575.776.7576
---
Home Decor Insights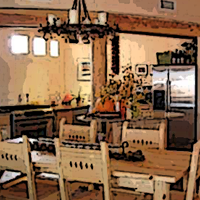 Decorating & Celebrating in May
May to me means flowers, inside and out. By the month of May, the veggies we have planted have sprouted in the greenhouse and the signs of new beginnings are all around.
May Day, May 1st
May Day has its roots in astronomy. Traditionally, it was the halfway point between the spring equinox and the summer solstice! In ancient times, this was one of the Celtic cross-quarter days, which marked the midway points between the (four) solstices and equinoxes of the year.
Springtime festivities filled with song and dance celebrated the sown fields starting to sprout. Cattle were driven to pasture, special bonfires were lit, and doors of houses as well as livestock were decorated with yellow May flowers. In the Middle Ages, the Gaelic people celebrated the festival of Beltane. Beltane means "Day of Fire." People created large bonfires and danced at night to celebrate.
May Day has a long history and tradition in England, some of which eventually came to America. Children would dance around the maypole, holding onto colorful ribbons. People would "bring in the May" by gathering wildflowers and green branches, weaving floral hoops and hair garlands, and crowning a May king and queen.
Cinco de Mayo, May 5th
New Mexico does not celebrate Cinco de Mayo the same way it is celebrated in Mexico. In the U.S., we celebrate Mexican and Mexican-American culture on this day. And New Mexico loves to celebrate any possible fiesta with good food, music and gathering together.
Dennis Hopper Days, May 17-27
Welcome all bikers and fans to the annual Dennis Hopper Day celebration in Taos. Dennis Hopper made Taos his home and filmed several movies here.
Taos celebrates the life and times of Hollywood's rebel icon, Dennis Hopper, with the annual Dennis Hopper Day in Taos, New Mexico. The event includes a motorcycle ride, music, food and more!
Taos celebrates the 10th Anniversary of DENNIS HOPPER DAY. Festivities include the Rebel Film Festival and Commemorative Birthday Celebration at the Taos Performing Arts Center on May 17, 2023. The celebration continues on May 27, 2023, with the Easy Rider Rally & Ride, Tiwa Kitchen Buffalo BBQ, and Taos Mountain Village Market & Fair at Hail Creek Travel Center and Taos Mountain Casino.
Time to redecorate, clean up and refresh
In order to really celebrate the month of May, it is the time to prepare for the start of summer. Spring cleaning includes putting away the winter clothes, cleaning the winter warm blankets, storing away until autumn. I change out the flower decor garlands in preparation for the warmer days. The leaves are budding out on the trees in florescent colors.
---
For ideas on decorating with spring in mind, check out Pinterest and explore a whole new way to spend your time online and check out my Pinterest page: KachinaRealty Happy pinning!
While you are surfing the "net" check out Flipboard for a variety of news and lifestyle reading.
---
Sierra
CFO, (Chief Fun Officer)
Our 4.1 year old female silver standard poodle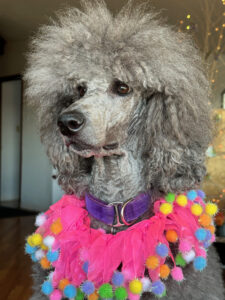 April 1-30, 2023
April has been a quiet month for us. Windy weather, no snow, and lots of dust blowing in the wind.
Sierra seems to enjoy the "fancy collars", allowing me to dress her up.
Sierra has matured into a very sweet and cuddly dog. We are constantly impressed as to her wonderful nature and we have built our life around her.
I weigh & measure Sierra once a month, so here are her stats as of March 2023: 14″ collar, girth: 24″, height to shoulder: 25″ weight: 34.5 lbs. Sierra has gained Weight, which is good for her!
Photos for the Month of April 2023 »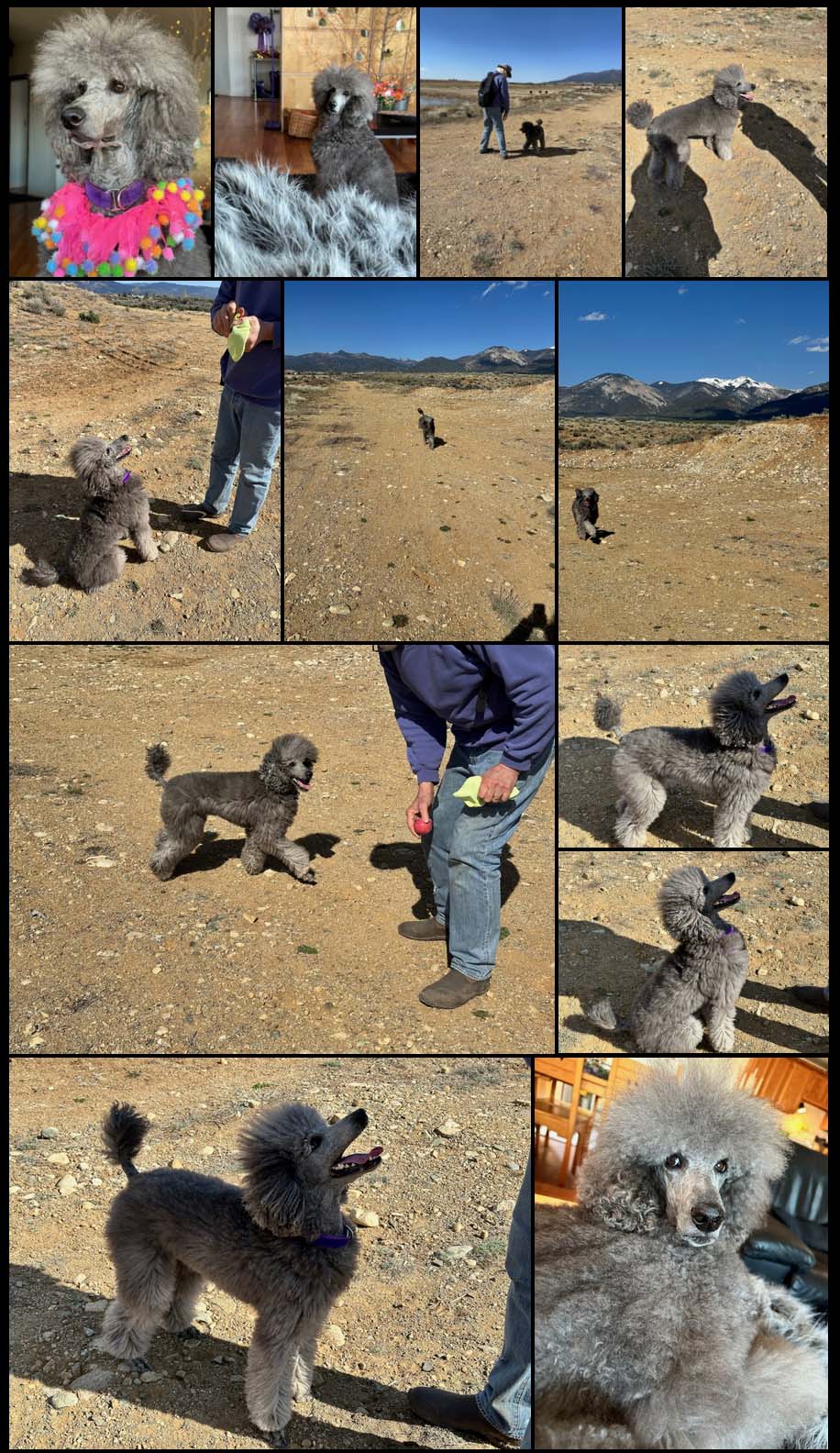 You really need to watch Sierra's videos as they capture her spirit!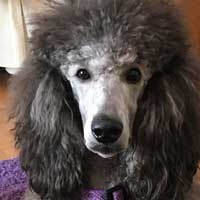 Here is the link to Sierra's Videos »
Sierra's 1st video explains who she is and her new role at Kachina Mountain Realty. In Sierra's 2nd video she talks about Dianne's role at Kachina Mountain Realty in the era of COVID-19. In Sierra's 3rd video, Sierra talks about selling and buying real estate during the COVID-19 pandemic. In Sierra's 4th video she talks about how staying safe in the era of COVID-19.
As you probably already know, Sierra is the CFO (chief fun officer) at Kachina Mountain Realty. Sierra talks to you today about using your imagination in Sierra's 5th video. When Sierra turned 2 years old on March 18, 2021, people asked what she sounded like now that she was older. While she does not have a lot to say right now, she is quick and to the point, as she starts her 2nd year as CFO, in Sierra's 6th video. Currently Sierra is not recording videos at this time.
Sierra's web page: www.diannemckenzie.com/sierra
More photos will be continually posted on her own web page, so check back monthly, as we chronicle her life with us!
---
Calendar of Events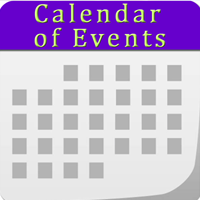 New Mexico has long been a center for arts, culture, classes and gourmet food. With such a strong art market, there are hundreds galleries to explore and experience, along with a wide selection of thriving restaurants. Our Museums feature culture, history and traditions of the region and the world. Santa Fe, Taos County and beyond have something scheduled every day & night of the week, all year long.
---
Entertainment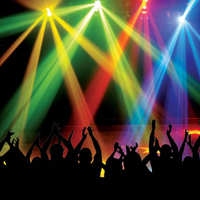 If there's one thing you can count on when spending time in New Mexico, it's the treasured experiences and wide selection of entertainment: music venues, great sporting events, theatrical and musical entertainment as well as year-round festivals.
From festivals, music concerts and dance performances to theatrical offerings by local and touring groups, the performing artists work hard to keep its locals and visitors entertained by both New Mexico performers and acclaimed stars from around the world.
---
About Kachina Mountain Realty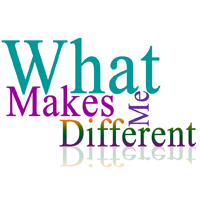 I am passionate about real estate development. I consider myself a "Dream Maker", and strive to help my clients manifest their dreams and lifestyle goals.
I believe that, "…the dreams which accompany all human actions should be nurtured by the places in which people live and work".
To promote this possibility, I encourages my clients to develop and share their dreams and lifestyle goals as part of the process of selling, buying or investing in property.
I have over thirty years of business experience as an executive producer, web architect, social media marketer, business developer, architecture assistant, real estate marketing developer and real estate consultant.
I am a licensed real estate qualifying broker for Kachina Mountain Realty & an accredited ACRE® real estate consultant. I have worked in the Santa Fe & Taos real estate market for years. I specialize in working with buyers and sellers who are looking for a solid real estate investment.
Contact me, Dianne McKenzie, for your real estate transactions & let me help you manifest your dreams!
I am readily available by cell phone, text, (505.603.9300) & email. I return calls promptly, seven days a week!
Taos Office: 575.776.7576

---
Go Green: Recycle This E-Newsletter!

After you've enjoyed our Eco Lifestyle and Home newsletter, please recycle it by emailing it to a family member, friend, neighbor or coworker!
---