Eco Lifestyle and Home News – June 2023
Dear Friends, Clients, Business Associates and Neighbors,
June 2023 marks the 86th edition of of Eco Lifestyle and Home Newsletter produced by Kachina Mountain Realty. We offer Real Estate & Lifestyle news in the email newsletter covering Santa Fe, Taos County and beyond.
In this edition, we offer the following:
Lifestyle: Consciousness
Real Estate Market Update
Santa Fe Real Estate News
Taos County Real Estate News
Home Decor Insights
Sierra Updates!
Calendar of Event Links for Santa Fe, Taos Ski Valley, Taos County & all around New Mexico
Entertainment Links for Santa Fe, Taos County & around New Mexico
---
Lifestyle
Consciousness
Consciousness
is the quality or state of self-awareness, of being aware of an external object or something within oneself. It has been defined as: sentience, awareness, subjectivity, the ability to experience or to feel, wakefulness, having a sense of selfhood, and the executive control system of the mind.
Consciousness is not a fixed energy or quantity. Consciousness varies greatly from person to person, some people being much more aware, alert, wise, causal, loving, and happy in life than others. Consciousness of Self also varies in the same person in the normal daily cycle of sleeping and waking. Spirituality is all about the accumulation, conservation, and wise use of energy.
Your Consciousness is your ability or your amount of awareness of both Self and Other. This awareness can range from deep, dreamless sleep, to Cosmic Consciousness, which is total awareness of all that exists in all universes.
The term
collective consciousness
refers to the condition of the individual within the whole of society, and how any given individual comes to view themselves as a part of any given group.
Collective consciousness represents the individual's relationship to a larger group or structure, but marks the sameness among members of that group, which act to make that group a cohesive whole. Scientists believe that animals – including humans – have a collective consciousness.
Present media theorists often link the notion of collective consciousness to signal the internet as a major intermediary in the creation of a truly global society.
Through our own individual awakening process and our collective consciousness, we have a chance/choice to make positive changes/choices.
From: Peter Diamandis
"…Perhaps the tremendous progress we've made
over the last century
by a series of forces
are, in fact, accelerating to a point
that we have the potential in the next three decades
to create a world of abundance. Now I'm not saying
we don't have our set of problems —
climate crisis, species extinction,
water and energy shortage…. What gives me tremendous confidence
in the future
is the fact that we are now more empowered as individuals
to take on the grand challenges of this planet.
We have the tools with this exponential technology.
We have the capital of the techno-philanthropist…
We are living into extraordinary decades ahead."
https://www.ted.com/talks/peter_diamandis_abundance_is_our_future
There are signs everywhere that we humans are accelerating to create a world with a deeper sense of moral, spiritual & physical commitment to solve the world's problems and live life in abundance through our growing collective consciousness.
How do we as individuals tap into this stream of consciousness? How will we take steps to be the change we want to pursue?
Thank you for reading our newsletter & feel free to pass it on to other kindred spirits. ~ Dianne McKenzie & Sierra
---
Real Estate Market
New-Mexico Housing Market Overview
What is the housing market like right now?
In April 2023, home prices in New-Mexico were up 5.8% compared to last year, selling for a median price of $359,400. On average, the number of homes sold was down 31.0% year over year and there were 664 homes sold in April this year, down 963 homes sold in April last year. The median days on the market was 42 days, down 17 year over year.
Top 10 Metros in New Mexico with the Fastest Growing Sales Price
New-Mexico Housing Supply

Are there enough homes for sale to meet buyer demand?
In April 2023, there were 3,210 homes for sale in New-Mexico, down 26.1% year over year of newly listed homes was 892 and down 22.6% year over year. The average months of supply is 3 months, down year over year.
"The New Mexico real estate market is starting to show the first signs of cooling off in about a decade. For the better part of ten years, in fact, real estate in New Mexico has been firing on all cylinders. Following the great recession, a booming economy and affordable home prices resulted in a great deal of activity. Even the pandemic, as unwelcome as it was, catalyzed one of the hottest New Mexico real estate markets the state had ever seen."

"However, the Federal Reserve has had to tighten the economy in the wake of historic inflation and a potential recession on the horizon. As a result, higher interest rates are leading to fewer mortgage applications and stripping sellers of the power they have had for far too long. That is not to say New Mexico is no longer a seller's market, but rather that the balance of power is starting to shift…"
In April 2023, there were 3,210 homes for sale in New-Mexico, down 26.1% year over year. The number of newly listed homes was 892 and down 22.6% year over year. The average months of supply is 3 months, down year over year.
---
Santa Fe Real Estate News
Aldea Real Estate Stats

2023 Stats: Sold, Pending, Listed
SOLD: 11 Homes, DOM 39 | 1 Lots, DOM 56
PENDING: 3 Homes | 0 Lots
LISTED: 1 Homes, Avg $932,000 | 1 Lots, Avg $90,000

Aldea de Santa Fe consists of 345 acres, with 205 acres of perpetual open space with 13 miles of walking trails, basketball & tennis courts, community center, (which offers yoga classes, exercise equipment & gathering space for events), a local cafe, superbly located in the high-value northwest corridor of Santa Fe County, with easy access to Highway 599, all just 10 minutes from downtown Santa Fe.
Aldea Listings:

Aldea Pending:

---
Las Campanas Real Estate Stats

2023 Stats: Sold, Pending, Listed
SOLD: 27 Homes, DOM 109 | 4 Lots, DOM 594
PENDING: 15 Homes | 5 Lots
LISTED: 20 Homes, Avg $2,755,900 | 33 Lots, Avg $236,725
Las Campanas is the only luxury master-planned community in Santa Fe. Stretching across 4,700 acres surrounded by pristine high desert, the community is comprised of exclusive neighborhoods. Las Campanas is also home to The Club at Las Campanas, where members can enjoy two award-winning Jack Nicklaus Signature golf courses, the 46,000 square foot Hacienda Clubhouse, a peerless Equestrian Center and the Fitness & Tennis Center, which includes a luxurious spa.
There are currently 20 homes for sale in Las Campanas
0 Homes under $1,000,000
20 Homes over $1,000,000
There are currently 33 Lots for sale in Las Campanas
3 Lots under $100,000
30 Lots over $100,000
Let me take you on a tour in Las Campanas!
---
Marketing Properties, Not Just Listing Properties
If you are thinking of selling your property, why not list it with a realtor who will market the property, not just list it in the MLS? By actively marketing your property, the property gets the most exposure to other realtors and to the general public through online blogging, email campaigns & the typical MLS exposure.
Call me, Dianne, 505.603.9300, to discuss your property needs, or for a tour of Lots & Homes in Aldea, Las Campanas and the Santa Fe region.
Taos Office: 575.776.7576
Visit the website for Santa Fe information: RealEstatePropertiesSantaFe.com
Visit the Kachina Mountain Realty company main website: KachinaMountainRealty.com
---
Taos Real Estate News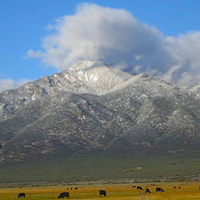 2023 Stats: Sold, Pending, Listed

*SOLD: 43 Homes, DOM 127 | 42 Lots, DOM 277
*PENDING: 27 Homes | 18 Lots
*LISTED: 67 Homes, Avg $782,461 | 151 Lots, Avg $238,00
* Areas tracked:
Lower North, Upper North, West North, Town of Taos, Taos Ski Valley, South West, South East
See map for areas »
Taos is very different than Santa Fe in many ways. With a population of 5,763 people and many surrounding neighborhoods, Taos is the 39th largest community in New Mexico. The greater Taos area is made up of several unincorporated areas and neighborhoods that separates out as if they were their own destinations or towns. Unincorporated areas around Taos have distinctive names that represent the ancient traditions of naming a place for a stream or topographic feature. Arroyo Hondo, Arroyo Seco and El Prado are all such places. These are not towns and have no political jurisdiction, they are simply places that help folks zero in on a very specific neighborhood. Within Taos itself are many such neighborhoods that may comprise no more than six "blocks."
Selling real estate in Taos county is challenging for sellers, buyers and realtors, as the typical closing time for a property averages 90+ days, compared to under 30 days in Santa Fe. I have closed properties in Santa Fe under 20 days. There is a shortage of title companies which the realtors can work with in Taos. The back log of properties waiting to close often creates buyers to back out and leave the sellers in the same cycle for closing when the next offer comes in. Many buyers become frustrated as their lenders charge additional hold fees or back out all together. Below are some statistics that highlight the problem.
Pioneer Title
As of August 26, 2022, Pioneer Title has opened an office in Taos at 204 Paseo del Pueblo Norte, Suite A, Taos NM 87571, telephone: 866-294-4100. It remains to be seen if closing times will shorten in the coming months, but it is progress for realtors as well as sellers and buyers in Taos County.
Recently, I have received inquiries from out of town buyers who are researching homes in the Taos area. These buyer profiles are looking to live in a safe community, with a country atmosphere, small homes, with flexible spaces.
Buyers are wanting to move to the area, but can't find the properties that offer amenities that don't include huge HOA fees. They want walking trails, localized eateries, a small grocery store, community activities and a sense of neighborhood. They are either downsizing their home and retiring or wanting a second home. They are wanting to go smaller, but the quality of their lifestyle and home features are upscale.
"Does such a community even exist?" they ask.
In the coming months, I will be featuring such a community.
If you have been thinking about selling your home, now is probably a good time. Inventory is low and the demand for quality homes is up.
Call our Taos Office: 575.776.7576
---
Home Decor Insights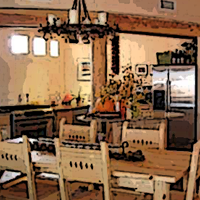 Be Colorful in June
It's that time of year, the unofficial start of summer! Mornings are still a bit crisp with the smell of dew on the plants. The monsoons have come to New Mexico, where the weather turns quickly to thunder & rain in the early afternoons.
It is time to make Limoncello (one can buy it at Trader Joe's, as well), pull out ones recipes for potato salad, coleslaw, sliders and créme brülée. Clean off the porch, replace the outdoor cushions and prepare the outdoor rooms for entertaining. Spring has supplied the area with lilacs blooming all over Santa Fe & Taos, decorating yards with shades of purple and pink.
There is a good article online from Top Dreamer, that has examples of decorating ideas for creating outdoor rooms this summer with lots of color. Adding color to your outdoor room can transform your space into an oasis where you will enjoy spending time this summer. Go ahead, be daring and have fun decorating!
---
For ideas on decorating with spring in mind, check out Pinterest and explore a whole new way to spend your time online and check out my Pinterest page: KachinaRealty Happy pinning!
While you are surfing the "net" check out Flipboard for a variety of news and lifestyle reading.
---
Sierra
CFO, (Chief Fun Officer)
Our 4.2 year old female silver standard poodle
May 1-31, 2023
We celebrated Sierra's adoption day, May 21, 2019. It is amazing that we have had Sierra with us now for 4 years. We bought her a new stuffed pink pig to help her celebrate. Oh what joy Sierra brings to our life!
I weigh & measure Sierra once a month, so here are her stats as of May 2023: 14″ collar, girth: 24″, height to shoulder: 25″ weight: 34.5lbs.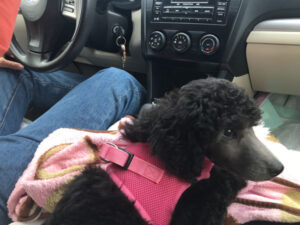 I am including a puppy picture of Sierra when we drove her home from St George Utah.
More photos will be continually posted on her own web page, so check back monthly, as we chronicle her life with us!
You really need to watch Sierra's videos as they capture her spirit!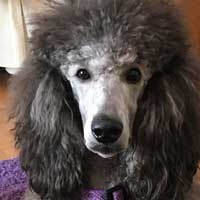 Here is the link to Sierra's Videos »
Sierra's 1st video explains who she is and her new role at Kachina Mountain Realty. In Sierra's 2nd video she talks about Dianne's role at Kachina Mountain Realty in the era of COVID-19. In Sierra's 3rd video, Sierra talks about selling and buying real estate during the COVID-19 pandemic. In Sierra's 4th video she talks about how staying safe in the era of COVID-19.
As you probably already know, Sierra is the CFO (chief fun officer) at Kachina Mountain Realty. Sierra talks to you today about using your imagination in Sierra's 5th video. When Sierra turned 2 years old on March 18, 2021, people asked what she sounded like now that she was older. While she does not have a lot to say right now, she is quick and to the point, as she starts her 2nd year as CFO, in Sierra's 6th video. Currently Sierra is not recording videos at this time.
---
Calendar of Events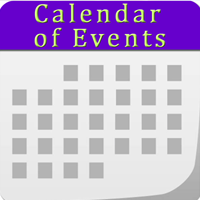 New Mexico has long been a center for arts, culture, classes and gourmet food. With such a strong art market, there are hundreds galleries to explore and experience, along with a wide selection of thriving restaurants. Our Museums feature culture, history and traditions of the region and the world. Santa Fe, Taos County and beyond have something scheduled every day & night of the week, all year long.
---
Entertainment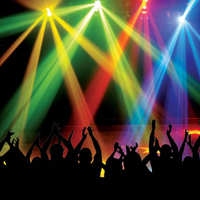 If there's one thing you can count on when spending time in New Mexico, it's the treasured experiences and wide selection of entertainment: music venues, great sporting events, theatrical and musical entertainment as well as year-round festivals.
From festivals, music concerts and dance performances to theatrical offerings by local and touring groups, the performing artists work hard to keep its locals and visitors entertained by both New Mexico performers and acclaimed stars from around the world.
---
About Kachina Mountain Realty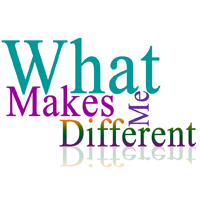 I am passionate about real estate development. I consider myself a "Dream Maker", and strive to help my clients manifest their dreams and lifestyle goals.
I believe that, "…the dreams which accompany all human actions should be nurtured by the places in which people live and work".
To promote this possibility, I encourages my clients to develop and share their dreams and lifestyle goals as part of the process of selling, buying or investing in property.
I have over thirty years of business experience as an executive producer, web architect, social media marketer, business developer, architecture assistant, real estate marketing developer and real estate consultant.
I am a licensed real estate qualifying broker for Kachina Mountain Realty & an accredited ACRE® real estate consultant. I have worked in the Santa Fe & Taos real estate market for years. I specialize in working with buyers and sellers who are looking for a solid real estate investment.
Contact me, Dianne McKenzie, for your real estate transactions & let me help you manifest your dreams!
I am readily available by cell phone, text, (505.603.9300) & email. I return calls promptly, seven days a week!
Taos Office: 575.776.7576

---
Go Green: Recycle This E-Newsletter!

After you've enjoyed our Eco Lifestyle and Home newsletter, please recycle it by emailing it to a family member, friend, neighbor or coworker!
---