Eco Lifestyle And Home News – May 2021

Dear Friends, Clients, Business Associates and Neighbors,
May 2021 marks the fifty-third edition of Eco Lifestyle and Home Newsletter produced by Kachina Mountain Realty. We offer Real Estate & Lifestyle news in the email newsletter covering Santa Fe, Taos County and beyond.
In this edition, we offer the following:
COVID-19 UPDATE
Lifestyle: Challenge
Real Estate Market Update
Money Matters
Santa Fe Real Estate News
Taos County Real Estate News
Home Decor Insights
Sierra Updates!
Calendar of Event Links for Santa Fe, Taos Ski Valley, Taos County & all around New Mexico
Entertainment Links for Santa Fe, Taos County & around New Mexico
---
COVID-19
State of New Mexico Public Health Guidance
As a reminder,
the state of New Mexico's emergency public health order
strictly prohibits mass gatherings, defined as a group of more than five individuals who do not regularly reside with one another. New Mexicans should stay home except for outings absolutely necessary for their health, safety or welfare.
Persons arriving in New Mexico from
"high-risk" states
are required to physically separate from others in a residence or place of lodging for at least 14 days from the date of their entry into New Mexico or for the duration of their presence in the state, whichever is shorter.
GUIDANCE AND SAFE ALTERNATIVES
Do not travel to attend a gathering – whether in New Mexico or out of state – to mix with another household, either of friends or family.

Safe alternative: Traveling incurs unnecessary exposure risk. Stay at home. Wear a mask – covering both your nose and mouth – any time you leave the house, whether you are in contact or near other individuals or not.

Do not gather with non-household members.

Safe alternative: Connect with friends and relatives over a video chat service. Share remotely and safely.

Do not spend unnecessary time shopping for groceries or gifts, and do not make unnecessary supplement trips to the store.

Safe alternative: Order online or make arrangements for curbside pickup. Avoid as much person-to-person contact, and being in the presence of other individuals and especially groups, as much as possible.

Do not host or attend a large gathering.

Safe alternative: If you choose to host a gathering with individuals from outside your own household despite the risks, keep six feet of distance and wear facemasks. Consider setting up a table outside so as to minimize the person-to-person interactions indoors.

Support local businesses

Consider supporting local businesses by ordering takeout or delivery for smaller, meals, and by using safely distanced curbside pickup for any last-minute gift purchases. We can all go the extra mile in supporting small New Mexico businesses.
If you choose to attend a gathering with others, you significantly raise the risk of not only contracting the virus yourself but spreading the virus to friends and loved ones.
If you insist upon taking unnecessary risks and attend or host a gathering, adopt the following safeguards from the Centers for Disease Control and Prevention:
Wear a mask
Strictly limit the number of guests in attendance.
Talk with guests ahead of time to set expectations for safely celebrating together.
Clean and disinfect high-touch surfaces and items between use.
If gathering indoors, make sure to open windows.
Limit the number of people in food preparation areas.
If sharing food, have one person serve food and use single-use options, like plastic utensils. Encourage guests to bring their own food and drink.
Instruct guests to monitor themselves for symptoms for 14 days after the event.
Self-isolate after the gathering with others – symptoms can develop over the course of 2 weeks; even if you do not feel sick, or feel sick immediately, you can spread the virus
Wearing a face mask is one of the best contribution that each of us can individually make to protect the health and well-being of our fellow citizens and the State as a whole. In accordance with these purposes, this Order and its exceptions should be narrowly construed to encourage New Mexicans to stay in their homes for all but the most essential activities.
Face masks will be with us for the next year or more, so why not have several on hand. Some people are wearing face masks as part of a fashion statement, with coordinated face masks to work with their clothing. Others are buying very expensive tech face masks, which can look very hip. Our face masks are very simple. Recycled 2 layers of cotton fabric with 1 layer of non woven interfacing, a nose bridge, and adjustable/replaceable elastic around the ears.
Read about our face mask making »
NEW MEXICO COVID-19 UPDATE: as of 4-26-2021
New Mexico remains among nation's vaccine leaders•57% of New Mexicans (16+) have received at least a first shot•39.4% of New Mexicans (16+) are fully vaccinated.
More than 873,000 New Mexicans registered for vaccine.
960,000 have received at least 1 vaccine.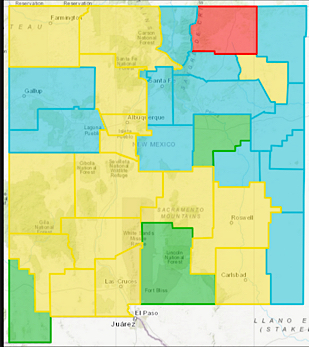 Remember: Masks must continue to be worn around anyone from outside your household and physical distance must continue to be maintained.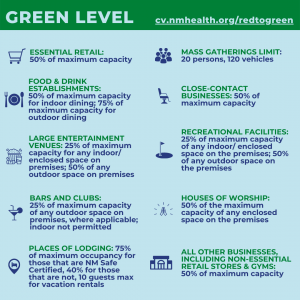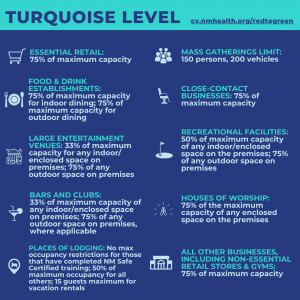 We would like to hear from you.
What are your needs? How can we help you?
Resources & Links:
CORONA VIRUS
---
Lifestyle
Challenge
When we meet real tragedy in life, we can react in two ways – either by losing hope and falling into self-destructive habits, or by using the challenge to find our inner strength." ~Dalai Lama
Life seems to be very challenging these days & since I often do not have the answers, I have looked to others to help guide me through the challenges, cultivating equanimity along the way.
"Know that wherever you are in your life right now is both temporary, and exactly where you are supposed to be. You have arrived at this moment to learn what you must learn, so you can become the person you need to be to create the life you truly want. Even when life is difficult or challenging—especially when life is difficult and challenging—the present is always an opportunity for us to learn, grow, and become better than we've ever been before. You are in the process of writing your life story, and no good story is without a hero or heroine overcoming their fair share of challenges. In fact, the bigger the challenges, the better the story. Since there are no restrictions and no limits to where you story goes from here, what do you want the next page to say?" ~ Hal Elrod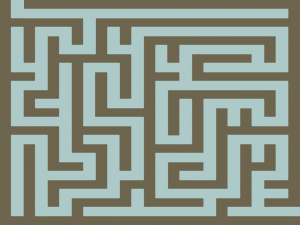 "In the midst of winter, I found there was, within me, an invincible summer. …no matter how hard the world pushes against me, within me, there's something stronger – something better, pushing right back." ~ Albert Camus
"Challenges are what make life interesting; overcoming them is what makes life meaningful." ~ Joshua J. Marine
"Whatever your fate is, whatever the hell happens, you say, "This is what I need." It may look like a wreck, but go at it as though it were an opportunity, a challenge. If you bring love to that moment—not discouragement—you will find the strength there. Any disaster you can survive is an improvement in your character, your stature, and your life. What a privilege!! This is when the spontaneity of your own nature will have a chance to flow. Then, when looking back at your life, you will see that the moments which seemed to be great failures, followed by wreckage, were the incidents that shaped the life you have now. You'll see this is really true. Nothing can happen to you that is not positive. Even though it looks and feels at the moment like a negative crisis, it is not. The crisis throws you back, and when you are required to exhibit strength, it comes. ~ Joseph Campbell
"We are all faced with challenges at some point in our life, challenges that we did not create. Challenges that happened beyond our control. The difference is how we respond to these challenges. You can adopt the attitude there is nothing you can do, or you can see the challenge as your call to action." ~ Catherine Pulsifer
"The true measure of a man is not how he behaves in moments of comfort and convenience but how he stands at times of controversy and challenges." ~ Martin Luther King Jr.
Thank you for reading our newsletter & feel free to pass it on to other kindred spirits. ~ Dianne McKenzie
---
Real Estate Market Update
What's happening in Santa Fe
Number of Properties on Market: 843
Number of New Properties on Market: 308
Average Asking Price: $780.376
Average Asking Price per Square Foot: $352
Average Days on Market: 276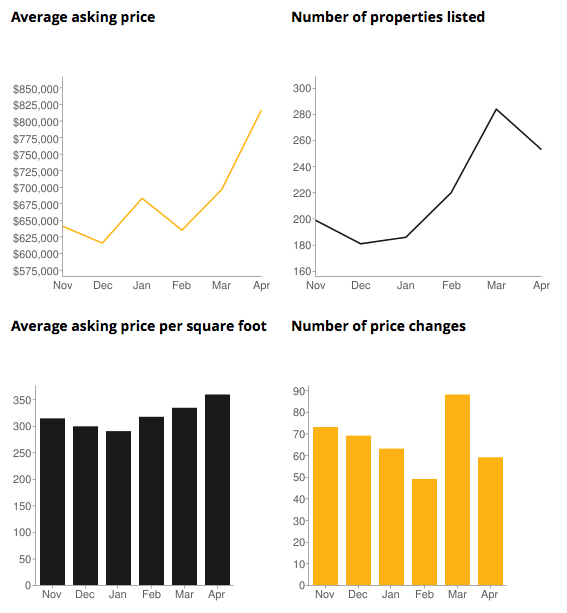 ---
Money Matters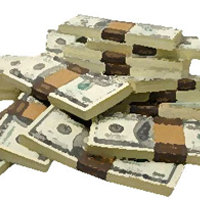 Mortgage Rates Are Back Under 3%
From National Association of Realtors
Borrowing costs got cheaper this week. Mortgage rates are back under 3% for the first time in weeks.
The 30-year fixed-rate mortgage averaged 2.97% this week, Freddie Mac reports.
The drop in rates this week followed a downward trend for the 10-year Treasury yield, which rates closely follow. The economy is gaining momentum, however, and consumers can expect mortgage rates to rise in the upcoming months, Nadia Evangelou, senior economist and director of forecasting for the National Association of REALTORS®, writes at the association's Economists' Outlook blog.
For now, the drop in mortgage rates is good news for home buyers and homeowners, too, said Sam Khater, Freddie Mac's chief economist. "Freddie Mac research suggests that lower income and minority homeowners have been less likely to engage in the refinance market," Khater said. "Low and declining mortgage rates provide these homeowners the opportunity to reduce their monthly payment and improve their financial position."
Freddie Mac reports the following national averages with mortgage rates for the week ending April 22:
30-year fixed-rate mortgages: averaged 2.97%, with an average 0.7 point, falling from last week's 3.04% average. Last year at this time, 30-year rates averaged 3.33%.
15-year fixed-rate mortgages: averaged 2.29%, with an average 0.6 point, dropping from last week's 2.35% average. A year ago, 15-year rates averaged 2.86%.
5-year hybrid adjustable-rate mortgages: averaged 2.83%, with an average 0.3 point, rising from last week's 2.80% average. A year ago, 5-year ARMs averaged 3.28%.
Freddie Mac reports average commitment rates along with average points to better reflect the total upfront cost of obtaining a mortgage.
---
Santa Fe Real Estate News
Aldea Real Estate Stats
2021 Stats: Sold, Pending, Listed
SOLD: 5 Homes, DOM 17 | 1 Lots, DOM 36
PENDING: 10 Homes | 0 Lots
LISTED: 0 Homes, Avg 0 | 0 Lots, Avg
Aldea de Santa Fe consists of 345 acres, with 205 acres of perpetual open space with 13 miles of walking trails, basketball & tennis courts, community center, (which offers yoga classes, exercise equipment & gathering space for events), a local cafe, superbly located in the high-value northwest corridor of Santa Fe County, with easy access to Highway 599, all just 10 minutes from downtown Santa Fe.
Spring is here and the listings have not yet picked up. Homes go pending within hours of being listed. Let me take you on a tour!
Current Listings May 1, 2021: None
---
Tessera Real Estate Stats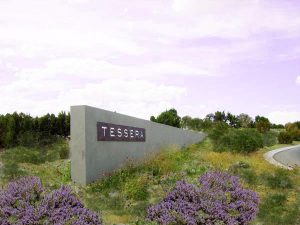 2021 Stats: Sold, Pending, Listed
SOLD: 4 Homes, DOM 29
PENDING: 1 Homes
LISTED: 0 Homes
Located in the hills of northwest Santa Fe and an adjacent neighbor to Aldea, Tessera features stunning mountain views, generous dedicated open space and an extensive trail system. Built to exacting standards and quality, the to-be-built homes at Tessera are ideal for those who enjoy customizing their home finishes to suit their personal taste.
Home sites boarder greenbelt for a private and natural ambiance. Close proximity to La Tierra Trails, public golf and more. Tessera is located next to Aldea and just min
---
Las Campanas Real Estate Stats
2021 Stats: Sold, Pending, Listed

SOLD: 30 Homes, DOM 75 | 22 Lots, DOM 193
PENDING: 20 Homes | 18 Lots
LISTED: 18 Homes, Avg $2,455,083| 50 Lots, Avg $206,524
Las Campanas is the only luxury master-planned community in Santa Fe. Stretching across 4,700 acres surrounded by pristine high desert, the community is comprised of exclusive neighborhoods. Las Campanas is also home to The Club at Las Campanas, where members can enjoy two award-winning Jack Nicklaus Signature golf courses, the 46,000 square foot Hacienda Clubhouse, a peerless Equestrian Center and the Fitness & Tennis Center, which includes a luxurious spa.
There are currently 18 homes for sale in Las Campanas
0 Homes under $1,000,000
18 Homes over $1,000,000
There are currently 50 Lots for sale in Las Campanas
10 Lots under $100,000
40 Lots over $100,000
Let me take you on a tour in Las Campanas!
---
Marketing Properties, Not Just Listing Properties
If you are thinking of selling your property, why not list it with a realtor who will market the property, not just list it in the MLS? By actively marketing your property, the property gets the most exposure to other realtors and to the general public through online blogging, email campaigns & the typical MLS exposure.
Call me, Dianne, 505.603.9300, to discuss your property needs, or for a tour of Lots & Homes in Aldea, Las Campanas and the Santa Fe region.
Taos Office: 575.776.7576
Visit the website for Santa Fe information: RealEstatePropertiesSantaFe.com
Visit the Kachina Mountain Realty company main website: KachinaMountainRealty.com
---
Taos Real Estate News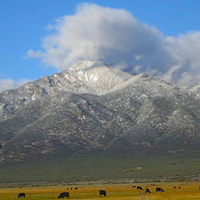 2021 Stats: Sold, Pending, Listed

*SOLD: 63 Homes, DOM 207 | 27 Lots, DOM 276
*PENDING: 72 Homes | 69 Lots
*LISTED: 40 Homes, Avg $830,810 | 170 Lots, Avg $239,017
* Areas tracked:
Lower North, Upper North, West North, Town of Taos, Taos Ski Valley, South West, South East
See map for areas »
Recently, I have received inquiries from out of town buyers who are researching homes in the Taos area. These buyer profiles are looking to live in a safe community, with a country atmosphere, small homes, with flexible spaces.
Buyers are wanting to move to the area, but can't find the properties that offer amenities that don't include huge HOA fees. They want walking trails, localized eateries, a small grocery store, community activities and a sense of neighborhood. They are either downsizing their home and retiring or wanting a second home. They are wanting to go smaller, but the quality of their lifestyle and home features are upscale.
"Does such a community even exist?" they ask.
In the coming months, I will be featuring such a community.
If you have been thinking about selling your home, now is probably a good time. Inventory is low and the demand for quality homes is up.
Call our Taos Office: 575.776.7576
---
Home Decor Insights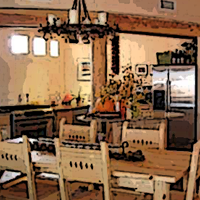 How to Pick a Personalized Paint Color (That Will Make You Happy)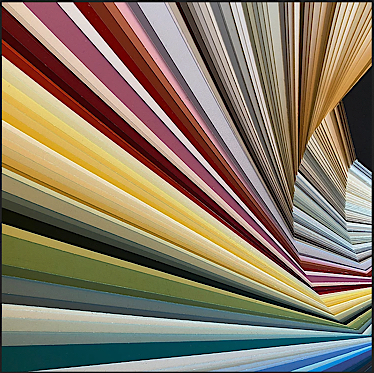 Spring means renewal. And in the interior design world, renewal often means repainting. As an interior designer, I help my clients choose the right paint colors—ones that will not only refresh a space, but also help them love their home and feel happy every time they step into a room.
Today I'm sharing some of the same advice I give to my interior design clients. If you're thinking of repainting this spring, but don't know which colors to choose, I'll walk you through it so you can find colors you will love.
Should I go with a "Color of the Year"?
The short answer here is, "Probably not."
Paint and design companies choose their Color of the Year (COTY) based on everything from current fashion trends to worldwide sporting events. Their color experts spend months poring over cultural movements, societal shifts, and new technologies. They look at recent films, contemporary art, even trending travel destinations. Then they settle on a color they feel will define the feel and mood of the upcoming year.
Look at this year's picks for COTY. Taking into consideration the tumult of last year, some paint and design companies have gone with shades they consider to be all about renewal with bright, vibrant shades. Others went with a grounding, serene feel with colors that are cozy and muted. And then you have Pantone—possibly the best known Color of the Year pick—they went with both! For 2021, they chose a grounding grey and an uplifting yellow.
You are not everyone
There's nothing wrong with a COTY announcement. In fact, these color selections can help those who might feel overwhelmed by the sheer volume of choices (sound familiar?). People might feel more confident going with a paint shade they know color experts have put thought into. And inspire people, who might not otherwise, branch out from basic white.
Unfortunately, a COTY is trying to be one color for all people. A shade that takes into account everything globally isn't necessarily a shade that speaks to you personally. So unless you see a brand's color pick and immediately feel drawn to it, I suggest coming at your color selection from a personal level.
Evoking happiness with color
Sometimes when working on a color consultation I'll ask my clients to think of a happy memory. It could be as simple as a place you like to take walks, or as elaborate as a long ago childhood vacation. Is there a color that keys into those recollections? The blue of the water when your family visited the sea. The orange of the sunset from a trip to Australia. The green of the aspens where you like to go hiking.
If my clients have a hard time discovering a remembered color, I'll often suggest looking at the cache of memories they carry with them daily—their phones. We take pictures more than ever, and an image that captures something that makes you happy can offer a wealth of color cues.
Discover pre-made color palettes
Two sources that inspire great interior paint choices (and often come complete with main colors and accents colors) are nature and art. If you've seen an image of a natural scene that makes you feel calm or energized, peaceful or renewed, that image can inspire personalized color picks.
Check out my post on finding color palettes inspired by the beauty of the Southwest.
If there's a piece of art you love, that can present options for the right paint colors too.
Going from inspiration to paint chip
Once you've found your inspiration—head to the paint store. Armed with inspirational images on your phone or prints, measure and compare these colors to paint chips. Keep looking until you find that shade that sparks the same feeling as that memory.
While you shouldn't avoid a paint brand's Color of the Year, when you have your own personal inspirational cues, you'll find something that works specifically for you. And few things will make you happier when you finally roll that paint color on the wall.
Could you use a hand matching inspiration to a paint chip?
My Color Consultation service will help you go from ideas, memories, and likes to a color that'll transform your room. Get in touch for a consultation today.
—
Want to generate the most interest for your home? Ready to make your listing stand out from the crowd? Professional home staging is the way to go. In addition to offering my full suite of staging surfaces in the Santa Fe area, I also provide online staging consultations for occupied homes. Contact me and let's talk about making your home look its best online.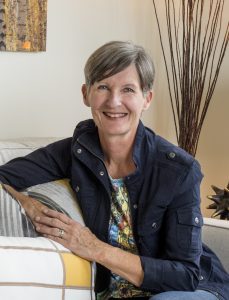 Debbie DeMarais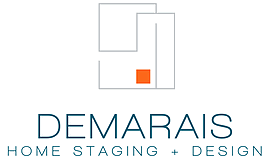 Certified Home Stager & Designer
HSR, CLIPP™, CCE, ASID Allied Member
505-699-4989
homestagingsantafe.com
For ideas on decorating with spring in mind, check out Pinterest and explore a whole new way to spend your time online and check out my Pinterest page: KachinaRealty Happy pinning!
While you are surfing the "net" check out Flipboard for a variety of news and lifestyle reading.
---
Sierra
CFO, (Chief Fun Officer)
Our 2.1 year old silver standard poodle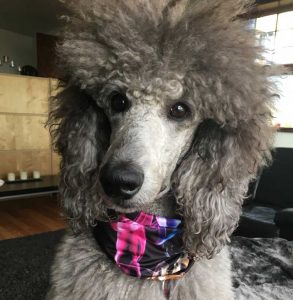 April 1-30, 2021
I weigh & measure Sierra once a month, so here are her stats as of March, 2021: 14″ collar, girth: 24″, height to shoulder: 25″ weight: 34.5 lbs.
It's been a very windy April. Sierra has been busy moving about from John's office to Dianne's office, hoping that we would play ball with her outside in the yard. Sierra is now pretty much full grown. Her fur is easier to manage as she is older and while her coat becomes more silver. While COVID-19 has kept us away from socializing with others, we have enjoyed our isolated time together.
We are trying to keep Sierra's long ears from getting in her wet food. Sierra does not like wearing a snood (gater) and takes it off. We are experimenting with pulling her ears back while she eats. See the photos below and select the link to see all her photos from April.
You really need to watch Sierra's videos as they capture her spirit!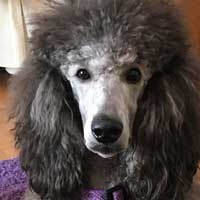 Here is the link to Sierra's Videos »
Sierra's 1st video explains who she is and her new role at Kachina Mountain Realty. In Sierra's 2nd video she talks about Dianne's role at Kachina Mountain Realty in the era of COVID-19. In Sierra's 3rd video, Sierra talks about selling and buying real estate during the COVID-19 pandemic. In Sierra's 4th video she talks about how staying safe in the era of COVID-19.
Sierra's web page: www.diannemckenzie.com/sierra
More photos will be continually posted on her own web page, so check back monthly, as we chronicle her life with us!
---
Calendar of Events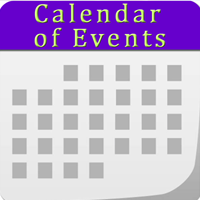 New Mexico has long been a center for arts, culture, classes and gourmet food. With such a strong art market, there are hundreds galleries to explore and experience, along with a wide selection of thriving restaurants. Our Museums feature culture, history and traditions of the region and the world. Santa Fe, Taos County and beyond have something scheduled every day & night of the week, all year long.
---
Entertainment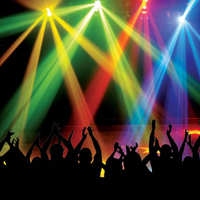 If there's one thing you can count on when spending time in New Mexico, it's the treasured experiences and wide selection of entertainment: music venues, great sporting events, theatrical and musical entertainment as well as year-round festivals.
From festivals, music concerts and dance performances to theatrical offerings by local and touring groups, the performing artists work hard to keep its locals and visitors entertained by both New Mexico performers and acclaimed stars from around the world.
---
About Kachina Mountain Realty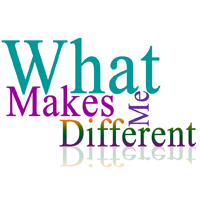 I am passionate about real estate development. I consider myself a "Dream Maker", and strive to help my clients manifest their dreams and lifestyle goals.
I believe that, "…the dreams which accompany all human actions should be nurtured by the places in which people live and work".
To promote this possibility, I encourages my clients to develop and share their dreams and lifestyle goals as part of the process of selling, buying or investing in property.
I have over thirty years of business experience as an executive producer, web architect, social media marketer, business developer, architecture assistant, real estate marketing developer and real estate consultant.
I am a licensed real estate qualifying broker for Kachina Mountain Realty & an accredited ACRE® real estate consultant. I have worked in the Santa Fe & Taos real estate market for years. I specialize in working with buyers and sellers who are looking for a solid real estate investment.
Contact me, Dianne McKenzie, for your real estate transactions & let me help you manifest your dreams!
I am readily available by cell phone, text, (505.603.9300) & email. I return calls promptly, seven days a week!
Taos Office: 575.776.7576

---
Go Green: Recycle This E-Newsletter!

After you've enjoyed our Eco Lifestyle and Home newsletter, please recycle it by emailing it to a family member, friend, neighbor or coworker!
---