Eco Lifestyle And Home News – April 2021

Dear Friends, Clients, Business Associates and Neighbors,
April 2021 marks the fifty-second edition of Eco Lifestyle and Home Newsletter produced by Kachina Mountain Realty. We offer Real Estate & Lifestyle news in the email newsletter covering Santa Fe, Taos County and beyond.
In this edition, we offer the following: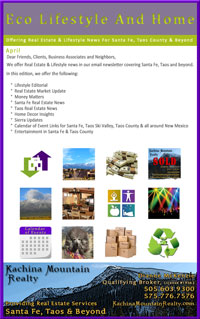 COVID-19 UPDATE
Lifestyle: Abundance
Real Estate Market Update
Money Matters
Santa Fe Real Estate News
Taos County Real Estate News
Home Decor Insights
Sierra Updates!
Calendar of Event Links for Santa Fe, Taos Ski Valley, Taos County & all around New Mexico
Entertainment Links for Santa Fe, Taos County & around New Mexico
---
COVID-19
State of New Mexico Public Health Guidance
As a reminder,
the state of New Mexico's emergency public health order
strictly prohibits mass gatherings, defined as a group of more than five individuals who do not regularly reside with one another. New Mexicans should stay home except for outings absolutely necessary for their health, safety or welfare.
Persons arriving in New Mexico from
"high-risk" states
are required to physically separate from others in a residence or place of lodging for at least 14 days from the date of their entry into New Mexico or for the duration of their presence in the state, whichever is shorter.
GUIDANCE AND SAFE ALTERNATIVES
Do not travel to attend a gathering – whether in New Mexico or out of state – to mix with another household, either of friends or family.

Safe alternative: Traveling incurs unnecessary exposure risk. Stay at home. Wear a mask – covering both your nose and mouth – any time you leave the house, whether you are in contact or near other individuals or not.

Do not gather with non-household members.

Safe alternative: Connect with friends and relatives over a video chat service. Share remotely and safely.

Do not spend unnecessary time shopping for groceries or gifts, and do not make unnecessary supplement trips to the store.

Safe alternative: Order online or make arrangements for curbside pickup. Avoid as much person-to-person contact, and being in the presence of other individuals and especially groups, as much as possible.

Do not host or attend a large gathering.

Safe alternative: If you choose to host a gathering with individuals from outside your own household despite the risks, keep six feet of distance and wear facemasks. Consider setting up a table outside so as to minimize the person-to-person interactions indoors.

Support local businesses

Consider supporting local businesses by ordering takeout or delivery for smaller, meals, and by using safely distanced curbside pickup for any last-minute gift purchases. We can all go the extra mile in supporting small New Mexico businesses.
If you choose to attend a gathering with others, you significantly raise the risk of not only contracting the virus yourself but spreading the virus to friends and loved ones.
If you insist upon taking unnecessary risks and attend or host a gathering, adopt the following safeguards from the Centers for Disease Control and Prevention:
Wear a mask
Strictly limit the number of guests in attendance.
Talk with guests ahead of time to set expectations for safely celebrating together.
Clean and disinfect high-touch surfaces and items between use.
If gathering indoors, make sure to open windows.
Limit the number of people in food preparation areas.
If sharing food, have one person serve food and use single-use options, like plastic utensils. Encourage guests to bring their own food and drink.
Instruct guests to monitor themselves for symptoms for 14 days after the event.
Self-isolate after the gathering with others – symptoms can develop over the course of 2 weeks; even if you do not feel sick, or feel sick immediately, you can spread the virus
Wearing a face mask is one of the best contribution that each of us can individually make to protect the health and well-being of our fellow citizens and the State as a whole. In accordance with these purposes, this Order and its exceptions should be narrowly construed to encourage New Mexicans to stay in their homes for all but the most essential activities.
Face masks will be with us for the next year or more, so why not have several on hand. Some people are wearing face masks as part of a fashion statement, with coordinated face masks to work with their clothing. Others are buying very expensive tech face masks, which can look very hip. Our face masks are very simple. Recycled 2 layers of cotton fabric with 1 layer of non woven interfacing, a nose bridge, and adjustable/replaceable elastic around the ears.
Read about our face mask making »
NEW MEXICO COVID-19 UPDATE: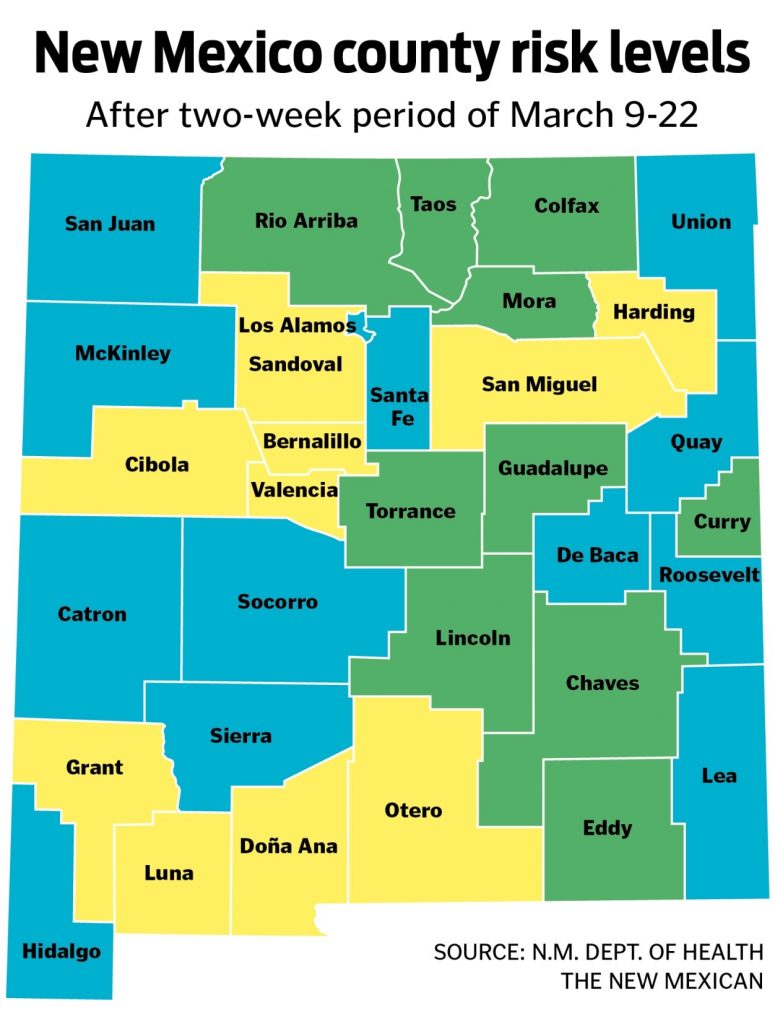 Remember: Masks must continue to be worn around anyone from outside your household and physical distance must continue to be maintained.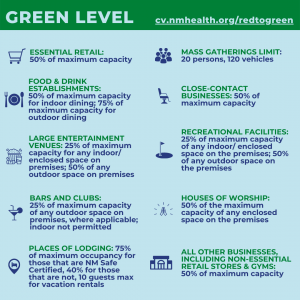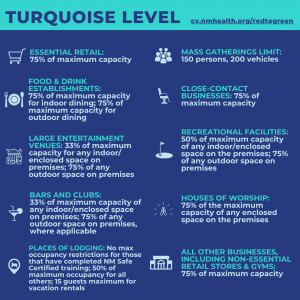 We would like to hear from you.
What are your needs? How can we help you?
Resources & Links:
CORONA VIRUS
---
Lifestyle
Abundance
"We can choose to approach life with an attitude of abundance instead of an attitude of scarcity. Abundance is a conscious choice that can promote happiness and lead to more positive outcomes."
The abundance mentality flows out of a deep, inner sense of personal worth and inner security. The feeling is not about outward abundance, instead there is inner abundance! People with this mentality are generally positive, appreciative, and creative. Being more optimistic, they tend to focus on possibilities, alternatives and group accomplishments. This can be seen in the character of influential leaders, great teachers, and inspirational humanitarians.
Another element of abundance, possibly the most important element, is a sense of gratitude. Without gratitude for what you have who you are and where you are, you will end up blocking yourself once again from the natural flow of abundance. There is energy in the universe, one that shows us the natural flow in life. Your mind and heart need to be in harmony with that energy to truly enjoy abundance in your life.
Gratitude is necessary to keep your mind aligned with the thought that the supply of abundance is unlimited.
It's very easy to slip into the mindset of scarcity, fear or lack, rather than abundance; so it is essential to endeavor to prevent it from happening. The moment you feel yourself slipping back into the abundance mindset, say thank you out loud, for all that you have received and all that you are yet to receive.
The Law of Attraction can be summarized by the age-old belief that you draw to your life what you put out. In other words, your external circumstances, such as your abundance (or lack thereof), are reflective of your internal state – your thoughts, ambitions, and beliefs.
The keys to leading a successful, productive and meaningful life are;
Abundance mentality
Attitude of gratitude
Prosperous choices
Productive habits
Commitment and action
A key component of finding abundance is learning to accept your current circumstances, weaknesses and failures. This may sound like a negative thought, but it's actually the complete opposite.
When you learn to accept your current situation, you will also learn that you can change your mental state and situation over time. Try not to limit what you can do, but understand that sometimes your growth process will go slower than you intended.
Thank you for reading our newsletter & feel free to pass it on to other kindred spirits. ~ Dianne McKenzie
---
Real Estate Market Update
What's happening in Santa Fe
Number of Properties on Market: 404 (-5.2% decrease)
Number of New Properties on Market: 210 (16.7% increase in new listings)
Average Asking Price: $782.782 ($87,044 increase in avg asking price)
Average Asking Price per Square Foot: $334 ($19 increase in List Price/Sq.Ft.)
Average Days on Market: 136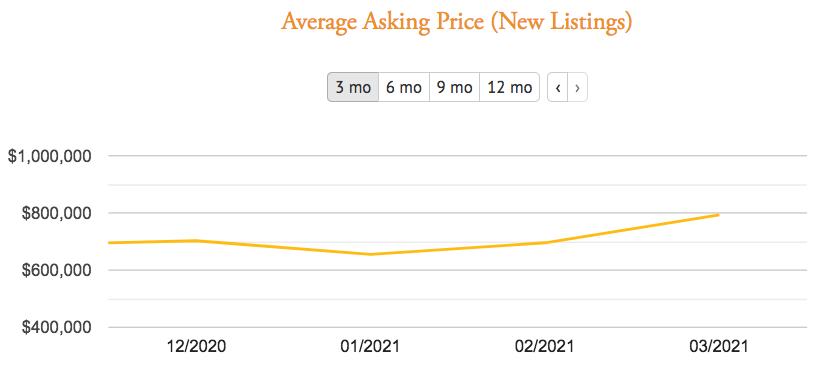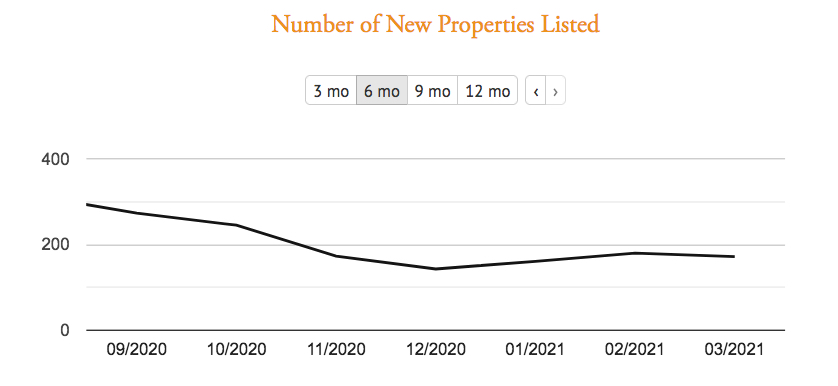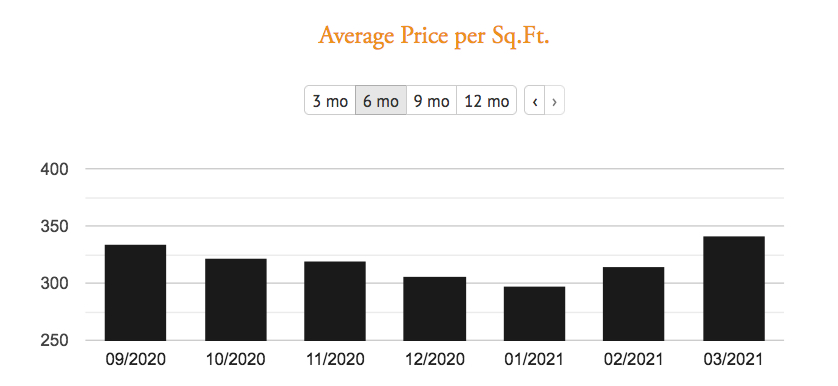 ---
Money Matters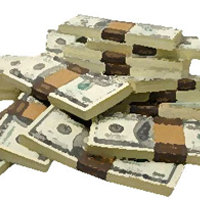 Keeping Current Matters
Article from Keeping Current Matters
Last March, many involved in the residential housing industry feared the market would be crushed under the pressure of a once-in-a-lifetime pandemic. Instead, real estate had one of its best years ever. Home sales and prices were both up substantially over the year before. 2020 was so strong that many now fear the market's exuberance mirrors that of the last housing boom and, as a result, we're now headed for another crash.
However, there are many reasons this real estate market is nothing like 2008. Here are six visuals to show the dramatic differences.
Bottom Line
If you're concerned that we're making the same mistakes that led to the housing crash, take a look at the charts and graphs above to help alleviate your fears.
1. Mortgage standards are nothing like they were back then.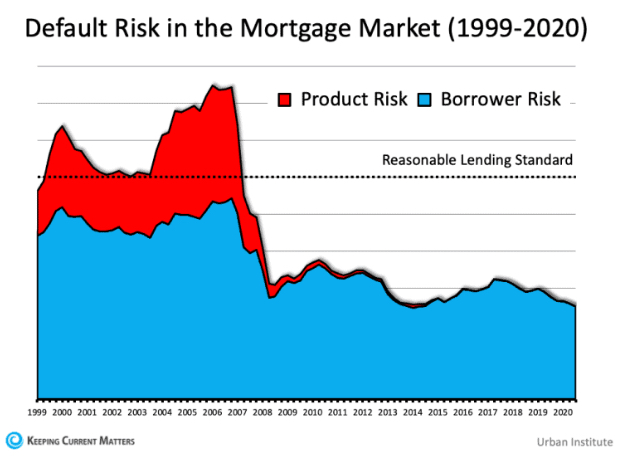 2. Prices aren't soaring out of control.
3. We don't have a surplus of homes on the market. We have a shortage.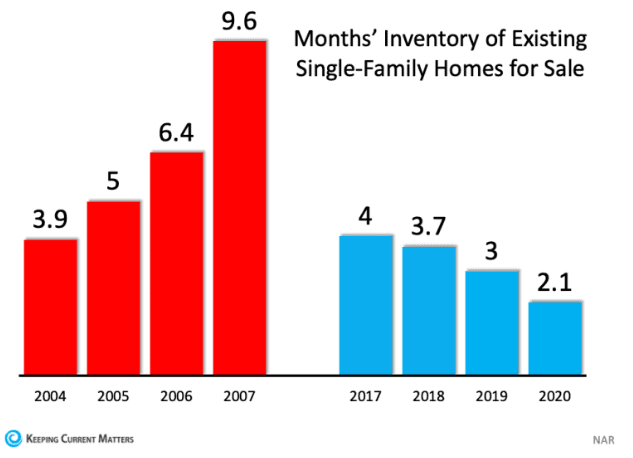 4. New construction isn't making up the difference in inventory needed.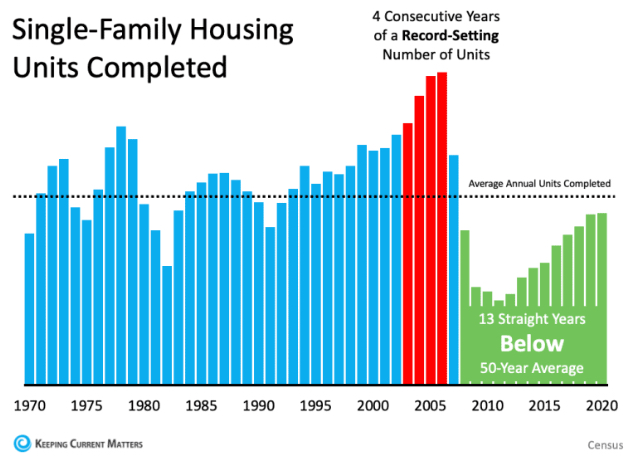 5. Houses aren't becoming too expensive to buy.
6. People are equity rich, not tapped out.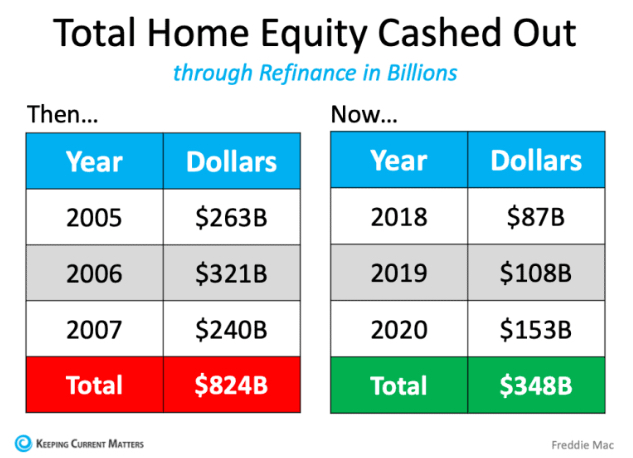 ---
Santa Fe Real Estate News
Aldea Real Estate Stats
2021 Stats: Sold, Pending, Listed
SOLD: 2 Homes, DOM 3 | 0 Lots, DOM 0
PENDING: 10 Homes | 1 Lots
LISTED: 0 Homes, Avg $598,000 | 0 Lots, Avg $99,000
Aldea de Santa Fe consists of 345 acres, with 205 acres of perpetual open space with 13 miles of walking trails, basketball & tennis courts, community center, (which offers yoga classes, exercise equipment & gathering space for events), a local cafe, superbly located in the high-value northwest corridor of Santa Fe County, with easy access to Highway 599, all just 10 minutes from downtown Santa Fe.
Spring is here and the listings have not yet picked up. Homes go pending within hours of being listed. Let me take you on a tour!
Current Listings April 1, 2021: Already Pending!


---
Tessera Real Estate Stats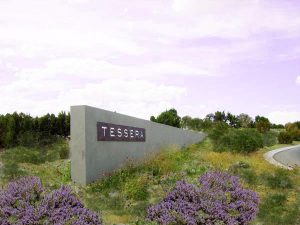 2021 Stats: Sold, Pending, Listed
SOLD: 3 Homes, DOM 39
PENDING: 6 Homes
LISTED: 3 Homes, Avg $579,916
Located in the hills of northwest Santa Fe and an adjacent neighbor to Aldea, Tessera features stunning mountain views, generous dedicated open space and an extensive trail system. Built to exacting standards and quality, the to-be-built homes at Tessera are ideal for those who enjoy customizing their home finishes to suit their personal taste.
Home sites boarder greenbelt for a private and natural ambiance. Close proximity to La Tierra Trails, public golf and more. Tessera is located next to Aldea and just min
---
Las Campanas Real Estate Stats
2021 Stats: Sold, Pending, Listed

SOLD: 21 Homes, DOM 65 | 15 Lots, DOM 152
PENDING: 16 Homes | 17 Lots
LISTED: 23 Homes, Avg $2,168,193| 52 Lots, Avg $204,543
Las Campanas is the only luxury master-planned community in Santa Fe. Stretching across 4,700 acres surrounded by pristine high desert, the community is comprised of exclusive neighborhoods. Las Campanas is also home to The Club at Las Campanas, where members can enjoy two award-winning Jack Nicklaus Signature golf courses, the 46,000 square foot Hacienda Clubhouse, a peerless Equestrian Center and the Fitness & Tennis Center, which includes a luxurious spa.
There are currently 23 homes for sale in Las Campanas
0 Homes under $1,000,000
23 Homes over $1,000,000
There are currently 52 Lots for sale in Las Campanas
13 Lots under $100,000
39 Lots over $100,000
Let me take you on a tour in Las Campanas!
---
Marketing Properties, Not Just Listing Properties
If you are thinking of selling your property, why not list it with a realtor who will market the property, not just list it in the MLS? By actively marketing your property, the property gets the most exposure to other realtors and to the general public through online blogging, email campaigns & the typical MLS exposure.
Call me, Dianne, 505.603.9300, to discuss your property needs, or for a tour of Lots & Homes in Aldea, Las Campanas and the Santa Fe region.
Taos Office: 575.776.7576
Visit the website for Santa Fe information: RealEstatePropertiesSantaFe.com
Visit the Kachina Mountain Realty company main website: KachinaMountainRealty.com
---
Taos Real Estate News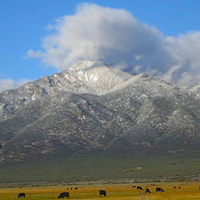 2021 Stats: Sold, Pending, Listed

*SOLD: 50 Homes, DOM 220 | 19 Lots, DOM 309
*PENDING: 63 Homes | 57 Lots
*LISTED: 35 Homes, Avg $847,182 | 168 Lots, Avg $261,277
* Areas tracked:
Lower North, Upper North, West North, Town of Taos, Taos Ski Valley, South West, South East
See map for areas »
Recently, I have received inquiries from out of town buyers who are researching homes in the Taos area. These buyer profiles are looking to live in a safe community, with a country atmosphere, small homes, with flexible spaces.
Buyers are wanting to move to the area, but can't find the properties that offer amenities that don't include huge HOA fees. They want walking trails, localized eateries, a small grocery store, community activities and a sense of neighborhood. They are either downsizing their home and retiring or wanting a second home. They are wanting to go smaller, but the quality of their lifestyle and home features are upscale.
"Does such a community even exist?" they ask.
In the coming months, I will be featuring such a community.
If you have been thinking about selling your home, now is probably a good time. Inventory is low and the demand for quality homes is up.
Call our Taos Office: 575.776.7576
---
Home Decor Insights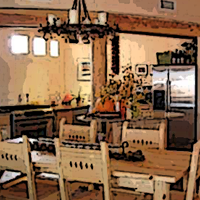 Curb Appeal Becomes Internet Appeal: Maximize Your Online Real Estate Listing
by Debbie DeMarais
Recently, I showed you how to arrange your home to appeal to buyers in the age of COVID. The second piece of the pandemic real estate puzzle is making sure your home has a compelling online presence.
In the "before times" you could often rely on the in-person charm of a property to help sell it to interested buyers. But these days? The vast majority of the homebuying process is happening virtually. That means buyers are doing their shopping online before they see a home — if they ever see the property in person at all. Sight-unseen sales are sharply on the rise. According to a survey conducted by Redfin last year, 45% of buyers put in offers on their new home without ever seeing it in person.
Thanks to the shift towards working from home, more people are moving away from big cities and making other cross-country moves. Your online presence not only appeals to buyers in your local market, you'll be reaching potential buyers from across the country (and even across the globe).

Non-negotiable: Good photography and 3D tours
Step aside, curb appeal. Online photos are the new first impression. Using a good real estate photographer to capture your home is critical for generating real interest. Despite the recession driven by the coronavirus, the real estate market is strong. High-quality, professional photos are your best bet for getting a potential buyer interested in your home. I encourage everyone to make sure their real estate agent brings in a pro for the photos.
Once a buyer swipes through the photos, their next move is to take a 3D tour. What used to be a quirky add-on to a real estate listing is now practically a requirement. According to the New York Times, Zillow reported a 152 percent increase in listings with 3-D Home tours from 2019 to 2020. Listings with virtual home tours attract more traffic compared to listings without them. And most importantly, the virtual 3D tour is a shift that probably won't be going away any time soon.
A 3D home tour allows potential buyers to simulate standing at different points throughout the house (indicated in the example below by white circles on the floor). They can navigate from point to point to simulate walking through the room, and each point offers a 360º view as if you were actually in the space. In addition to all that detail, some 3D tour platforms allow you to access an interactive floor plan view and use a virtual ruler to measure spaces!
To add another level of appeal, aerial drone photography can capture views, property surroundings, and landscapes that interior shots can't convey. This can be especially effective for generating some WOW-factor if a property has a larger lot size or offers impressive views.
But here's the catch
A good photographer can capture the lighting, the angles, and the mood that presents your home in the best possible light. A 3D tour can give buyers an experience that's as close as possible to actually walking through your home. But a photographer can't make a cluttered room look open or give an empty room a sense of function. A 3D tour can't make an outdated room look modern, or four blank walls and a floor look like an office. Many people assume a photographer will be able to edit the way a home looks, but in reality, liability issues prevent them from altering your home at all…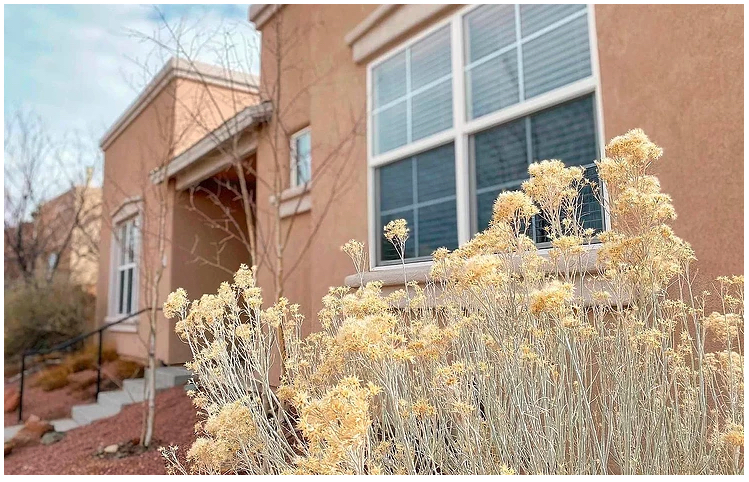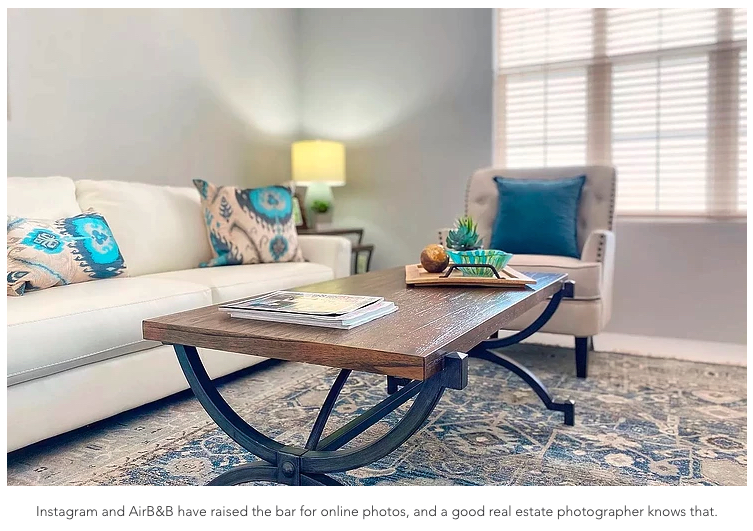 That's what a home stager is for
In order to look its best for the cameras, the rooms in your home should be arranged to maximize their potential. In a furnished home, a home stager will banish clutter and overly personal items so the buyer is not distracted. They'll make sure rooms are staged to suggest practical, functional uses, such as the work-from-home and distance-learning mentioned in my previous post.
In the case of a vacant home, a home stager will bring life to the photos and the tour. They'll populate the rooms with furnishings and décor that create an inviting, appealing look—one that helps the buyer envision themselves in the home. Even if you don't stage every room in the house, staging the public areas, like the living and dining rooms, and at least one bedroom (preferably the primary bedroom) can go a long way towards capturing a potential buyer's attention.
Don't miss out on the good offers
Yes, the housing market remains strong despite the pandemic. But with our new realities, the way people buy real estate has shifted. Not optimizing the way your home appears to the online buyer is simply an invitation for your home to be overlooked.
Hire a professional home stager and you'll ensure your home looks great in photos and on your 3D tour. The cost of staging is relatively low, and the returns it yields is high. An attractive online presence is the best way to generate competitive offers and sell your home during COVID.
Image Credits: All of the above images, and the 3D tour for the featured property in this post, were provided by the talented Aram Noah Herrera of Airs Cloud Virtual Tours.
—
Want to generate the most interest for your home? Ready to make your listing stand out from the crowd? Professional home staging is the way to go. In addition to offering my full suite of staging surfaces in the Santa Fe area, I also provide online staging consultations for occupied homes. Contact me and let's talk about making your home look its best online.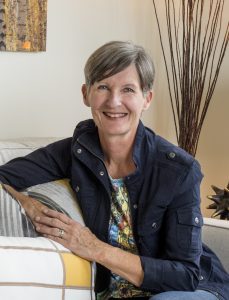 Debbie DeMarais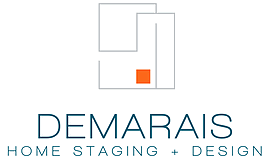 Certified Home Stager & Designer
HSR, CLIPP™, CCE, ASID Allied Member
505-699-4989
homestagingsantafe.com
For ideas on decorating with spring in mind, check out Pinterest and explore a whole new way to spend your time online and check out my Pinterest page: KachinaRealty Happy pinning!
While you are surfing the "net" check out Flipboard for a variety of news and lifestyle reading.
---
Sierra
CFO, (Chief Fun Officer)
Our 2 year old silver standard poodle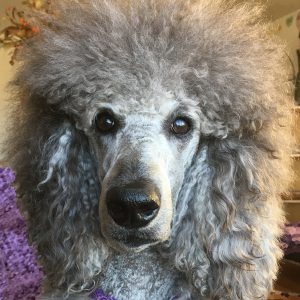 March 1-31, 2021
I weigh & measure Sierra once a month, so here are her stats as of March, 2021: 14″ collar, girth: 24″, height to shoulder: 25″ weight: 34.5 lbs.
March 18, 2021, Sierra turned 2 years old! The time has gone by so quickly that it is hard to believe the puppy has grown into a full size dog! Sierra is sweet, cuddly and as wonderful as ever. She is the center of our universe.
It is equally hard to believe we have all lived through a year of COVID-19. For Sierra, it has meant a year of isolation, no doggy daycare, no doggy classes, no walks in downtown Taos to meet new people. Sierra has been social distancing with John & I, confined to walks around the ranch and playing catch in her yard. When COVID-19 is over and we all can gather in larger groups, Sierra will have to relearn how to socialize with other dogs and people. But in the meantime, we are very content to cuddle and stay cozy. Sierra naps during the day under my desk, "snoopervising" everything I do, as CFO of Kachina Mountain Realty means she has responsibilities that must be fulfilled.
Sierra short video for her 2nd year:
Sierra's photos for the month of March 2021»
Visit Sierra's web page to view all of them »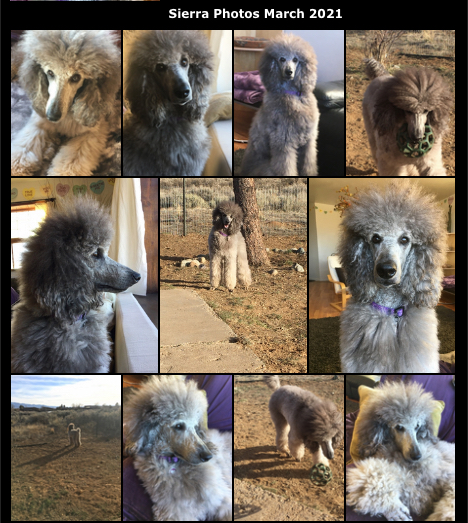 You really need to watch Sierra's videos as they capture her spirit!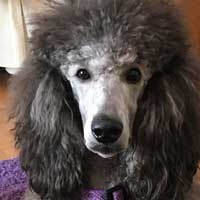 Here is the link to Sierra's Videos »
Sierra's 1st video explains who she is and her new role at Kachina Mountain Realty. In Sierra's 2nd video she talks about Dianne's role at Kachina Mountain Realty in the era of COVID-19. In Sierra's 3rd video, Sierra talks about selling and buying real estate during the COVID-19 pandemic. In Sierra's 4th video she talks about how staying safe in the era of COVID-19.
Sierra's web page: www.diannemckenzie.com/sierra
More photos will be continually posted on her own web page, so check back monthly, as we chronicle her life with us!
---
Calendar of Events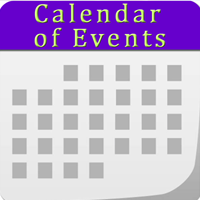 New Mexico has long been a center for arts, culture, classes and gourmet food. With such a strong art market, there are hundreds galleries to explore and experience, along with a wide selection of thriving restaurants. Our Museums feature culture, history and traditions of the region and the world. Santa Fe, Taos County and beyond have something scheduled every day & night of the week, all year long.
---
Entertainment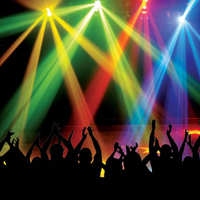 If there's one thing you can count on when spending time in New Mexico, it's the treasured experiences and wide selection of entertainment: music venues, great sporting events, theatrical and musical entertainment as well as year-round festivals.
From festivals, music concerts and dance performances to theatrical offerings by local and touring groups, the performing artists work hard to keep its locals and visitors entertained by both New Mexico performers and acclaimed stars from around the world.
---
About Kachina Mountain Realty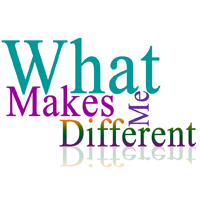 I am passionate about real estate development. I consider myself a "Dream Maker", and strive to help my clients manifest their dreams and lifestyle goals.
I believe that, "…the dreams which accompany all human actions should be nurtured by the places in which people live and work".
To promote this possibility, I encourages my clients to develop and share their dreams and lifestyle goals as part of the process of selling, buying or investing in property.
I have over thirty years of business experience as an executive producer, web architect, social media marketer, business developer, architecture assistant, real estate marketing developer and real estate consultant.
I am a licensed real estate qualifying broker for Kachina Mountain Realty & an accredited ACRE® real estate consultant. I have worked in the Santa Fe & Taos real estate market for years. I specialize in working with buyers and sellers who are looking for a solid real estate investment.
Contact me, Dianne McKenzie, for your real estate transactions & let me help you manifest your dreams!
I am readily available by cell phone, text, (505.603.9300) & email. I return calls promptly, seven days a week!
Taos Office: 575.776.7576

---
Go Green: Recycle This E-Newsletter!

After you've enjoyed our Eco Lifestyle and Home newsletter, please recycle it by emailing it to a family member, friend, neighbor or coworker!
---