Eco Lifestyle And Home News – July 2021
Dear Friends, Clients, Business Associates and Neighbors,
July marks the fifty-fifth edition of Eco Lifestyle and Home Newsletter produced by Kachina Mountain Realty. We offer Real Estate & Lifestyle news in the email newsletter covering Santa Fe, Taos County and beyond.
In this edition, we offer the following: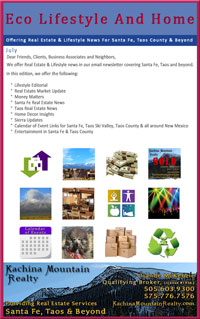 COVID-19 UPDATE
Lifestyle: Imagine
Real Estate Market Update
Money Matters
Santa Fe Real Estate News
Taos County Real Estate News
Home Decor Insights
Sierra Updates!
Calendar of Event Links for Santa Fe, Taos Ski Valley, Taos County & all around New Mexico
Entertainment Links for Santa Fe, Taos County & around New Mexico
---
COVID-19
State of New Mexico Public Health Guidance
New Mexico Gov. Michelle Lujan Grisham says all remaining pandemic-related public health restrictions on commercial and day-to-day activity in the state will be lifted July 1, 2021.
She made the declaration Friday, June 18, as state health officials continued to crunch the vaccination numbers.
The governor had wanted at least 60% of residents 16 and older to be vaccinated two weeks ahead of the reopening.
Her office said vaccinations stood at 59.4% on Thursday but that the state was waiting for more federal data to come in.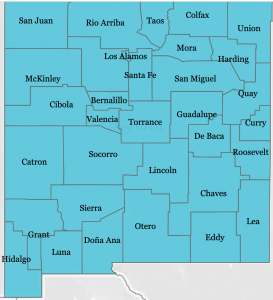 Individuals are considered fully vaccinated two weeks after their second dose in a two-dose series,
such as the Pfizer or Moderna vaccines, or two weeks after a single
-dose vaccine, such as the
Johnson & Johnson vaccine. Individuals who do not meet those r
equirements must continue to wear
a mask in public settings.
It is important to note that private businesses and localities may maintain
mask and
social distancing
mandates, even for vaccinated
persons.
Please be mindful that many people who have been fully vaccinated may have underling health issues such as pulmonary, respiratory and immune issues, therefore they should still take precaution in wearing masks, as well as continue with social distancing.
What We Know
COVID-19 vaccines are effective at preventing COVID-19 disease, especially severe illness and death.
COVID-19 vaccines reduce the risk of people spreading COVID-19.
What We're Still Learning:
How effective are the vaccines against variants of the virus that causes COVID-19?
Early data show the vaccines masks work against some variants but could be less effective against others.
How well the vaccines protect people with weakened immune systems, including people who take immuno-suppressive medications.
How long COVID-19 vaccines can protect people?
As we know more, CDC will continue to update our recommendations for both vaccinated and unvaccinated people.
The Delta variant, which was first detected in India, now accounts for more than 6% of all infections in the United States, according to the Centers for Disease Control and Prevention. And this highly transmissible variant may be responsible for more than 18% of cases in some Western U.S. states. The Delta variant may be associated with more severe disease for those who have underling health issues such as pulmonary, respiratory and immune issues, and therefore have a higher risk of hospitalization.
Resources & Links:
CORONA VIRUS
---
Lifestyle
Imagine
"Imagination is more important than knowledge. For knowledge is limited to all we now know and understand, while imagination embraces the entire world, and all there ever will be to know and understand." ~ Albert Einstein
The ability to dream, take chances, and create the things we imagine… these are the skills of entrepreneurs, innovators and change makers. The future requires people who can problem-solve, adapt and communicate in workplaces and environments that are increasingly complex. Creativity creates jobs, drives economic growth and provides answers to societal needs. And it also maximizes human potential. Research quoted in Newsweek says that people with high "creative self-efficacy" are better able to handle stress and are more "confident."
The creative power of imagination has an important role in the achievement of success in any field. What we imagine with faith and feelings comes into being. To be able to imagine is a great power that can change ones life. Creative visualization, positive thinking and affirmations are simple tools for cultivating imagination.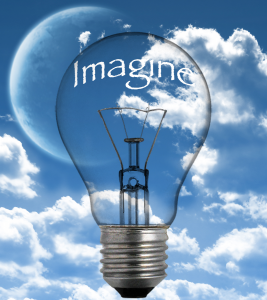 A developed and strong imagination strengthens creative abilities, and is a great tool for recreating and remodeling ones world and life.
Never underestimate the value of imagination — it's behind every great idea.
"First comes the thought; then organization of that thought into ideas and plans; then transformation of those plans into reality. The beginning, as you will observe, is in your imagination." ~From Napoleon Hill
Visioning is about cultivating dreams into reality through vivid mental imaging. It means creating a mental movie of oneself in an ideal future and working to bring that vision into being. Vivid mental imagery activates creative centers deep within our minds that trigger ideas on how to bring our visions into reality. In essence, the destination dictates the route. Without realizing it, imagining is influencing the present vision and is forming the future.
What do you imagine for yourself? What steps are you taking to manifest your dreams? What are you imagining into your reality?
Happy July 4!
It is time to celebrate after over a year of living through the pandemic. Celebrate safely, as we all take a collective sigh of relief of returning to a more normal life than this past year. It is time to imagine a new life, what do you want to manifest?
Thank you for reading our newsletter & feel free to pass it on to other kindred spirits. ~ Dianne McKenzie & Sierra

---
Real Estate Market Update
Could New Mexico Home Sales Get Any Hotter?
from the New Mexico Association of Realtors
"New Mexico is still setting record numbers in housing sales,even with a lack of inventory on the rise. May wasn't as big an increase as this past April, which shows there may be a slowdown coming", according to Danny Wm. Vigil, NMAR President.
The median home sale price is at an all-time high of $270,000 for New Mexico. This is an increase of19% over May of 2020 and an increase of 2% over last month (April). New Mexico's median sale price has increased more than the national average, which according to Realtor.com, is a 15.2% increase in asking price compared to last year (May 2020), and while home prices haven't fallen, the appreciation rate is keeping in line with the national average of 2%.
The highest volume of sales this month is Bernalillo County with $299,770,274and Santa Fe County once again reporting the highest median sold price of $525,000. This figure is $25,000above last month's (April 2021) median sold price and a 29.3% increase this time last year (May 2020), with $371,643.
Another big winner was Colfax County, with an average sales price of $532,550. New Mexico's average days-on-market is down to 44 from 54 this time last year and down from 49 days this past April. Again, Bernalillo is seeing much higher sales volume with an average days-on-market of 11for May 2021 compared to 20days in May of 2020.
"Reports are talking about an inflation storm coming, but the true data is always lagging a bit, so we may not want to talk ourselves into a recession just yet", says Steven Anaya, NMAR, CEO. "We don't know for sure what will happen in the next year or two, but right now, interest rates are still low,home prices are leveling out a bit and people are ready for the new normal, but one thing will never change; people will always need a home and it will be one of their biggest investments."
Real Estate activity resulted in a total volume of over $786,822,071in May 2021, another new high for May since NMAR began keeping statistics in 2008. This is a 42% increase over May of 2020,which generated a volume of $456,510,679. New Mexico REALTORS® continue to host open houses and follow the current New Mexico health orders and Covid safe practices. Virtual tours are still being held and buyers are coming to the market prepared.The trends and numbers reported are only a snapshot of market activity.

Read more articles »
---
Money Matters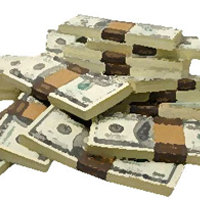 Looking Ahead
This past week the Federal Reserve had their June meeting and prepared the markets for liftoff, meaning when they would hike rates in the future.?The initial bond market reaction was negative with both home loan rates and long-term Treasury rates moving higher. Let us break it all down and discuss what to look for in the weeks and months ahead.
The "Talking About, Talking About" Meeting
At the previous Fed meeting in April, the Fed had been forecasting the next rate hike to the Fed Funds Rate would be in 2024. On Wednesday, June 16, the Fed pulled forward those projections and are now seeing the likelihood of the next rate hike in March 2023 followed by as many as two more hikes in 2023.
What Happened?
The Fed acknowledged that inflation may run hotter and be more persistent than originally expected. This is the reason why the Fed may have to hike rates sooner than previously forecasted. While a Fed rate hike has no direct effect on home loan rates, this announcement does influence mortgage rates going forward, but how?
The Fed will have to start tapering bond purchases well in advance of a Fed Funds Rate hike. This means they will slow their bond purchasing program sooner than previously envisioned, which will likely lead to higher mortgage rates sooner than expected. Fed Chair Jerome Powell said the Fed members at the meeting did talk about the notion of tapering. This means the "we are not even thinking about, thinking about" tapering line has been discarded. The Fed is no longer thinking, but discussing, rate hikes and less bond buying.
In trying to calm the markets, more specifically stocks, the Fed did clearly state that any rate hike or change to the bond-buying program will be based on the incoming data in the months ahead. So, while the Fed is preparing the markets for quicker and more rate hikes, it may not happen as soon as March 2023, which, by the way, is still a long time from now.
Moreover, for this to happen, the incoming economic data over the next several months must support the Fed move. This means we must pay close attention to the labor market, economic growth, and inflation readings. If they run hot later this year, we should expect the Fed to come out and say they are about to begin tapering their bond purchases.
Wednesday's Fed announcement caused a knee-jerk reaction of lower bond prices, but Thursday we watched prices stabilize, and the 10-year note yield is still hovering at 1.46%, a multi-month low.
Bottom line: This is an amazing moment to take advantage of an interest rate environment that is being manipulated by the Fed bond-buying program. This bond-buying program is now in jeopardy should economic data come in stronger or hotter than expected. If you are considering a refinance or purchase, home loan rates may not improve much or at all from here. Now is a great time to lock.
Looking Ahead
As shared above, the incoming economic data will determine when the Fed decides to taper bond purchases and ultimately hike rates. Inflation is one of the more important readings to watch, and next Friday the Fed's favored gauge of consumer inflation, the Core Personal Consumption Index, will be released. If it is a hot reading, rates could move higher. The opposite is also true.

---
Santa Fe Real Estate News
Aldea Real Estate Stats
2021 Stats: Sold, Pending, Listed
SOLD: 17 Homes, DOM 71 | 1 Lots, DOM 30
PENDING: 5 Homes | 1 Lots
LISTED: 0 Homes, Avg 0 | 1 Lots, Avg $99,000
Aldea de Santa Fe consists of 345 acres, with 205 acres of perpetual open space with 13 miles of walking trails, basketball & tennis courts, community center, (which offers yoga classes, exercise equipment & gathering space for events), a local cafe, superbly located in the high-value northwest corridor of Santa Fe County, with easy access to Highway 599, all just 10 minutes from downtown Santa Fe.
Spring is here and the listings have not yet picked up. Homes go pending within hours of being listed. Let me take you on a tour!
Current Listings: None

Sold: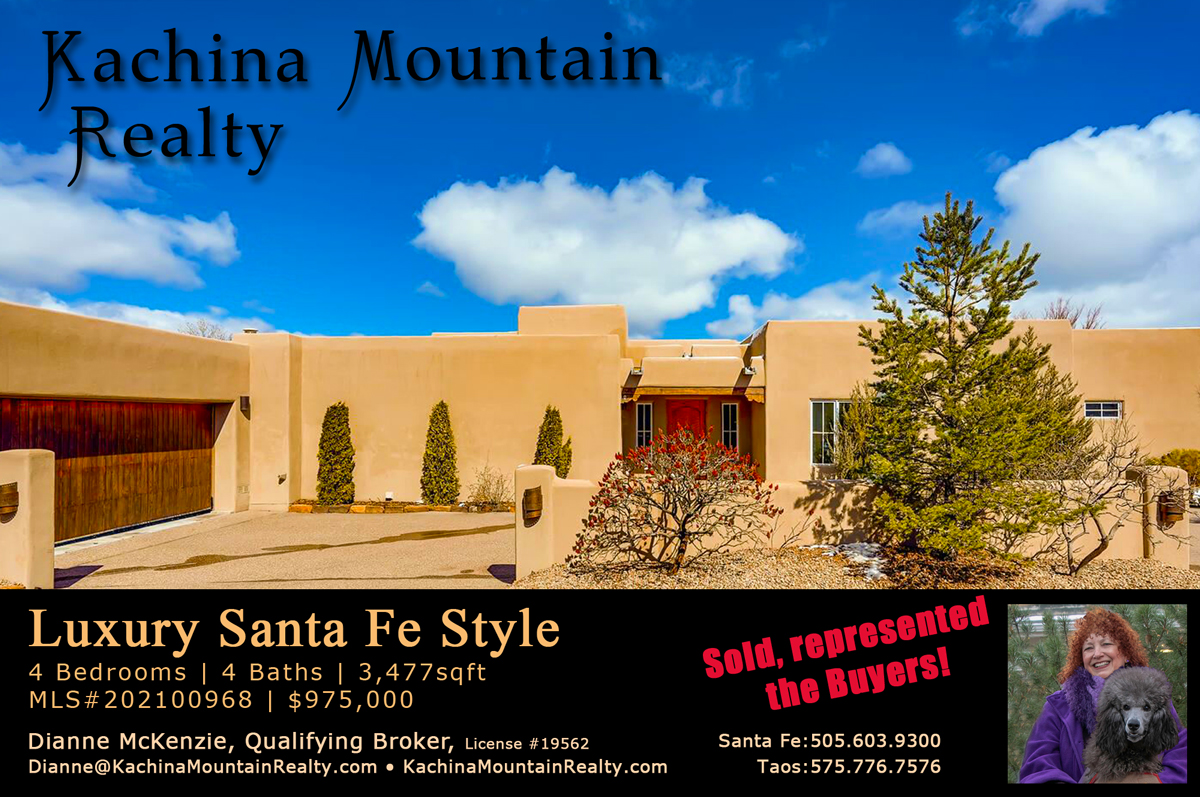 ---
Tessera Real Estate Stats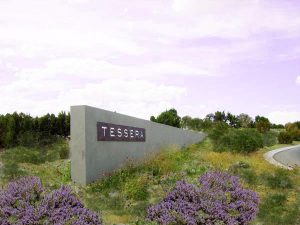 2021 Stats: Sold, Pending, Listed
SOLD: 6 Homes
PENDING: 2 Homes
LISTED: 0 Homes
Located in the hills of northwest Santa Fe and an adjacent neighbor to Aldea, Tessera features stunning mountain views, generous dedicated open space and an extensive trail system. Built to exacting standards and quality, the to-be-built homes at Tessera are ideal for those who enjoy customizing their home finishes to suit their personal taste.
Home sites boarder greenbelt for a private and natural ambiance. Close proximity to La Tierra Trails, public golf and more. Tessera is located next to Aldea and just min
---
Las Campanas Real Estate Stats
2021 Stats: Sold, Pending, Listed

SOLD: 48 Homes, DOM 56 | 42 Lots, DOM 169
PENDING: 18 Homes | 11 Lots
LISTED: 19 Homes, Avg $2,663,105 | 46 Lots, Avg $214,000
Las Campanas is the only luxury master-planned community in Santa Fe. Stretching across 4,700 acres surrounded by pristine high desert, the community is comprised of exclusive neighborhoods. Las Campanas is also home to The Club at Las Campanas, where members can enjoy two award-winning Jack Nicklaus Signature golf courses, the 46,000 square foot Hacienda Clubhouse, a peerless Equestrian Center and the Fitness & Tennis Center, which includes a luxurious spa.
There are currently 19 homes for sale in Las Campanas
0 Homes under $1,000,000
19 Homes over $1,000,000
There are currently 46 Lots for sale in Las Campanas
7 Lots under $100,000
39 Lots over $100,000
Let me take you on a tour in Las Campanas!
---
Marketing Properties, Not Just Listing Properties
If you are thinking of selling your property, why not list it with a realtor who will market the property, not just list it in the MLS? By actively marketing your property, the property gets the most exposure to other realtors and to the general public through online blogging, email campaigns & the typical MLS exposure.
Call me, Dianne, 505.603.9300, to discuss your property needs, or for a tour of Lots & Homes in Aldea, Las Campanas and the Santa Fe region.
Taos Office: 575.776.7576
Visit the website for Santa Fe information: RealEstatePropertiesSantaFe.com
Visit the Kachina Mountain Realty company main website: KachinaMountainRealty.com
---
Taos Real Estate News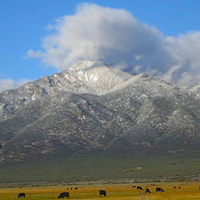 2021 Stats: Sold, Pending, Listed

*SOLD: 108 Homes, DOM 197 | 60 Lots, DOM 285
*PENDING: 62 Homes | 56 Lots
*LISTED: 57 Homes, Avg $676,735 | 180 Lots, Avg $246,177
* Areas tracked:
Lower North, Upper North, West North, Town of Taos, Taos Ski Valley, South West, South East
See map for areas »
Recently, I have received inquiries from out of town buyers who are researching homes in the Taos area. These buyer profiles are looking to live in a safe community, with a country atmosphere, small homes, with flexible spaces.
Buyers are wanting to move to the area, but can't find the properties that offer amenities that don't include huge HOA fees. They want walking trails, localized eateries, a small grocery store, community activities and a sense of neighborhood. They are either downsizing their home and retiring or wanting a second home. They are wanting to go smaller, but the quality of their lifestyle and home features are upscale.
"Does such a community even exist?" they ask.
In the coming months, I will be featuring such a community.
If you have been thinking about selling your home, now is probably a good time. Inventory is low and the demand for quality homes is up.
Call our Taos Office: 575.776.7576
---
Home Decor Insights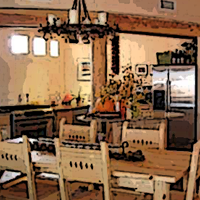 The Money-Making Magic of Professionally Staging Your Home
by Debbie DeMarais
What if I told you a little money and a few hours of effort could net you a huge return? No, this isn't a pitch for one of those multi-level marketing schemes. This is something I've seen first hand over many years in my profession. If you're selling your home, having it professionally staged is the best way to add value. In fact, staging can bring in thousands, even tens of thousands additional dollars on the sale price.
Home staging isn't just for empty, unoccupied homes, either. If you'll still be living in your home when it's on the market, a professional stager will make sure every detail is arranged to attract the most interest—so you can pull in the best offers, fast.
Can't I just stage my home myself?
Of course you can. Your furniture is already there. There's art on the walls. You could give everything a good cleaning and call it a day. But if you consider the improved—and faster—offers you'll get with a professional staging, the financial benefits are just too good to skip.
Most occupied home stagings can be completed with a few hours of consultation, in which you'll learn exactly what should go where, what should be removed, and what repairs or updates you should make. You can save money by following the recommendations yourself, or you can leave the transformation to your home stager's team.
What DIY staging can't do
A home stager will offer two things that most people are unable to bring to a home staging project on their own:
Objectivity

Insider knowledge
Today I'll show you two projects that highlight those two pro-stager advantages.
Objectivity: Seeing with a buyer's eye
You've a long time to discover and acquire items—art you love, furnishings you need, mementos you treasure. It can be difficult to look dispassionately at your belongings to determine what should remain for buyers to see, and what should be packed away.
A stager on the other hand, will know exactly which pieces of art will have the most positive effect on a buyer. They'll know which of your furniture, in what arrangements will give your home an open and inviting feel.

The owners of this classic Southwestern home had a large collection of art and accumulated mementos. Their furniture was arranged in a way that worked best for how the family lived in the home. Unfortunately the overall effect—to a buyer—was overly cluttered and the layout was confusing.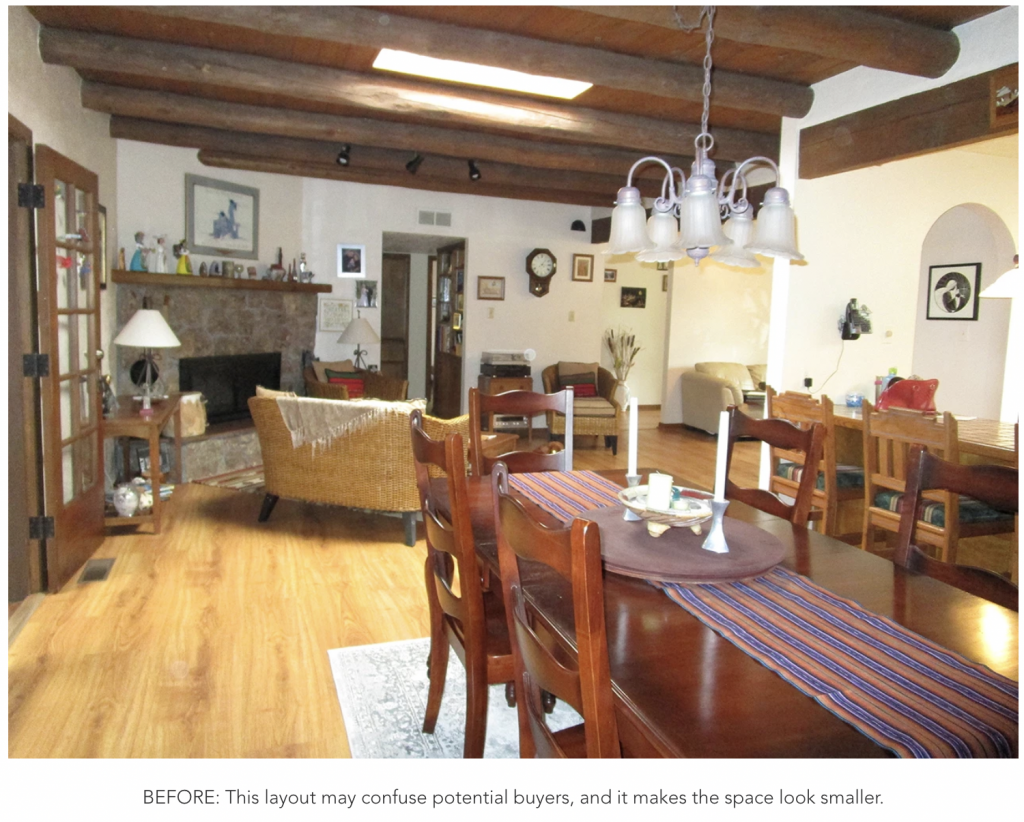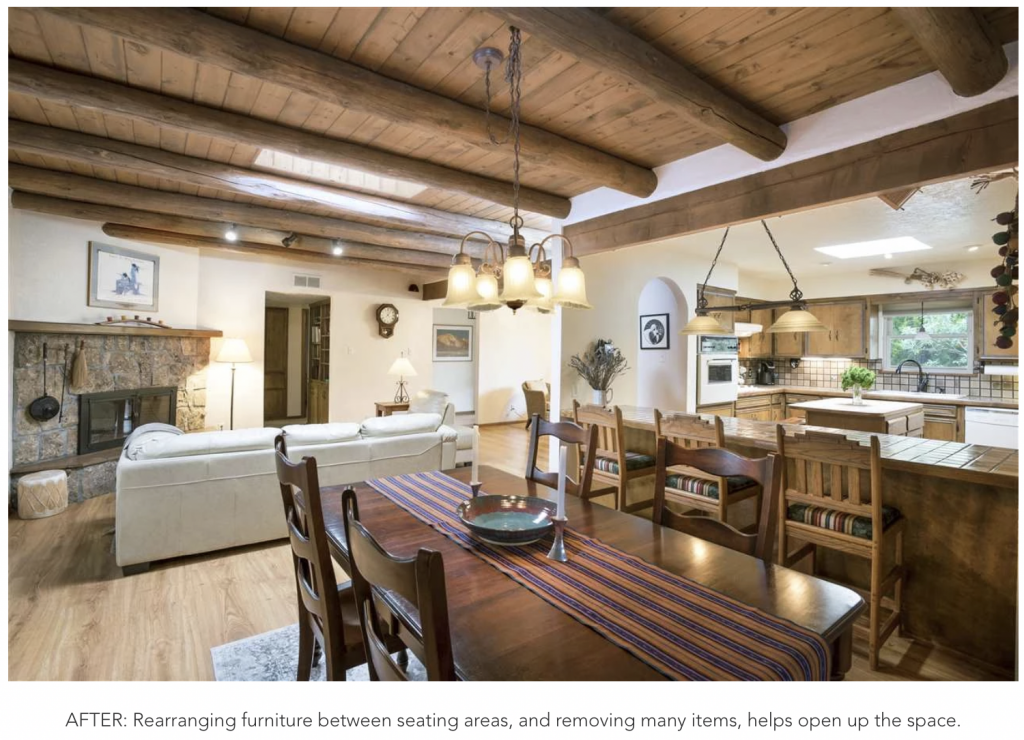 I recommended paring down around 60 percent of the art and décor in the home, and I selected a few pieces that would appeal to the broadest range of buyers. I then rearranged and swapped furnishings between rooms to create quiet and calm seating areas. As you can see from the photos, the living room feels more open, uncluttered, and inviting.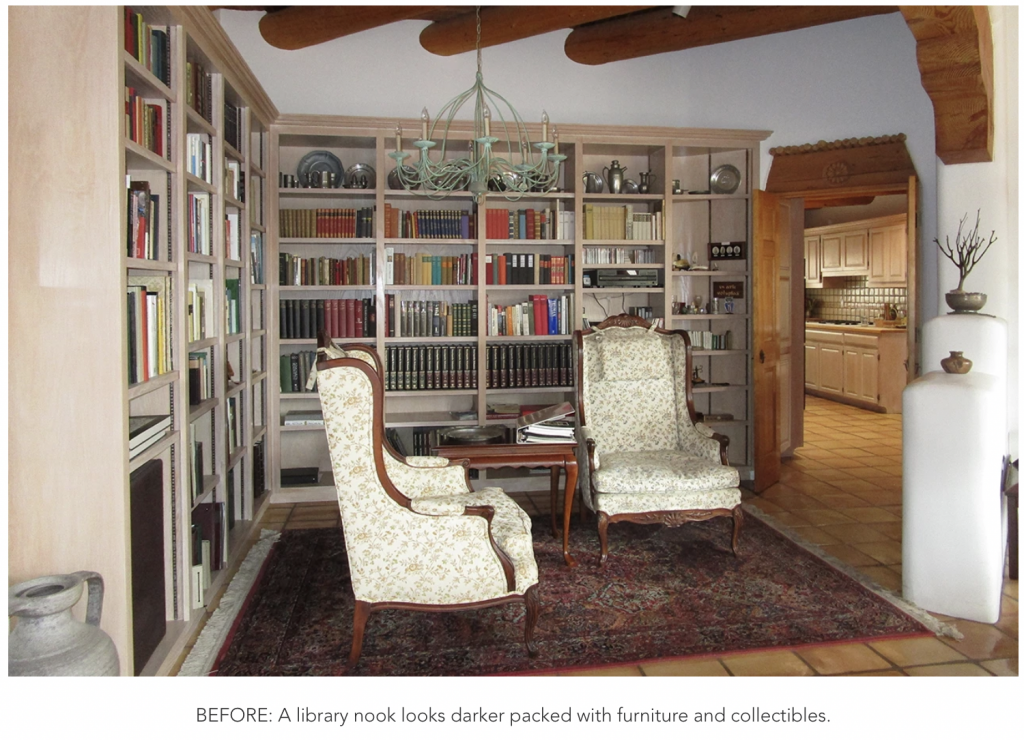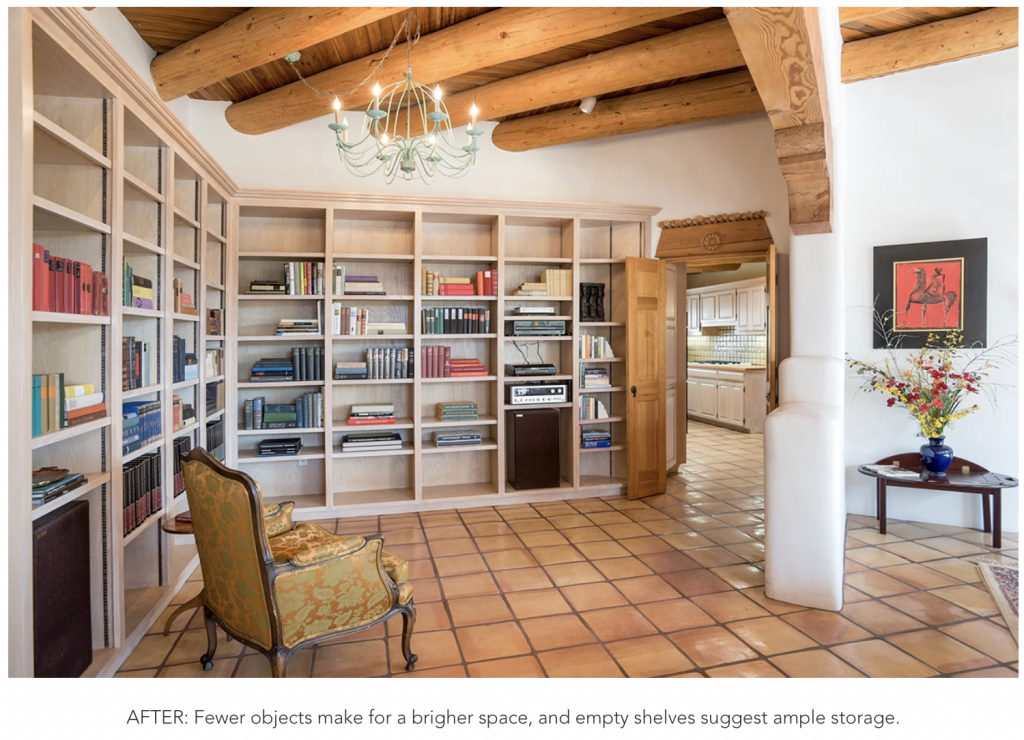 Insider Knowledge: Hands-on experience
If you buy and sell a home five times in your life, you're above average—but well below the number of real estate transactions a home stager has experienced. A home stager can tell you what buyers respond to and what décor choices best fit your style of home. Hands-on experience informs what works and what doesn't, from front door appeal to landscaping, rug choice to paint color.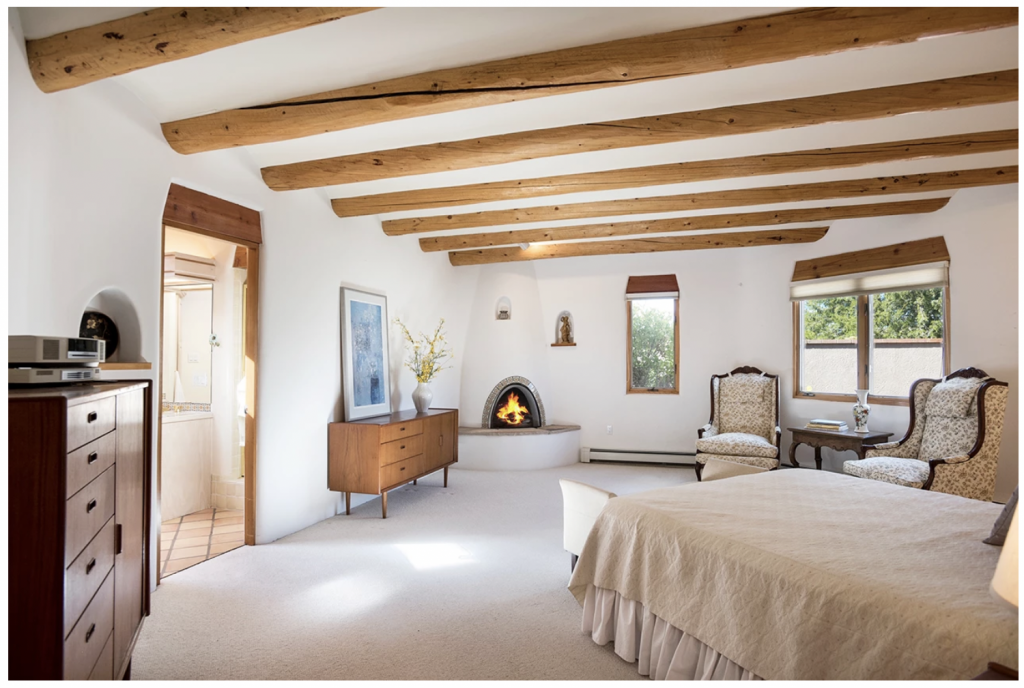 Do it yourself—with expert advice
I'll leave you with one more set of before and after pics. (Because who doesn't love a good before/after?) This entire project was completed over the phone and through video chat. The seller wanted to make the best of what they had in their home and was willing to put in the sweat equity to make it happen.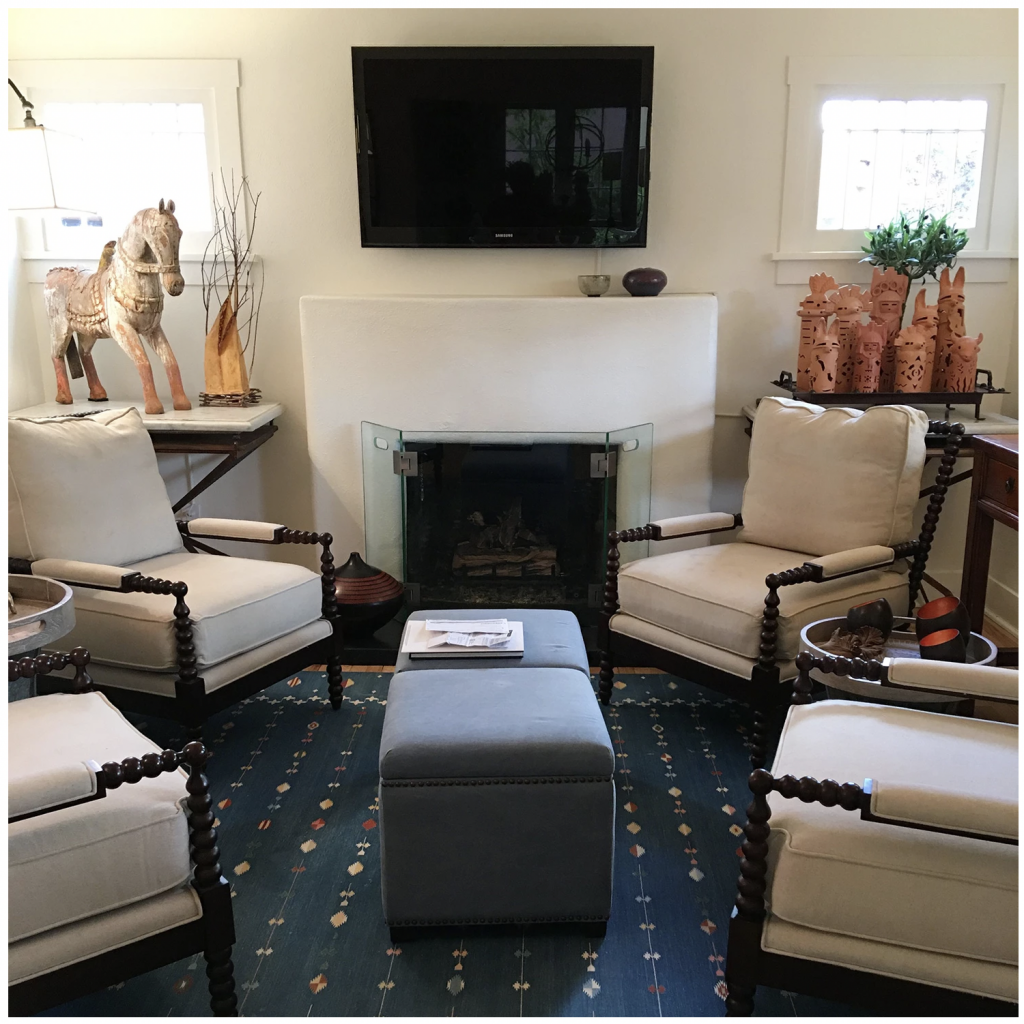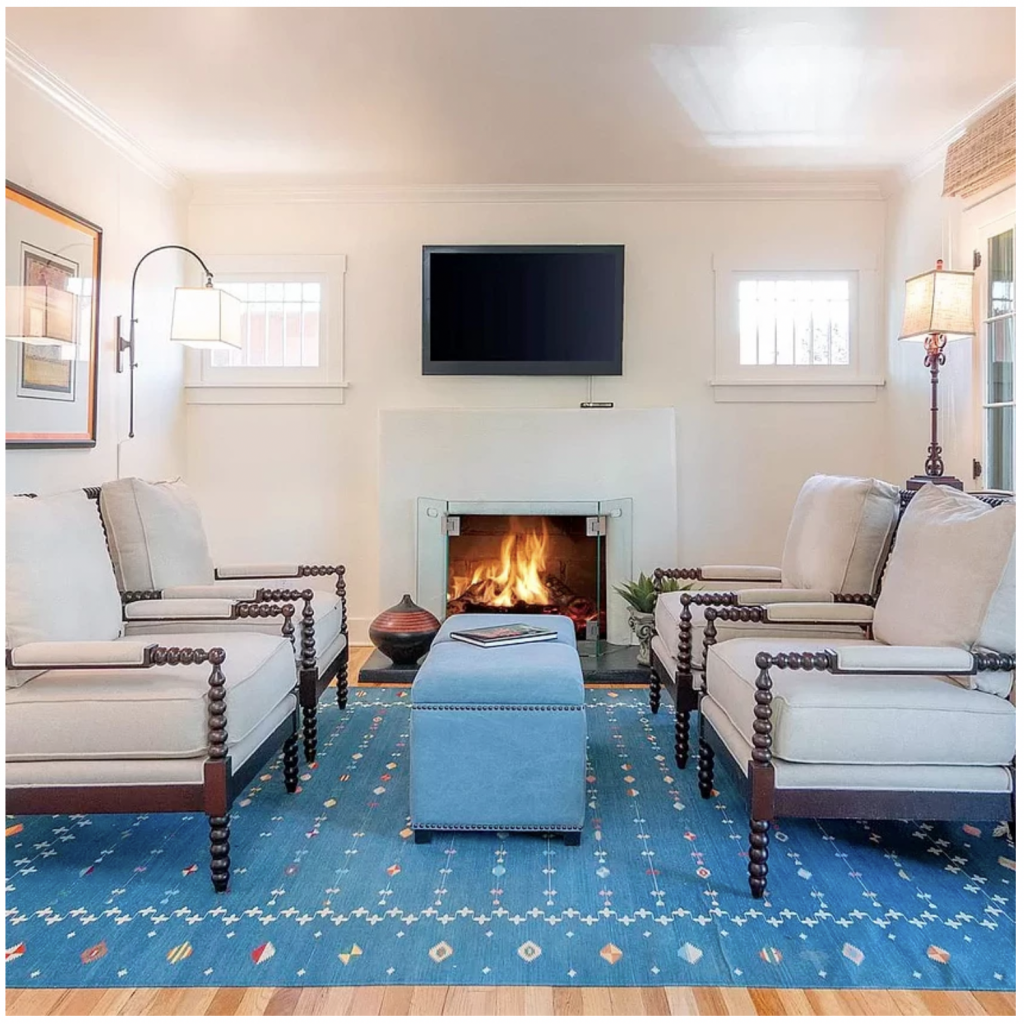 You can see the difference. Removing certain décor and repositioning furniture helped to open the space and make the cozy living room feel larger. The home had offers over asking within days of listing.
The fact is, the return on investment for staging your home—especially if you decide to save money by doing the rearrangements yourself—is simply too large to pass up.
Whether you want to do the heavy lifting yourself with a home staging consultation, have my team complete the whole thing, or something in between, get in touch today and let's start talking about staging your home for a bigger return on your biggest investment.
Want to generate the most interest for your home? Ready to make your listing stand out from the crowd? Professional home staging is the way to go. In addition to offering my full suite of staging surfaces in the Santa Fe area, I also provide online staging consultations for occupied homes. Contact me and let's talk about making your home look its best online.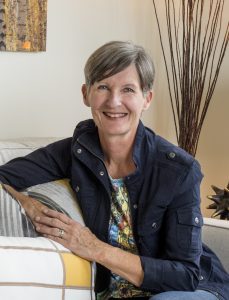 Debbie DeMarais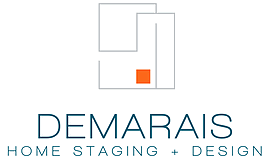 Certified Home Stager & Designer
HSR, CLIPP™, CCE, ASID Allied Member
505-699-4989
homestagingsantafe.com
For ideas on decorating with spring in mind, check out Pinterest and explore a whole new way to spend your time online and check out my Pinterest page: KachinaRealty Happy pinning!
While you are surfing the "net" check out Flipboard for a variety of news and lifestyle reading.
---
Sierra
CFO, (Chief Fun Officer)
Our 2.3 year old silver standard poodle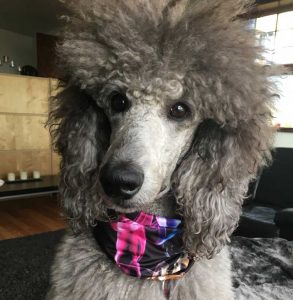 June 1-30 2021

I weigh & measure Sierra once a month, so here are her stats as of June 30, 2021: 14″ collar, girth: 24″, height to shoulder: 25″ weight: 34.5 lbs.
June has been hot & windy on the ranch. I am trying to figure out how best to deal with the massive amounts of weeds that get stuck in Sierra's long hair. Her fur is like velcro, everything sticks to it, making brushing mandatory every time she runs in the yard. I have considered vacuuming the outside (just kidding), or blowing it away with a leaf/snow blower. Ranch life has proven to be a challenge with a standard poodle, hence why many shave off the fur, leaving a short curly coat. The long poodle fur was one of the reasons I started with standard poodles to begin with back in 1996 (besides being non allergic). Artificial grass is looking very appealing, no mowing, no watering, easy to clean and does not shed weeds onto poodle fur!
Sierra's photos for the month of June 2021 Link »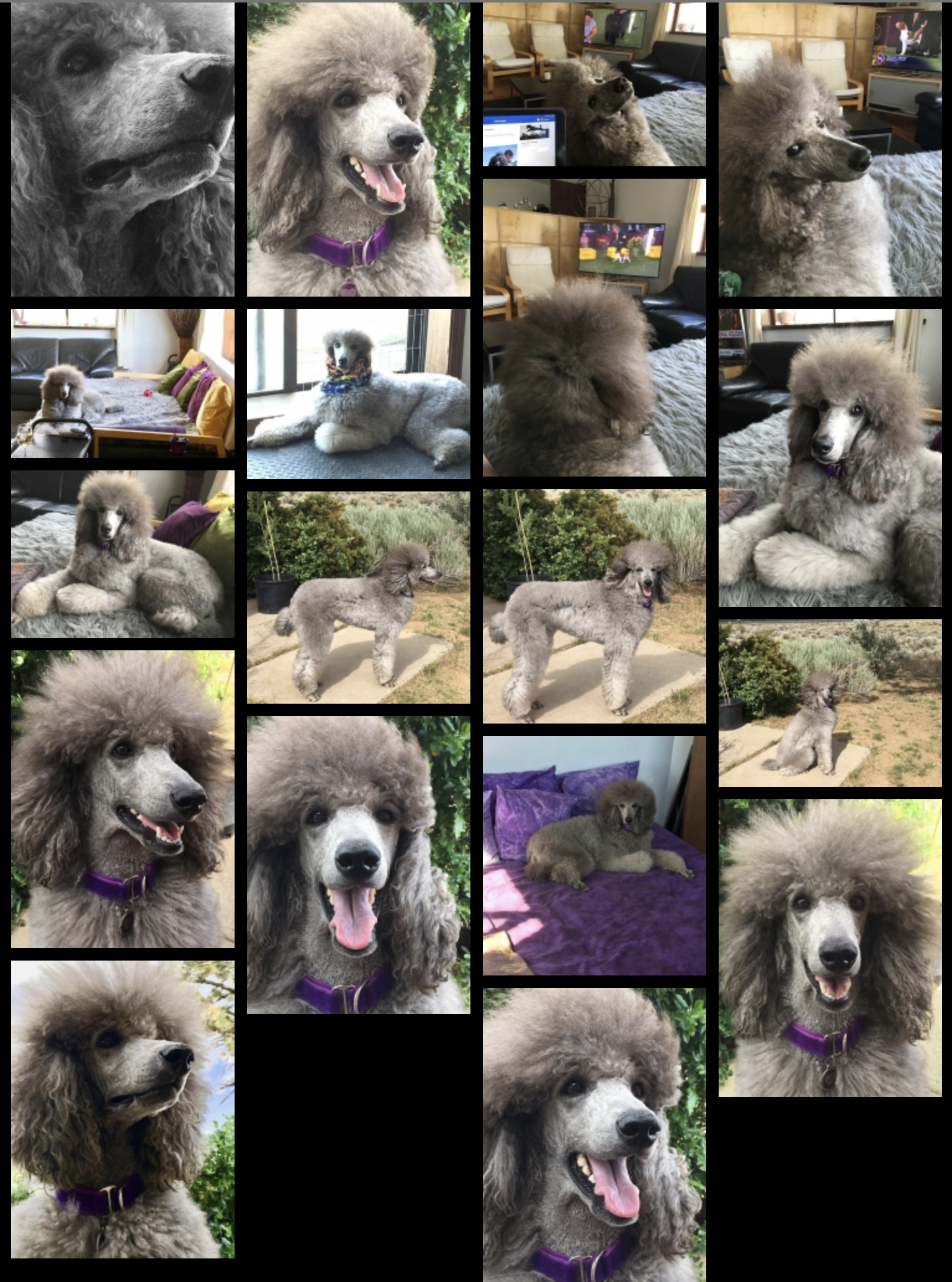 Celebration of 2 years: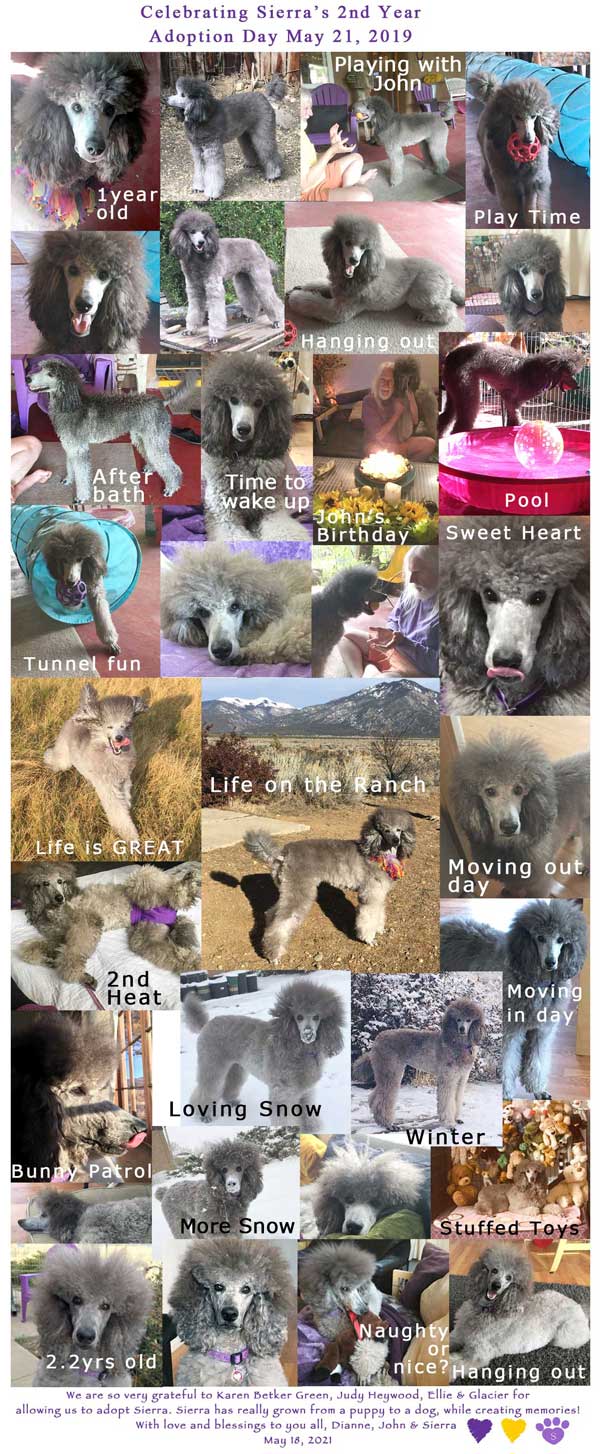 You really need to watch Sierra's videos as they capture her spirit!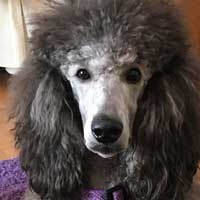 Here is the link to Sierra's Videos »
Sierra's 1st video explains who she is and her new role at Kachina Mountain Realty. In Sierra's 2nd video she talks about Dianne's role at Kachina Mountain Realty in the era of COVID-19. In Sierra's 3rd video, Sierra talks about selling and buying real estate during the COVID-19 pandemic. In Sierra's 4th video she talks about how staying safe in the era of COVID-19.
Sierra's web page: www.diannemckenzie.com/sierra
More photos will be continually posted on her own web page, so check back monthly, as we chronicle her life with us!
---
Calendar of Events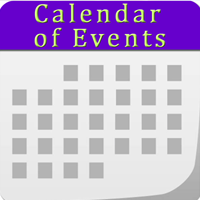 New Mexico has long been a center for arts, culture, classes and gourmet food. With such a strong art market, there are hundreds galleries to explore and experience, along with a wide selection of thriving restaurants. Our Museums feature culture, history and traditions of the region and the world. Santa Fe, Taos County and beyond have something scheduled every day & night of the week, all year long.
---
Entertainment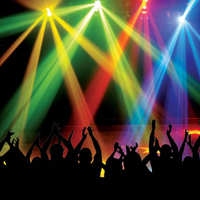 If there's one thing you can count on when spending time in New Mexico, it's the treasured experiences and wide selection of entertainment: music venues, great sporting events, theatrical and musical entertainment as well as year-round festivals.
From festivals, music concerts and dance performances to theatrical offerings by local and touring groups, the performing artists work hard to keep its locals and visitors entertained by both New Mexico performers and acclaimed stars from around the world.
---
About Kachina Mountain Realty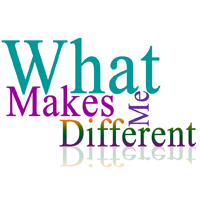 I am passionate about real estate development. I consider myself a "Dream Maker", and strive to help my clients manifest their dreams and lifestyle goals.
I believe that, "…the dreams which accompany all human actions should be nurtured by the places in which people live and work".
To promote this possibility, I encourages my clients to develop and share their dreams and lifestyle goals as part of the process of selling, buying or investing in property.
I have over thirty years of business experience as an executive producer, web architect, social media marketer, business developer, architecture assistant, real estate marketing developer and real estate consultant.
I am a licensed real estate qualifying broker for Kachina Mountain Realty & an accredited ACRE® real estate consultant. I have worked in the Santa Fe & Taos real estate market for years. I specialize in working with buyers and sellers who are looking for a solid real estate investment.
Contact me, Dianne McKenzie, for your real estate transactions & let me help you manifest your dreams!
I am readily available by cell phone, text, (505.603.9300) & email. I return calls promptly, seven days a week!
Taos Office: 575.776.7576

---
Go Green: Recycle This E-Newsletter!

After you've enjoyed our Eco Lifestyle and Home newsletter, please recycle it by emailing it to a family member, friend, neighbor or coworker!
---