Eco Lifestyle And Home Newsletter June 2016 Encourage
Dear Friends, Clients, Business Associates and Neighbors,
In this 31st edition of Eco Lifestyle and Home News, we offer Real Estate & Lifestyle news in 24 pages of content where our contributors address the current monthly theme of "Encourage", as relates to all areas of our life.
In this edition we offer:
Events Around New Mexico
June Numerology
Creating Clarity with Lainie Grimmer
Sarah Claudia Stout
Nerium: Age defying products
Savory Spice of Santa Fe
Mortgage News with Francis Phillips
Debbie DeMarais: Home Staging+Design
Real Estate Market Report Albuquerque
Albuquerque Real Estate Listings
Santa Fe Real Estate Listings: Aldea, Santa Fe & Las Campanas
Mobile Real Estate Search App: Free for Smart Phones & Tablets
Taos Ski Valley Real Estate News
Dog Treat Recipe of the Month: Standard poodle & service dog, Aeowyn, shares her Dog Treat Recipe
Free Reports: How Sellers Price Their Homes, How To Sell Your House For The Most Money In The Shortest Possible Time, and more…
June Theme Editorial: Encourage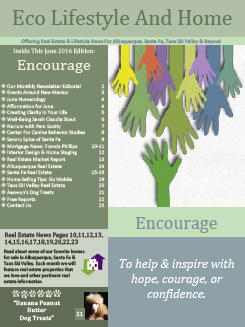 We all need encouragement along our journey. I have been blessed to have lots of encouragement over the years.
Almost daily I hear from a client how happy they are in their new home, or how happy they are that I sold their home in record time. I feel very encouraged by my clients, past & present.
Recently a client of mine from the 1990's sent an email thanking me for the tapestry I wove for them many years ago. Over the years the artwork has given my client much joy and she reached out to me just to let me know how much the tapestry plays a part in her daily life.
For my birthday, my sister sent me a juicer to help me on my journey to good health. Her encouragement and friendship throughout the years has been a major contribution in my life.
My husband is another source of encouragement for me. He has stood by me through my recent knee replacement, to getting my real estate license to now getting my qualifying broker license and through many other events.
My colleagues have encouraged me these past few years to keep on going when starting out on this real estate profession after a very hard recession.
Years back I received lots of encouragement from my students when I was touring, lecturing and teaching web design at conferences and corporations around the country.
In my early childhood I was encourage to be creative and independent.
Encouraging others starts a ripple effect, that we do not even know how it will impact our or their lives. Recently, I attended my nephew's graduation from law school. A real accomplishment for my nephew and my sister as well. He was encouraged from before he was birthed, that he had greatness ahead of him and that the world needed wonderful men to do good things.
All these and many more significant and insignificant encouragements shape ones life.
Encouraging others has a deep impact that often takes years to see the total effects. We all need more encouragement and to encourage others to shine. When we encourage ourselves and others, we can set goals that can be attainable.
I encourage you all to set goals, visualize your future, and live your passion. The world needs more of us to dream.
Thank you for reading our newsletter. ~ Dianne McKenzie & Aeowyn, and Cecilie Bodman
---
Eco Lifestyle and Home News comes to you in its thirty first edition of our Newsletter. The creators of this newsletter are Dianne McKenzie & Cecilie Bodman, real estate associate brokers for Equity New Mexico. We decided to produce a conscious newsletter that has information about some real estate but more about living, playing & working. We also wanted to include our professional friends' expertise as it relates to home, health, well-being, & lifestyle.
Please introduce us to your friends and family for their real estate needs, whether they are considering buying a home or thinking about getting their home sold this year. Many thanks.
Thank you for reading our newsletter.
– Dianne McKenzie & Aeowyn, Cecilie Bodman & our content contributors