Eco Lifestyle And Home News – September 2017
Dear Friends, Clients, Business Associates and Neighbors,
September 2017 marks ninth edition of Eco Lifestyle and Home Newsletter in its new email only format for 2017. We offer Real Estate & Lifestyle news in the email newsletter covering Santa Fe, Taos Ski Valley, Taos County and beyond.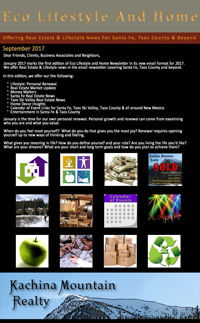 In this edition, we offer the following:
Lifestyle: Change
Real Estate Market Update
Money Matters
Santa Fe Real Estate News
Taos County Real Estate News
Taos Ski Valley Real Estate News
Home Decor Insights
Calendar of Event Links for Santa Fe, Taos Ski Valley, Taos County & all around New Mexico
Entertainment Links for Santa Fe & Taos County
---
Lifestyle
Change
"Change is the essence of life. Be willing to surrender what you are, to what you could become."
Change is all about evolving, growing, transforming.
• to make a shift from one to another
• to make radically different
• to become something else
Thriving in Times of Change
How do you respond to change? More often than not, we tend to react rather than respond. Change brings up fear, worry, the unknown, & is often unsettling by its very nature.
Change Is Often Frightening: We resist change, but fear of the unknown can result in clinging to status quo behaviors, no matter how bad things are.
Change Must Be Positive – Being Is Easier Than Becoming – Slower Is Better: Everything has its own natural timing; when altered, unpleasant things can happen. Change is most effective when it occurs slowly, allowing behaviors to become responsive and less reactive.
Know More, Do Better: Surprise can be disastrous for people in transition. Knowing more about the process of change, allows the feeling of being in control over the process and creates a sense of ease of well-being.
Change Requires Structure: Many people view structure as restrictive, something that inhibits spontaneity. While spontaneity is wonderful for some activities, it can be method for sabotaging change.
Practice Is Necessary: Practice is another key approach to change. When we invite change, such re -arranging the furniture layout, organizing closets, removing clutter, and/or getting rid of unused items, we practice changing the way we live.
"Without change there would be no butterflies."
Thank you for reading our newsletter & feel free to pass it on to other kindred spirits. ~ Dianne McKenzie
---
Real Estate Market Update
August has been a slow real estate showings & closings month in Santa Fe and in Taos. Yet the market is slowly climbing in pricing & sales in this limited listing market. The tourist summer season is coming to a close, but historically the autumn months tend to see a significant increase in closing.
In the coming months, here at Kachina Mountain Realty, we will be announcing a new housing development that will be in the forefront of sustainable building & lifestyle.
We have several projects that will be unveiled in the coming months.
---
Money Matters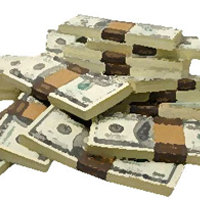 Mortgage Daily News Reports:
Mortgage rates were technically higher today vs yesterday, but unless you've been following day-to-day movements under a microscope, you probably won't mind. Reason being: apart from yesterday, today's rates are still easily the best we've seen since early November 2016. Most of yesterday's rate quotes will be the same, though the upfront costs may be slightly higher today. 3.875% remains the most prevalent top-tier 30yr fixed rate.
---
Recommended Mortgage Lender
Francis Phillips, NMLS #193642, is Senior Mortgage Loan Originator with First Choice Loan Services Inc. in Santa Fe. He has served as director of business development for national mortgage companies. He and his mortgage partners have funded and built three homes for Santa Fe Habitat for Humanity. Contact him at francis.phillips@fcloans.com or 505.982.3400.
First Choice Loan Services Inc. (NMLS# 210764), a Berkshire Bank Company (NMLS# 506896 / Member FDIC), is located at One Tower Center, Floor #18 East Brunswick, NJ 08816. First Choice Loan Services Inc. is registered or exempt from state licensing in the states it originates mortgage loans. Licensed by the NJ Department of Banking and Insurance. AZ BK #0918586. First Choice Loan Services Inc. is not an agency of the federal government and is not affiliated with your current lender. All loans are subject to credit approval. Programs, rates, terms and conditions are current, but are subject to change and may expire without notice. Other restrictions may apply. All applications must be submitted in writing. This advertisement is not a loan disclosure and all disclosures provided after applying should be reviewed carefully. This is not a commitment to provide a loan approval or a specific interest rate.
---
Santa Fe Real Estate News
With Aldea build-out almost complete, the inventory of lots has dwindled to about 9 lots that are currently for sale. Homewise is almost complete with the construction of their homes on the lots they bought a few years back.
Resale of homes in the higher price range of $600,000 to $849,000 is dominating the market. With these 16 homes listed, 5 of the homes have been on the market for more than 90 days. Out of the 11 homes that have sold this year, only 1 property sold above $599,000. Watch this higher end market as this sales trend will determine much of the future sales in Aldea in this price range.
Currently, I have 7 of the last and best remaining Aldea view lots. 2 lots have already SOLD!!! If you have ever considered building your Santa Fe dream home, now you have some amazing view lots in which to choose. Aldea is 98% built out and up until now, there have not been a lot of choices for view lots, as most have already been built on. Now you have a great selection of view lots in which to choose to build your dream home, before they are all gone!
For more information visit the website: Aldea Lots For Sale »
7 Aldea Lot For Sale – 2 SOLD
The Barranca Lots: 4 Amazing View Lots!
9 Camino Barranca | Lot Size Acres 0.180 | MLS #201700363 | Listing Price: $100,000
7 Camino Barranca | Lot Size Acres 0.180 | MLS #201700364 | Listing Price: $110,000
5 Camino Barranca | Lot Size Acres 0.180 | MLS #201700365 | Listing Price: $110,000
3 Camino Barranca | Lot Size Acres 0.210 | MLS #201700366 | Listing Price: $95,000
136 Avenida Frijoles | Lot Size Acres 0.200 | MLS #201700370 | Listing Price: $80,000
Avenida Aldea View Lot
101 Avenida Aldea | Lot Size Acres 0.230 | MLS #201700369 | Listing Price: $85,000
Arroyo Privado View Lot
4 Arroyo Privado | Lot Size Acres 0.190 | MLS #201700368 | Listing Price: $85,000
Arroyo Privado Patio Home Lot
9 Arroyo Privado | Lot Size Acres 0.093 | MLS #201700367 | Listing Price: $57,500
Aldea Stats
2017 Stats: Sold, Pending, Listed
SOLD: 11 Homes, DOM 108 | 2 Lots, DOM 122
PENDING: 2 Homes | 0 Lots
LISTED: 16 Homes, Avg $598,7937 | 9 Lots Avg $90,000
Aldea de Santa Fe consists of 345 acres, with 205 acres of perpetual open space with 13 miles of walking trails, basketball & tennis courts, community center, (which offers yoga classes, exercise equipment & gathering space for events), a local cafe, superbly located in the high-value northwest corridor of Santa Fe County, with easy access to Highway 599, all just 10 minutes from downtown Santa Fe.
While the inventory is increasing in Aldea right now, there is 1 homes pending. Prices show an increase for homes and lots listed. Sales are up this year from last year in Aldea with 44 homes sold in 2016 vs 35 homes sold in 2015. 5 Lots sold in 2016 vs 4 lots sold in 2015.


---
---
Las Campanas Real Estate News
2017 Stats: Sold, Pending, Listed
SOLD: 56 Homes, DOM 82 | 7 Lots, DOM 62
PENDING: 14 Homes | 7 Lots
LISTED: 65 Homes, Avg $1,443,730 | 81 Lots, Avg $143,797


Las Campanas is the only luxury master-planned community in Santa Fe. Stretching across 4,700 acres surrounded by pristine high desert, the community is comprised of exclusive neighborhoods. Las Campanas is also home to The Club at Las Campanas, where members can enjoy two award-winning Jack Nicklaus Signature golf courses, the 46,000 square foot Hacienda Clubhouse, a peerless Equestrian Center and the Fitness & Tennis Center, which includes a luxurious spa.
There are currently 65 homes for sale in Las Campanas.
21 Homes under $1,000,000
44 Homes over $1,000,000
There are currently 81 Lots for sale in Las Campanas.
29 Lots under $100,000
52 Lots over $100,000
Las Campanas recently announced the release of the first new custom home neighborhood in over 10 years! Black Mesa, is their new 44 acre neighborhood consisting of 25 larger, estate sized mountain and golf view properties. The minimum size home in this section will be 2,500 sqft, with lots ranging from 1.02-2.58 acres. The property contains a centerline crest that rolls down in both directions off the roadway, creating dramatic unobstructed views.
Overlooking the sweeping mountain vistas of the Sangre de Cristo and Jemez Mountains, Las Campanas' new Black Mesa neighborhood offers a unique collection of homesites boasting the largest lot sizes in the best section of the Las Campanas property with awe-inspiring mountain views and centrally located to their finest amenities: golfing and the Hacienda Clubhouse.
Let me take you on a tour and arrange a stay at Las Campanas!
---
Taos Real Estate News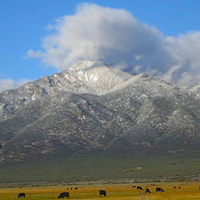 Real Estate Summary For Taos Area
Single family homes make up the most active real estate market. Through June, single family homes accounted for 61% of the total transactions, and 76% of dollar sales. June 2017 single family home sales were UP 21% over June of last year. Every month this year has increased volume sales. July 2017 looks like the sales are stagnating, compared to July 2016 sales.
Condo sales are up in June by 1 unit over last year. Land sales were significantly higher. Commercial sales were the same as last June 2016.
Single Family Homes in Taos
Days On Market – The average days on the market for all the homes that have sold through June this year is 202 vs. 282 for the same period last year. The average for the full year 2016 was 228 days; in 2015 it was 234 days; in 2014, it was 235 days. Even during the years 2004-2006, the average time to sell a house in the Taos area was approximately eight months — much longer than in many areas of the U.S. housing markets. We are seeing market priced homes in preferred areas selling relatively quickly, again due to the limited inventory, and that is bringing the average down so far this year.
Price Level – Prices of single-family homes fell 30%–40% from the market peak in 2007 to a bottom in 2013. There was no increase until 2016, when prices started to move up some, but only for high-quality homes in the most desirable areas. We are now beginning to see prices rising in most cases, due to increasing demand and limited supply; some areas are rising more than others.
June unit sales – Increased from 2016 June's by 5 units: 29 vs. 24 (+20.8%). Dollar sales were up 50.1%, from $7,597,600 to $11,405,900.
Year-to-date unit sales – Up 33.7% at 127 houses sold vs.95 for the same period last year. Dollar sales are up 35.5%, from $30.6 million to $41.4 million.
Average Prices – The median price year-to-date is the same as last year, at $302,000. The average (mean) is up 1.3%, from $321,700 to $326,000.
Price Adjusting – Throughout the first six months of the 2017 year, actual selling price has averaged 4.3% less than the last asking price when the property went under contract; the average discount from original asking price is 8.5% so far this year. For the full year 2016, it was 10.5%; in 2015 it was 13.9%; in 2014 it was 16.9%; in 2013, it was 18.4%.
** Greater Taos Valley including Taos Ski Valley (excluding Angel Fire, Black Lake, Chama and Red River).
** Greater Taos Valley including Taos Ski Valley (excluding Angel Fire, Black Lake, Chama and Red River).

---
Taos Ski Valley Real Estate News
Featured Listing
Homesites Available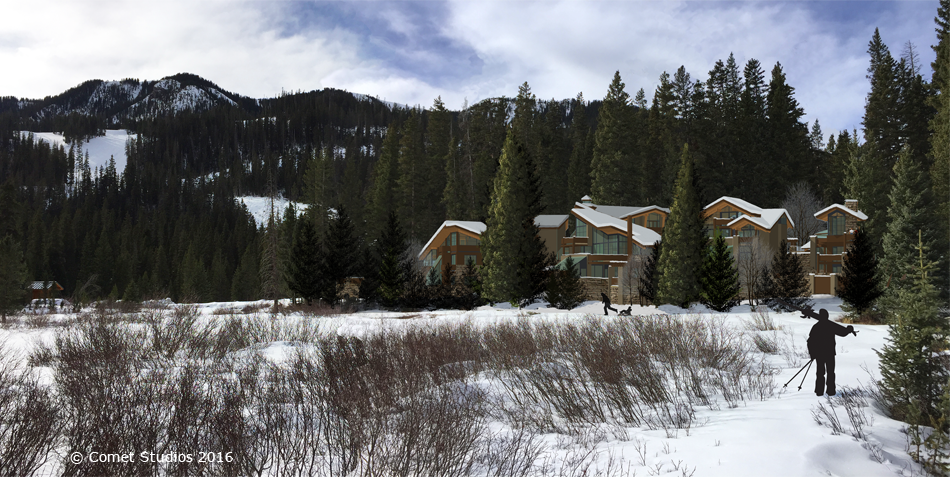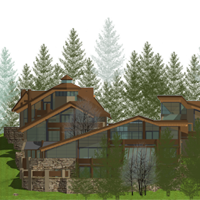 The Kachina Mountain Lodge (KML) project has been thoughtfully master planned to include five Euro-alpine Wilderness Eco-Homes, a three-unit Eco-Townhome Lodge and unique regenerative Permaculture Landscaping that includes demonstration greenhouses for growing food year-round.
Each wilderness Eco-Home possesses a distinct character that welcomes the natural warmth of a sunny south exposure and breathtaking mountain views through generous passive solar curtain wall glass. Architecturally designed with a Permatecture philosophy to be environmentally conscious, hand-hewn and sturdy, KML's authentic euro-alpine wilderness residences contain many sustainability features, fire-wise details and the timeless qualities of whimsy, elegance and permanence.
Conceived as the first sustainable development project in Taos Ski Valley, KML homes will be heated by active and passive solar sources, including regenerative annualized geo-solar. All KML homes also offer easy ski-in/ski-out access.
This project is fully approved and entitled for construction. One KML homesite is already reserved. And only Four competitively priced to-be-built homes remain available for sale to investors who would like to get involved with Taos Ski Valley's exciting development opportunities. All homesites include creative flexible designs that are already approved by the Village of Taos Ski Valley!
Visit the website for floor plans and detailed information. Kachina Mountain Lodge »
---
Home Decor Insights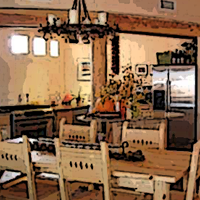 Check out Pinterest and explore a whole new way to spend your time online and check out my Pinterest page: KachinaRealty Happy pinning!
---
Calendar of Events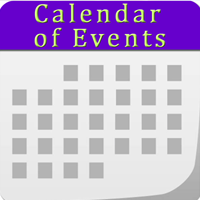 New Mexico has long been a center for arts, culture, classes and gourmet food. With such a strong art market, there are hundreds galleries to explore and experience, along with a wide selection of thriving restaurants. Our Museums feature culture, history and traditions of the region and the world. Santa Fe, Taos County and beyond have something scheduled every day & night of the week, all year long.
---
Entertainment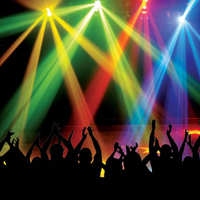 If there's one thing you can count on when spending time in New Mexico, it's the treasured experiences and wide selection of entertainment: music venues, great sporting events, theatrical and musical entertainment as well as year-round festivals.
From festivals, music concerts and dance performances to theatrical offerings by local and touring groups, the performing artists work hard to keep its locals and visitors entertained by both New Mexico performers and acclaimed stars from around the world.
---
About Kachina Mountain Realty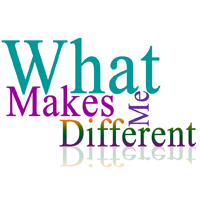 I am passionate about real estate development. I consider myself a "Dream Maker", and strive to help my clients manifest their dreams and lifestyle goals.
I believe that, "…the dreams which accompany all human actions should be nurtured by the places in which people live and work".
To promote this possibility, I encourages my clients to develop and share their dreams and lifestyle goals as part of the process of selling, buying or investing in property.
I have over twenty-nine years of business experience as an executive producer, web architect, social media marketer, business developer, architecture assistant, real estate marketing developer and real estate consultant.
I am a licensed real estate qualifying broker for Kachina Mountain Realty & an accredited ACRE® real estate consultant. I have worked in the Santa Fe & Taos real estate market for years. I specialize in working with buyers and sellers who are looking for a solid real estate investment.
Contact me, Dianne McKenzie, for your real estate transactions & let me help you manifest your dreams!
I am readily available by cell phone, text, (505.603.9300) & email. I return calls promptly, seven days a week!

---
Top Producer for the 2016 year!

I received an award for "Top Producer" for 2016 from Chris Landers of Equity New Mexico. I am very grateful to all my clients who trusted me with their business.
While the Equity New Mexico real estate office on Aldea Plaza has closed, Kachina Mountain Realty is ready and available for tours and information. KMR will be opening an office later this year. In the meantime, as always, all real estate information and printouts of listings for Aldea, Santa Fe, Taos Ski Valley, Taos County and beyond are still available, just free for the asking. I can email you PDF listings per area, any time, once requested. Even better, I can take you on a tour of the properties you would like to visit. I represent Buyers and Sellers. Call me for a consultation today.