Eco Lifestyle And Home News – October 2019

Dear Friends, Clients, Business Associates and Neighbors,
October 2019 marks the thirty-fourth edition of Eco Lifestyle and Home Newsletter produced by Kachina Mountain Realty. We offer Real Estate & Lifestyle news in the email newsletter covering Santa Fe, Taos Ski Valley, Taos County and beyond.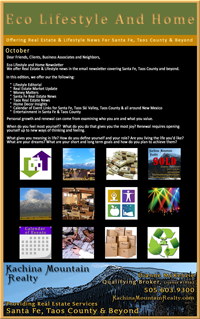 In this edition, we offer the following:
Lifestyle: Bountiful
Real Estate Market Update
Money Matters
Santa Fe Real Estate News
Taos County Real Estate News
Home Decor Insights
Sierra Updates!
Calendar of Event Links for Santa Fe, Taos Ski Valley, Taos County & all around New Mexico
Entertainment Links for Santa Fe, Taos County & around New Mexico
---
Lifestyle
Bountiful
"Abundant, plentiful, prolific, ample, copious, generous…"
Autumn is finally here. I long for autumn all year long. I love the colors, the crispness in the air, the quality of the light. I love the abundance of fruits and vegetables, gourds, and of course, pumpkins. It is the start of the preparations for winter and all the celebrations that come in the next few months.
There is something about the magic of the autumn season, where it feels like new beginnings, lots of possibilities, as the days become shorter. I feel happier this time of year. I long for walks in the forest, the crackling of the fire and the smell of fresh baked goods, soups and casseroles. The smells of nutmeg, cinnamon, apples & bread, are comforting this time of year. The leaves blowing in the wind, dancing in swirling circles, moving about so free, capture my attention.
The bountiful nature of this season is evident all around in the grocery stores, shops and in the magazines. I love the clothes in fall: sweaters, jackets, boots, and scarves. I am compelled to prepare for winter, getting the clothes ready for the new season, putting away the light clothes of summer, changing the home & office decorations to reflect the season. I gather leaves, acorns, gourds & squashes to fill baskets on the counters.
I feel more grateful, peaceful, content and at home with myself as autumn descends across the land. I feel full of hope and ease knowing that the colors are changing with the flutter of the leaves. I can't imagine a better time than right now, with the most vibrant of colors of the aspens turning their bright yellow.
The autumn season always seem too short, so I look for the first signs of autumn starting in mid August. I want to see the first light and feel the first crisp air at the start of the season. As the season slips into the month of October, it is finally the time of year to celebrate the harvest. Reflecting on the previous years gone by with all the sorrows, disappointments, losses, triumphs and accomplishments, I am reminded in autumn of all that is good and beautiful. I am reminded of change, and while change can trigger doubts and fears, it also sends out sparks of adventure, new beginnings and new chapters in my life, yet to unfold.
This time of year I long to be home, to settle in for the winter. I know that while I have not found "home" yet, the desire to find it remains strong. I feel closer and more connected in autumn and hope to be home soon.
Thank you for reading our newsletter & feel free to pass it on to other kindred spirits. ~ Dianne McKenzie
---
Real Estate Market Update
Where Homeowners, HOAs Bump Heads the Most
by Realtor Magazine
"More people are purchasing homes in neighborhoods governed by a homeowners association. While HOA rules aim to establish order and consistency in a community, many homeowners say they often feel bylaws are intrusive. "Nit-picky rules are often at the heart of HOA-homeowner tensions, which can make residents feel like they're perpetually under someone's thumb," say researchers at home remodeling website Porch.com, which surveyed more than 700 homeowners on the topic."
"Nearly a third of respondents to the survey report having knowingly broken an HOA rule, and 52% say they have refused to pay an HOA fine. The most common HOA fines, according to the survey, were due to":
Improper landscaping.
Putting trash out too early or bringing it in too late.
Improper or untimely holiday decorations.
Owning a pet (for condo and apartment owners).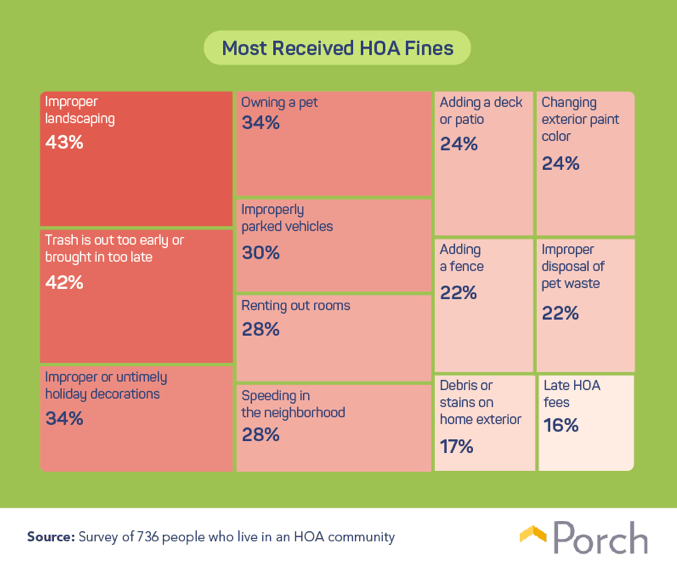 "Still, 69% of survey respondents say they are satisfied with the way their HOA manages their community. Many indicate they were not specifically seeking to live under an HOA when they purchased their homes."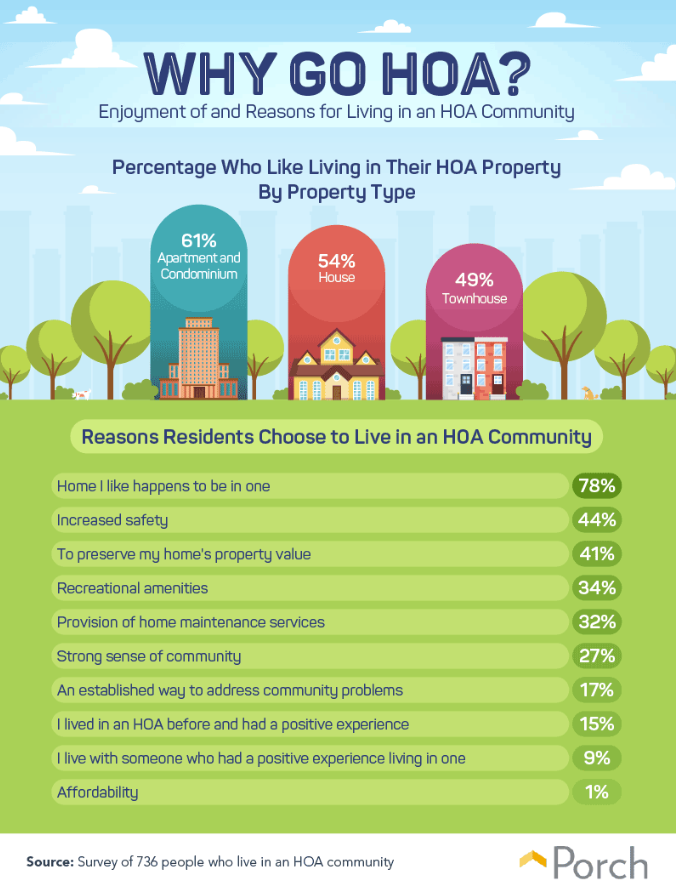 "The average monthly HOA fee is $251 for homeowners, $310 for apartment or condo owners, and $230 for townhouse owners, the survey finds. The most used amenities that HOAs offer, according to the survey, are swimming pools, parks, and playgrounds. Eighteen percent of respondents say they use these amenities at least once a month."
---
Money Matters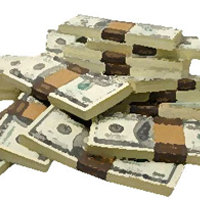 Pending Home Sales Grow 1.6% in August
National Association of Realtors Article
WASHINGTON (September 26, 2019) –
"Pending home sales increased in August, a welcome rebound after a prior month of declines, according to the National Association of Realtors®. Each of the four major regions reported both month-over-month growth and year-over-year gains in contract activity."
"The Pending Home Sales Index (PHSI),* www.nar.realtor/pending-home-sales, a forward-looking indicator based on contract signings, climbed 1.6% to 107.3 in August, reversing the prior month's decrease. Year-over-year contract signings jumped 2.5%. An index of 100 is equal to the average level of contract activity."
"It is very encouraging that buyers are responding to exceptionally low interest rates," said Lawrence Yun, NAR chief economist. "The notable sales slump in the West region over recent years appears to be over. Rising demand will reaccelerate home price appreciation in the absence of more supply."
August Pending Home Sales Regional Breakdown
"All regional indices are up from July, with the highest gain in the West region. The PHSI in the Northeast rose 1.4% to 94.3 in August and is now 0.7% higher than a year ago. In the Midwest, the index increased 0.6% to 101.7 in August, 0.2% higher than August 2018."
"Pending home sales in the South increased 1.4% to an index of 124.4 in August, a 1.8% bump from last August. The index in the West grew 3.1% in August 2019 to 96.4, an increase of 8.0% from a year ago."
"Yun noted that historically low interest rates will affect economic growth, especially home buying, going forward."
"With interest rates expected to remain low, home sales are forecasted to rise in the coming months and into 2020," said Yun. "Unfortunately, so far in 2019, new home construction is down 2.0%. The hope is that housing starts quickly move into higher gear to meet the higher demand. Moreover, broader economic growth will strengthen from increased housing activity."
"The National Association of Realtors® is forecasting home sales to rise 0.6% in 2019 and another 3.4% in 2020. Housing starts are predicted to increase by 2.0% in 2019 and jump an additional 10.6% in 2020, which in turn raises GDP to growth at 2.0% in 2020."
"The National Association of Realtors® is America's largest trade association, representing more than 1.3 million members involved in all aspects of the residential and commercial real estate industries."
---
Santa Fe Real Estate News
Aldea Stats
2019 Stats: Sold, Pending, Listed

SOLD: 19 Homes, DOM 32 | 0 Lots, DOM 0
PENDING: 2 Homes | 0 Lots
LISTED: 10 Homes, Avg $585,480 | 5 Lots, Avg $97,800
Aldea de Santa Fe consists of 345 acres, with 205 acres of perpetual open space with 13 miles of walking trails, basketball & tennis courts, community center, (which offers yoga classes, exercise equipment & gathering space for events), a local cafe, superbly located in the high-value northwest corridor of Santa Fe County, with easy access to Highway 599, all just 10 minutes from downtown Santa Fe.
Aldea listings are starting to grow.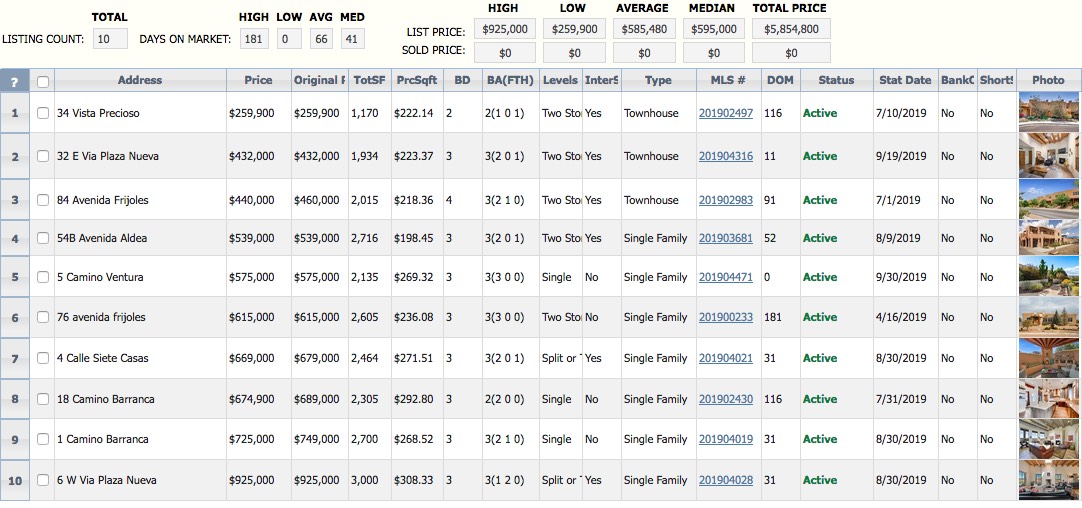 ---
Las Campanas Real Estate News
2019 Stats: Sold, Pending, Listed
SOLD: 40 Homes, DOM 201 | 37 Lots, DOM 223
PENDING: 21 Homes | 22 Lots
LISTED: 39 Homes, Avg $1,671,343 | 64 Lots, Avg $161,557
Las Campanas Realty recently shared that 2018 was a record year in terms of sales and average sale prices since the downturn a decade ago for both the developer and the overall community. Average home prices for resales (excluding new construction) increased 9%, while average homesite prices increased 12.5% for the overall community and 15% for the developer. The demand for many to find the perfect location to enjoy the best four-season weather in the nation, a world-class private club and a special city that is recognized for its rich culture and diverse art community, makes Santa Fe the perfect fit. "Many buyers this year were already sold on Santa Fe and Las Campanas. They just needed to find the perfect site within the Las Campanas community," says Jonathan Bartlett, VP of Sales for Las Campanas Realty.
Las Campanas is the only luxury master-planned community in Santa Fe. Stretching across 4,700 acres surrounded by pristine high desert, the community is comprised of exclusive neighborhoods. Las Campanas is also home to The Club at Las Campanas, where members can enjoy two award-winning Jack Nicklaus Signature golf courses, the 46,000 square foot Hacienda Clubhouse, a peerless Equestrian Center and the Fitness & Tennis Center, which includes a luxurious spa.
There are currently 39 homes for sale in Las Campanas.
8 Homes under $1,000,000
31 Homes over $1,000,000
There are currently 64 Lots for sale in Las Campanas.
16 Lots under $100,000
48 Lots over $100,000
Let me take you on a tour in Las Campanas!
---
Marketing Properties, Not Just Listing Properties
If you are thinking of selling your property, why not list it with a realtor who will market the property, not just list it in the MLS? By actively marketing your property, the property gets the most exposure to other realtors and to the general public through online blogging, email campaigns & the typical MLS exposure.
Call me, Dianne, 505.603.9300, to discuss your property needs, or for a tour of Lots & Homes in Aldea, Las Campanas and the Santa Fe region.
Taos Office: 575.776.7576
Visit the website for Santa Fe information: RealEstatePropertiesSantaFe.com
Visit the Kachina Mountain Realty company main website: KachinaMountainRealty.com
---
Taos Real Estate News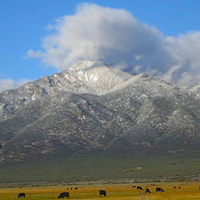 *SOLD: 114Homes, DOM 179 | 51 Lots, DOM 277
*PENDING: 23 Homes | 14 Lots
*LISTED: 150 Homes, Avg $641,000 | 245 Lots, Avg $152,164
* Areas tracked:
Lower North, Upper North, West North, Town of Taos, Taos Ski Valley, South West, South East
See map for areas »
Recently, I have received inquiries from out of town buyers who are researching homes in the Taos area. These buyer profiles are looking to live in a safe community, with a country atmosphere, small homes, with flexible spaces. They are wanting to move to the area, but can't find the properties that offer amenities that don't include huge HOA fees. They want walking trails, localized eateries, a small grocery store, community activities and a sense of neighborhood. The are either downsizing their home and retiring or wanting a second home. They are wanting to go smaller, but the quality of their lifestyle and home features are upscale. "Does such a community even exist?" they ask.
In the coming months, I will be featuring such a community.
If you have been thinking about selling your home, now is probably a good time. Inventory is low and the demand for quality homes is up.
Call our Taos Office: 575.776.7576
---
Home Decor Insights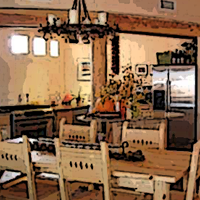 Autumn has finally arrived. The night air is cooler, the temperatures are in the 70's and smell of chile is in the air. Pumpkins abound in all the stores and the autumn decorations are already installed all over our house.
It is my favorite time of year. All the colors of autumn are just beginning to show up. Soon the trees will be in their brightest colors. It is time to get out the warmer clothes: sweaters, leggings, jackets and scarves. It is the time of year to chop wood and prepare for winter.
This time of year we make lots of our meals in our Instant Pot. Bread making is also included in our meal planning. Everything pumpkin, from soups to desserts is part of our main meal.
Williams-Sonoma, Crate and Barrel and Pottery Barn have the best displays of autumn decorations. You might also want to check out Hobby Lobby, Joann's Fabrics for holiday decorations.
For ideas on decorating with spring in mind, check out Pinterest and explore a whole new way to spend your time online and check out my Pinterest page: KachinaRealty Happy pinning!
While you are surfing the "net" check out Flipboard for a variety of news and lifestyle reading.
---
Sierra
iCFO, (in-training Chief Fun Officer)
silver standard poodle puppy

Sierra: August 16 through September 25, 2019
Sierra, as of September 24, 2019 weighs 29 lbs and growing! She is now 6 months old!
Sierra is enrolled in private puppy classes. She is extremely bright. We are learning how to work with her through an amazing trainer in Taos, Jane Gerard, of JaneTrains.com . We have added doggy daycare photos.
A bull dog puppy has decided that he is in love with Sierra, but she is not "into" him the same way. The young German Shepherd in doggy daycare is very playful and curious about this shy poodle. Sierra was in with the "big dogs" for part of a day, but it proved a bit too stressful, so we are taking in more slowly. She needs to learn how to socialize with other dogs, as living with us tends to be on the quiet side.
We have had adventures of walking around the Taos plaza and making new friends. John has taken her for walks around the Santa Fe river and a walk around the ski basin. Sierra attended her first 4 hour real estate class, where she was practicing good behavior in a classroom setting. While she would have preferred to visit with all the attendees, she settled in very well and was complemented on her good behavior. Sierra will be trained as my service dog, so this experience was part of her training. She is proving to have the right temperament for a service dog!
Sierra's web page: www.diannemckenzie.com/sierra
More photos will be continually posted on her own web page, so check back monthly, as we chronicle her life with us!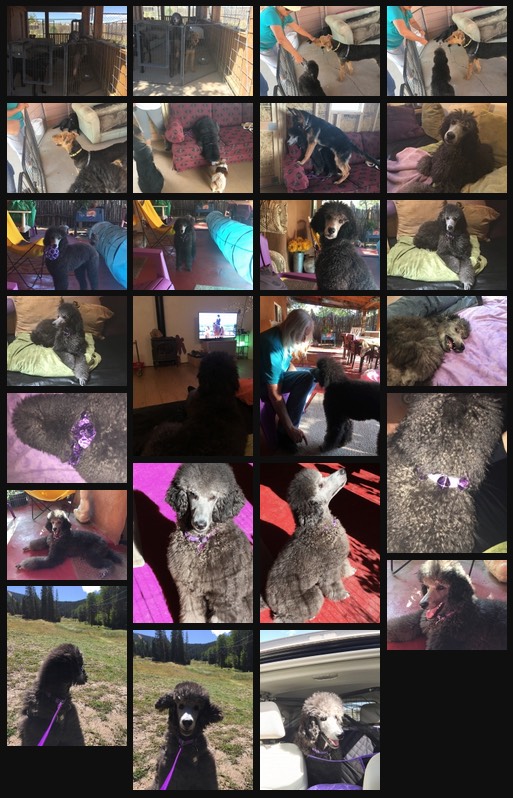 ---
Calendar of Events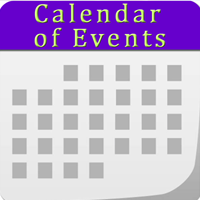 New Mexico has long been a center for arts, culture, classes and gourmet food. With such a strong art market, there are hundreds galleries to explore and experience, along with a wide selection of thriving restaurants. Our Museums feature culture, history and traditions of the region and the world. Santa Fe, Taos County and beyond have something scheduled every day & night of the week, all year long.
---
Entertainment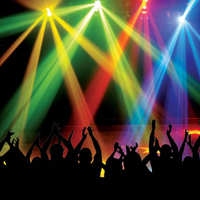 If there's one thing you can count on when spending time in New Mexico, it's the treasured experiences and wide selection of entertainment: music venues, great sporting events, theatrical and musical entertainment as well as year-round festivals.
From festivals, music concerts and dance performances to theatrical offerings by local and touring groups, the performing artists work hard to keep its locals and visitors entertained by both New Mexico performers and acclaimed stars from around the world.
---
About Kachina Mountain Realty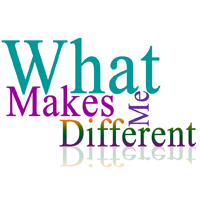 I am passionate about real estate development. I consider myself a "Dream Maker", and strive to help my clients manifest their dreams and lifestyle goals.
I believe that, "…the dreams which accompany all human actions should be nurtured by the places in which people live and work".
To promote this possibility, I encourages my clients to develop and share their dreams and lifestyle goals as part of the process of selling, buying or investing in property.
I have over thirty years of business experience as an executive producer, web architect, social media marketer, business developer, architecture assistant, real estate marketing developer and real estate consultant.
I am a licensed real estate qualifying broker for Kachina Mountain Realty & an accredited ACRE® real estate consultant. I have worked in the Santa Fe & Taos real estate market for years. I specialize in working with buyers and sellers who are looking for a solid real estate investment.
Contact me, Dianne McKenzie, for your real estate transactions & let me help you manifest your dreams!
I am readily available by cell phone, text, (505.603.9300) & email. I return calls promptly, seven days a week!
Taos Office: 575.776.7576

---