Eco Lifestyle And Home News – February 2023

Dear Friends, Clients, Business Associates and Neighbors,
February 2023 marks the 82nd edition of of Eco Lifestyle and Home Newsletter produced by Kachina Mountain Realty. We offer Real Estate & Lifestyle news in the email newsletter covering Santa Fe, Taos County and beyond.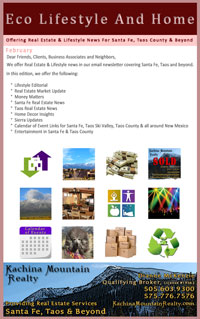 In this edition, we offer the following:
Lifestyle: Loving Kindness
Real Estate Market Update
Santa Fe Real Estate News
Taos County Real Estate News
Home Decor Insights
Sierra Updates!
Calendar of Event Links for Santa Fe, Taos Ski Valley, Taos County & all around New Mexico
Entertainment Links for Santa Fe, Taos County & around New Mexico
---
Lifestyle
Loving Kindness
When we practice loving kindness we develop our ability to connect and care for ourselves and others in ways that deeply fulfill our wishes to be happy and peaceful.
Through this practice the quality of patience, compassion, and equanimity are cultivated. Practicing loving kindness opens our hearts and minds.
"May I have mental happiness"; "May I have physical happiness"; "May I have ease of well-­‐being."
"Just as I wish to be filled with loving kindness, so may you be filled with loving kindness. May you be happy, peaceful, and free from all suffering."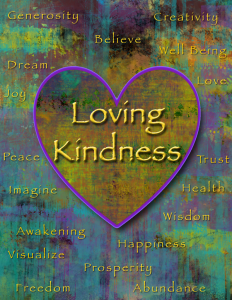 February is the month of love, and Valentine's Day is the day we celebrate all forms of love: love for our significant other, for our family, friends and animal companions. So this month's theme is centered around Love.
Loving kindness is a state of mind that can be cultivated in each of us. If our thoughts help determine our reality, then when we cultivate loving kindness, we increase our sense of well-­‐being and joy.
Meditation is about training the mind and heart to live in a way that allows us to be truly happy with our life as it is right now.
The practice of loving kindness meditation can lead to shifts in people's daily experiences of a wide range of positive emotions, including love, joy, gratitude, contentment, hope, pride, interest, amusement and awe. Loving kindness meditation has been shown to increase social connectedness, consciousness and social action.
Anyone can practice loving kindness meditation by sitting quietly and contemplating thoughts of kindness. Start with sending thoughts of loving kindness to yourself, using simple phrases such as: "May I be peaceful. May I be joyful. May I be happy. May I be free from suffering. May I have mental happiness. May I have physical happiness. May I have ease of well-­‐being." You can add your own phrases.
Then turn your thoughts to a benefactor who you feel deep gratitude, and say, "Just as I wish to be filled with loving kindness, so may you be filled with loving kindness." And continue sending them blessing using the phrases above, "May you be…." etc. Next, turn your thoughts to a beloved friend or family member and continue with your thoughts of loving kindness. Afterward, turn your attention to a neutral person and send them blessings. Finally, turn your thoughts to a difficult person, sending them thoughts of loving kindness. This simple meditation practice can be done daily. (For more detailed instructions on Loving Kindness Meditation, visit TheJourneyWithin.info)
It is easier to send thoughts of loving kindness to people we care for, and much harder to do for difficult people in our lives. But when we realize that any unskillful action comes from greed, ignorance, or fear, we can neutralize our feelings for difficult people and open up our hearts to become more compassionate. Cultivating loving kindness is a lifetime practice, which is why it is called loving kindness meditation PRACTICE, as you are provided with a lifetime of opportunities … well, too, practice!
Thank you for reading our newsletter & feel free to pass it on to other kindred spirits. ~ Dianne McKenzie & Sierra
---
Real Estate Market
Last year, U.S. home sellers cashed in, this year maybe different
Homeowners who held off on selling their home in 2022 as the housing market slowed missed out on a windfall and may have to settle for slimmer profits if they opt to sell this year
The sale of a median-priced U.S. home last year translated into a profit of $112,000, a 21% increase from a year earlier and the largest on records going back at least to 2008, according to a report released Thursday by Attom, a real estate data tracker.
Surging mortgage rates and sky-high prices last year slammed the brakes on what had been a red-hot housing market during the first two years of the pandemic. Home sales cratered as higher borrowing costs combined with years of rising home prices pushed homeownership out of reach for many Americans, especially first-time buyers.
In Santa Fe prices seem to have dropped since this time last year. Predictions fortell a slow down in sales.
---
Santa Fe Real Estate News
Aldea Real Estate Stats

2023 Stats: Sold, Pending, Listed
SOLD: 1 Homes, DOM 2 | 0 Lots, DOM 0
PENDING: 1 Homes | 0 Lots
LISTED: 2 Homes, Avg $925,000 | 2 Lots, Avg $115,000

Aldea de Santa Fe consists of 345 acres, with 205 acres of perpetual open space with 13 miles of walking trails, basketball & tennis courts, community center, (which offers yoga classes, exercise equipment & gathering space for events), a local cafe, superbly located in the high-value northwest corridor of Santa Fe County, with easy access to Highway 599, all just 10 minutes from downtown Santa Fe.
Aldea Listings:

Just Listed:
27 Camino Esperanza in Aldea | Santa Fe, New Mexico
Residential Lot | MLS #202234155 | Price: $140,000.00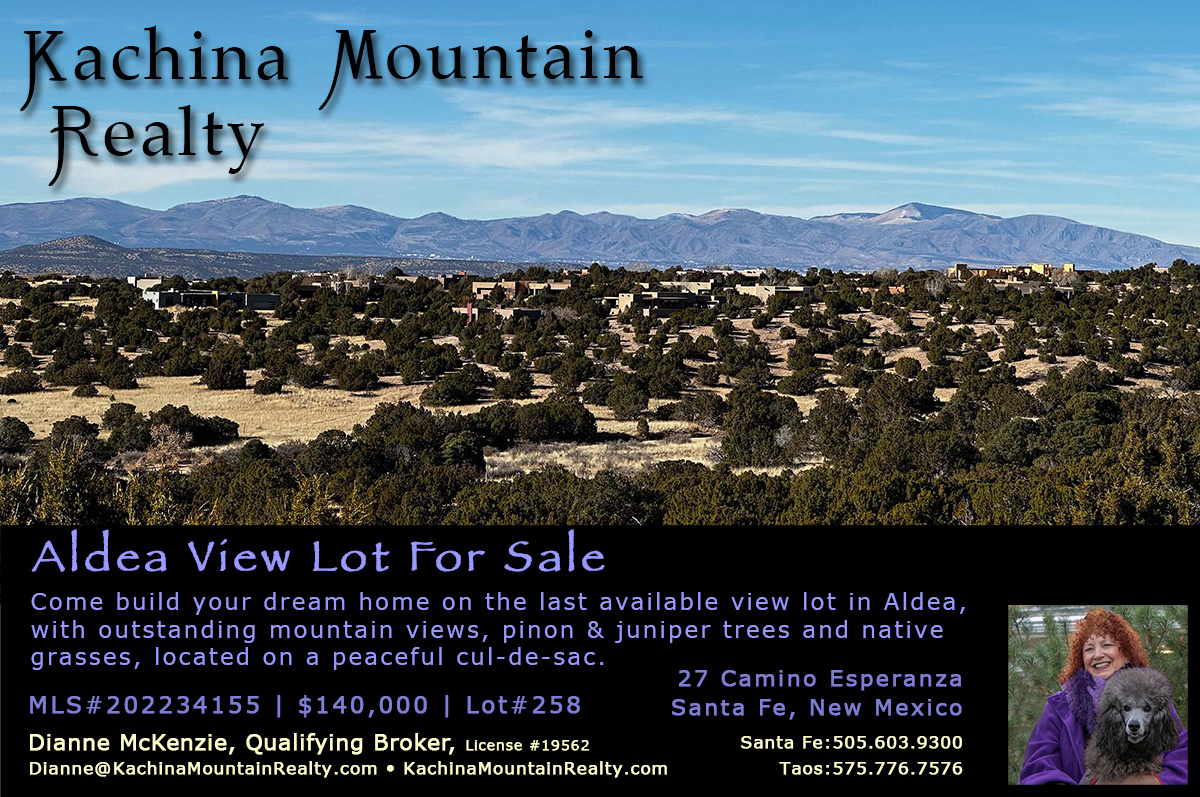 Come build your dream home on the last available view lot in Aldea, with outstanding mountain views, pinon & juniper trees and native grasses, located on a peaceful cul-de-sac. This is the perfect site to build your new home. This prime property has stunning expansive coveted panoramic 180° sunset views west to the Jemez mountains, south views to the Sandias, and Ortiz mountains to the southeast. Lot #258 is marked by open space, with miles of walking trails, and vista seen for miles. Easy access and easy to build on this gently sloping terrain. All underground utilities are at the street and mailboxes are located in the cul-de-sac.
This highly desirable lot in the Aldea Community, provides 205 acres of open space with 13 miles of walking trails, basketball & tennis courts, community center, (which offers yoga classes, exercise equipment & gathering space for events), a local cafe, all just 10 minutes from downtown Santa Fe. Enjoy Santa Fe's stunning natural beauty and the many amenities of the surrounding area.
---
Las Campanas Real Estate Stats

2023 Stats: Sold, Pending, Listed
SOLD: 5 Homes, DOM 211 | 0 Lots, DOM 0
PENDING: 17 Homes | 1 Lots
LISTED: 25 Homes, Avg $2,596,040 | 25 Lots, Avg $309,658
Las Campanas is the only luxury master-planned community in Santa Fe. Stretching across 4,700 acres surrounded by pristine high desert, the community is comprised of exclusive neighborhoods. Las Campanas is also home to The Club at Las Campanas, where members can enjoy two award-winning Jack Nicklaus Signature golf courses, the 46,000 square foot Hacienda Clubhouse, a peerless Equestrian Center and the Fitness & Tennis Center, which includes a luxurious spa.
There are currently 25 homes for sale in Las Campanas
0 Homes under $1,000,000
25 Homes over $1,000,000
There are currently 25 Lots for sale in Las Campanas
2 Lots under $100,000
23 Lots over $100,000
Let me take you on a tour in Las Campanas!
---
Marketing Properties, Not Just Listing Properties
If you are thinking of selling your property, why not list it with a realtor who will market the property, not just list it in the MLS? By actively marketing your property, the property gets the most exposure to other realtors and to the general public through online blogging, email campaigns & the typical MLS exposure.
Call me, Dianne, 505.603.9300, to discuss your property needs, or for a tour of Lots & Homes in Aldea, Las Campanas and the Santa Fe region.
Taos Office: 575.776.7576
Visit the website for Santa Fe information: RealEstatePropertiesSantaFe.com
Visit the Kachina Mountain Realty company main website: KachinaMountainRealty.com
---
Taos Real Estate News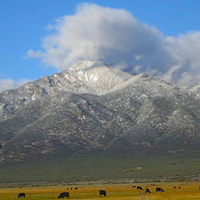 2023 Stats: Sold, Pending, Listed

*SOLD: 8 Homes, DOM 126 | 9 Lots, DOM 346
*PENDING: 20 Homes | 23 Lots
*LISTED: 55 Homes, Avg $757,663 | 139 Lots, Avg $216,289
* Areas tracked:
Lower North, Upper North, West North, Town of Taos, Taos Ski Valley, South West, South East
See map for areas »
Taos is very different than Santa Fe in many ways. With a population of 5,763 people and many surrounding neighborhoods, Taos is the 39th largest community in New Mexico. The greater Taos area is made up of several unincorporated areas and neighborhoods that separates out as if they were their own destinations or towns. Unincorporated areas around Taos have distinctive names that represent the ancient traditions of naming a place for a stream or topographic feature. Arroyo Hondo, Arroyo Seco and El Prado are all such places. These are not towns and have no political jurisdiction, they are simply places that help folks zero in on a very specific neighborhood. Within Taos itself are many such neighborhoods that may comprise no more than six "blocks."
Selling real estate in Taos county is challenging for sellers, buyers and realtors, as the typical closing time for a property averages 90+ days, compared to under 30 days in Santa Fe. I have closed properties in Santa Fe under 20 days. There is a shortage of title companies which the realtors can work with in Taos. The back log of properties waiting to close often creates buyers to back out and leave the sellers in the same cycle for closing when the next offer comes in. Many buyers become frustrated as their lenders charge additional hold fees or back out all together. Below are some statistics that highlight the problem.
Pioneer Title
As of August 26, 2022, Pioneer Title has opened an office in Taos at 204 Paseo del Pueblo Norte, Suite A, Taos NM 87571, telephone: 866-294-4100. It remains to be seen if closing times will shorten in the coming months, but it is progress for realtors as well as sellers and buyers in Taos County.
Recently, I have received inquiries from out of town buyers who are researching homes in the Taos area. These buyer profiles are looking to live in a safe community, with a country atmosphere, small homes, with flexible spaces.
Buyers are wanting to move to the area, but can't find the properties that offer amenities that don't include huge HOA fees. They want walking trails, localized eateries, a small grocery store, community activities and a sense of neighborhood. They are either downsizing their home and retiring or wanting a second home. They are wanting to go smaller, but the quality of their lifestyle and home features are upscale.
"Does such a community even exist?" they ask.
In the coming months, I will be featuring such a community.
If you have been thinking about selling your home, now is probably a good time. Inventory is low and the demand for quality homes is up.
Call our Taos Office: 575.776.7576
---
Home Decor Insights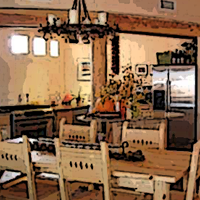 Celebrations to get you through to Spring
End of winter holidays will get us all through to spring. Ground hog day is February 2nd, Valentines day is February 14, and Presidents day is February 20. Day light savings time ends March 12, St Patrick's day is March 20. These minor holidays can add festive decorations to ones home.
I decorate with hearts for the month of February. Our inside lighted bare narrow leaf cotton wood trees have had its Christmas ornaments removed and replace with hearts. In March I decorate with early spring bulbs and pastel colored eggs. The winter garlands still adorn the dining table and entrance in anticipation of spring decor changes that come in April.
Celebrating the little things in ones life adds joy. So go ahead and schedule time to enjoy the the transition season.
---
For ideas on decorating with spring in mind, check out Pinterest and explore a whole new way to spend your time online and check out my Pinterest page: KachinaRealty Happy pinning!
While you are surfing the "net" check out Flipboard for a variety of news and lifestyle reading.
---
Sierra
CFO, (Chief Fun Officer)
Our 3.10 year old female silver standard poodle
January 1-31, 2022
What's new in the New Year? Well, as of January 3, I have a new knee replacement! It has not been a walk in the park, but I am off to making the New Year better. The knee replacement surgery has been as expected, painful and challenging but with physical therapy, massages from John and Sierra following me everywhere, I am on the mend. In a few more weeks I should be off all meds and my brain should be working at full capacity again.
Sierra has been an incredible, supportive care giver. She follows me around, walks by my side and often pushes me from behind while I am using the walker. She sits besides me all day and is very concerned, as you can see from her photos below.
I weigh & measure Sierra once a month, so here are her stats as of October 2022: 14″ collar, girth: 24″, height to shoulder: 25″ weight: 32 lbs. Sierra lost weight on the trip, deciding that she was not hungry. We are working on getting her weight back up.
Photos for the Month of January 2023 »
You really need to watch Sierra's videos as they capture her spirit!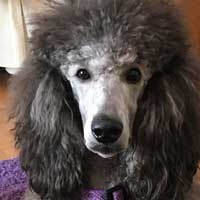 Here is the link to Sierra's Videos »
Sierra's 1st video explains who she is and her new role at Kachina Mountain Realty. In Sierra's 2nd video she talks about Dianne's role at Kachina Mountain Realty in the era of COVID-19. In Sierra's 3rd video, Sierra talks about selling and buying real estate during the COVID-19 pandemic. In Sierra's 4th video she talks about how staying safe in the era of COVID-19.
As you probably already know, Sierra is the CFO (chief fun officer) at Kachina Mountain Realty. Sierra talks to you today about using your imagination in Sierra's 5th video. When Sierra turned 2 years old on March 18, 2021, people asked what she sounded like now that she was older. While she does not have a lot to say right now, she is quick and to the point, as she starts her 2nd year as CFO, in Sierra's 6th video. Currently Sierra is not recording videos at this time.
Sierra's web page: www.diannemckenzie.com/sierra
More photos will be continually posted on her own web page, so check back monthly, as we chronicle her life with us!
---
Calendar of Events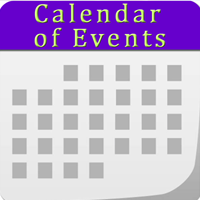 New Mexico has long been a center for arts, culture, classes and gourmet food. With such a strong art market, there are hundreds galleries to explore and experience, along with a wide selection of thriving restaurants. Our Museums feature culture, history and traditions of the region and the world. Santa Fe, Taos County and beyond have something scheduled every day & night of the week, all year long.
---
Entertainment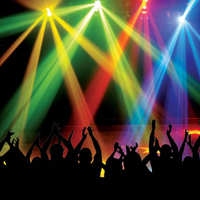 If there's one thing you can count on when spending time in New Mexico, it's the treasured experiences and wide selection of entertainment: music venues, great sporting events, theatrical and musical entertainment as well as year-round festivals.
From festivals, music concerts and dance performances to theatrical offerings by local and touring groups, the performing artists work hard to keep its locals and visitors entertained by both New Mexico performers and acclaimed stars from around the world.
---
About Kachina Mountain Realty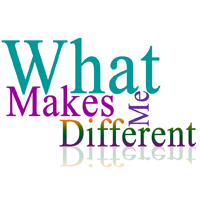 I am passionate about real estate development. I consider myself a "Dream Maker", and strive to help my clients manifest their dreams and lifestyle goals.
I believe that, "…the dreams which accompany all human actions should be nurtured by the places in which people live and work".
To promote this possibility, I encourages my clients to develop and share their dreams and lifestyle goals as part of the process of selling, buying or investing in property.
I have over thirty years of business experience as an executive producer, web architect, social media marketer, business developer, architecture assistant, real estate marketing developer and real estate consultant.
I am a licensed real estate qualifying broker for Kachina Mountain Realty & an accredited ACRE® real estate consultant. I have worked in the Santa Fe & Taos real estate market for years. I specialize in working with buyers and sellers who are looking for a solid real estate investment.
Contact me, Dianne McKenzie, for your real estate transactions & let me help you manifest your dreams!
I am readily available by cell phone, text, (505.603.9300) & email. I return calls promptly, seven days a week!
Taos Office: 575.776.7576

---
Go Green: Recycle This E-Newsletter!

After you've enjoyed our Eco Lifestyle and Home newsletter, please recycle it by emailing it to a family member, friend, neighbor or coworker!
---