Eco Lifestyle And Home News–December 2020

Dear Friends, Clients, Business Associates and Neighbors,
December 2020 marks the forty-eighth edition of Eco Lifestyle and Home Newsletter produced by Kachina Mountain Realty. We offer Real Estate & Lifestyle news in the email newsletter covering Santa Fe, Taos Ski Valley, Taos County and beyond.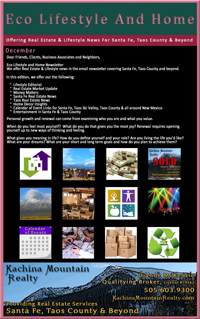 In this edition, we offer the following:
COVID-19 UPDATE
Lifestyle: Giving
Real Estate Market Update
Money Matters
Santa Fe Real Estate News
Taos County Real Estate News
Home Decor Insights: Debbie DeMarais
Sierra Updates!
Calendar of Event Links for Santa Fe, Taos Ski Valley, Taos County & all around New Mexico
Entertainment Links for Santa Fe, Taos County & around New Mexico
---
COVID-19
Update
The Business of Real Estate under the Current Public Health Order
Effective December 2, 2020
Under the most recent Public Health Order PDF, effective December 2, 2020 ("Order"), real estate falls within the "All Other Businesses" category, which allows brokers and brokerages to continue to conduct business.

The new Order creates a tiered system for how business may be conducted based on the new COVID-19 case incidence rate and/or positive COVID-19 testing results in the respective county in which the brokerage is located or the real estate business is being conducted. The framework divides the counties into green, yellow, and red levels.

• Green-Level Counties: those with BOTH a new COVID-19 case incidence rate of no greater than eight (8) cases per 100,000 inhabitants during the most recent two-week period AND an average percent of positive COVID-19 test results over the most recent 14-day period of less than or equal to five percent (5%).
• Yellow-Level Counties: those with EITHER a new COVID-19 case incidence rate of no greater than eight (8) cases per 100,000 inhabitants during the most recent two-week period OR an average percent of positive COVID-19 test results over the most recent 14-day period of less than or equal to five percent (5%).
• Red-Level Counties: those with a new COVID-19 case incidence rate of greater than eight (8) cases per 100,000 inhabitants during the most recent two-week period AND an average percent of positive COVID-19 test results over the most recent 14-day period of greater than five percent (5%).
Currently, all counties are Red-Level Counties, with the exception of Los Alamos. In Red-Level Counties, real estate brokerages can open and work at a 25% capacity or 75 customers at one time, whichever is less – meaning that the number of people permitted in the brokerage at any given time may be 25% of the office's capacity or 75 people, whichever is less. Showings, inspections, repairs, appraisals can all take place with adherence to the mass gathering restrictions of no more than five (5) people gathering together at any given time. Masks must be worn at all times and all other COVID-Safe Practices must be followed.

In Yellow-Level Counties, real estate brokerages can open and work at a 25% capacity OR 125 customers, whichever is less– meaning that the number of people permitted in the brokerage at any given time may be 25% of the office's capacity OR 125 customers, whichever is less. Showings, inspections, repairs, appraisals can all take place with adherence to the mass gathering restrictions of no more than five (5) people gathering together at any given time. Masks must be worn at all times and all other COVID-Safe Practices must be followed. Currently, Los Alamos County is the only county that falls within these guidelines.

In the Green-Level Counties, real estate brokerages can open and work at a 50% capacity – meaning that the number of people permitted in the brokerage at any given time may be 50% of the office's capacity. Showings, inspections, repairs, appraisals can all take place with adherence to the mass gathering restrictions of no more than 20 people gathering together at any given time. Masks must be worn at all times and all other COVID-Safe Practices must be followed. Currently, no New Mexico County fall within this tier.

The New Mexico Public Health Department will maintain a map containing each county's current level. The map will be updated on Wednesday, December 2, 2020 and on every other Wednesday thereafter.

Traditional "Open House": The Order does not address Open Houses, specifically, but the traditional "Open House" presents potential challenges. A traditional Open House allows any number of people to "show-up" at any time during the Open House. This could easily result in more than five (5) persons being present at the home at any given time. While there may be ways to manage the applicable mass gathering restriction while conducting a traditional Open House, a more prudent alternative would be an "Open House by Appointment", which would allow for more control over the number of persons present at any given time.
Making Face Masks For Family, Friends & Clients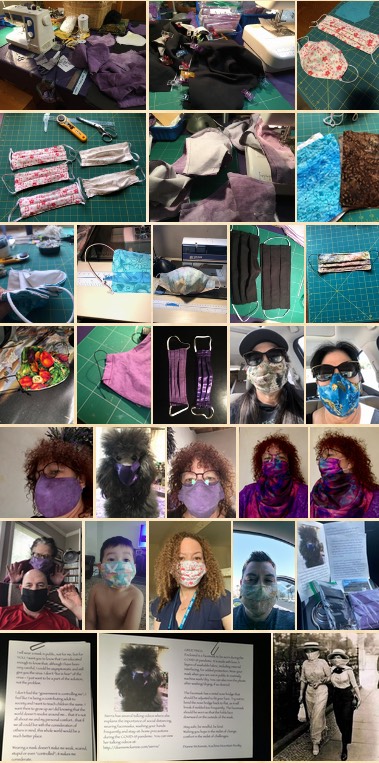 Wearing a face mask is one of the best contribution that each of us can individually make to protect the health and well-being of our fellow citizens and the State as a whole. In accordance with these purposes, this Order and its exceptions should be narrowly construed to encourage New Mexicans to stay in their homes for all but the most essential activities.
Face masks will be with us for the next year or more, so why not have several on hand. Some people are wearing face masks as part of a fashion statement, with coordinated face masks to work with their clothing. Others are buying very expensive tech face masks, which can look very hip. Our face masks are very simple. Recycled 2 layers of cotton fabric with 1 layer of non woven interfacing, a nose bridge, and adjustable/replaceable elastic around the ears.
Read about our face mask making »
We would like to hear from you.
What are your needs? How can we help you?
Resources & Links:
CORONA VIRUS
---
Lifestyle
Giving
Once again the season of Giving is upon us where we celebrate the holidays with festivities, yummy food and sharing holiday traditions. We all have experienced the joy of giving: giving gifts, giving of ones time, giving financial donations and giving love to one another.
There is more to giving of things. I have just recently realized how powerful the gift of giving of honesty when it is also helpful.
We have all noticed this year how politically we are divided and that many people speak their mind, without a thought of how it would affect other people. Anger, accusations and incomplete truths can run rampant along with irrational, misguided, uninformed, and the fear based arguments. The crowd picks up on the energy and feeds more negativity. I have been at loss for comments to either set the "record straight", or retort a quick remark, or match the negative energy with a "honest" comment.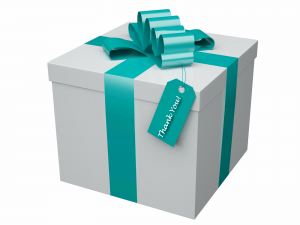 But when I think of being honest and helpful, I have given pause for thought. I have had long mental discussions with myself as how best to respond to group negative comments. How can I be helpful and honest? What can I say to make the situation better?
I am reminded of a saying from The Buddha:
If it is not truthful and not helpful, don't say it.
If it is truthful and not helpful, don't say it.
If it is not truthful and helpful, don't say it.
If it is truthful and helpful, wait for the right time. ~ Buddha
There would be a lot fewer words spoken if this was everyone's guide. I keep coming back to this quote and marveling at how challenging it is to follow this simple, yet profound instruction.
Consistently speak only what is truthful AND helpful will give gift of kindness now during this holiday season as well as all year long.
During these COVID-19 times, getting together with family and friends in person may not be the best option for fear of getting or giving the virus to others. Find ways where you can visit with one another remotely through digital technologies such as Zoom or FaceTime. Until there is a vaccine, we are not safe to hold our traditional holiday events in person. Most of all, share the gift of kindness.
Wishing you all the very best, happy, healthy and prosperous holiday season!
Thank you for reading our newsletter & feel free to pass it on to other kindred spirits. ~ Dianne McKenzie
---
Real Estate Market Update
What Real Estate Has to Be Grateful For in 2020
No doubt, 2020 has been a uniquely challenging year. With unemployment still above pre-pandemic levels, the country coming to terms with longstanding racial inequities, Americans worrying about natural disasters and coming off a contentious national election, and the COVID-19 pandemic still raging, people are searching for reasons to feel gratitude this Thanksgiving.
The housing market has emerged as an economic bright spot. While the nation continues to feel the widespread effects from 2020's turmoil, here are a few things the real estate industry can be grateful for this year.
1. Booming home sales. Overall, real estate professionals have been busy. Homebuying activity is at its highest level since 2006. Defying high unemployment and an economic recession, the housing market has surged during the COVID-19 pandemic. Existing-home sales in October were 27% higher than a year ago, new-home sales were 32% higher, and pending home sales or contract signings in September jumped 20.5% annually. "This winter may be one of the best winters for sales activity," Lawrence Yun, NAR's chief economist, said during last week's virtual 2020 REALTOR® Conference & Expo. "It won't match summer or spring sales numbers, but on a winter-to-winter comparison, this could be one of the best breakout years just based on the fact that pending contracts are at such a higher level." Mortgage applications, up 20% year over year, reflect buyers in the pipeline, ready to buy. The downside: Buyers are in a frenzy to compete for the limited housing stock; 72% of homes that sold in October were on the market for less than a month, NAR's data shows.
2. Record low mortgage rates. Home buyers are locking in some of the lowest mortgage rates ever in history. Last week, for the 13th time this year, the 30-year fixed-rate mortgage set a record low, averaging 2.72%, according to Freddie Mac. NAR's Yun predicts that mortgage rates will stay low into 2021, averaging 3.1% for all of next year. "These ultra-low mortgage rates significantly lower mortgage payments, making housing more affordable than a year earlier in many areas," even with prices rising, writes Nadia Evangelou, a research economist, on NAR's Economists' Outlook blog. For example, in the Washington, D.C., metro area, home prices have jumped nearly 12% compared to a year earlier, Evangelou notes. However, the monthly payment on a 30-year fixed-rate mortgage is lower than a year ago, averaging $1,820.
3. Seller equity. Home sellers are getting a boost financially from housing appreciation. The median existing-home price for all housing types was $313,000 in October—a 16% increase from a year ago. Sixty-five percent of 181 metro areas NAR recently tracked have reported double-digit price gains compared to a year ago.
That means home owners who haven't taken a financial hit from the pandemic are feeling richer. In the third quarter, 16.7 million residential properties in the U.S., or 28.3% overall, were considered "equity rich," according to a report from ATTOM Data Solutions, a real estate research data firm. A property is considered equity rich when the property owner has at least 50% equity in the home. "Homeowner equity in the third quarter added another pebble to the pile of markers showing that the U.S. housing market continues to defy the broad downturn in the economy this year," said Todd Teta, chief product and technology officer for ATTOM Data Solutions. "Home prices keep rising, boosting the balance sheets of homeowners throughout most of the country. … The market is strong and homeowners remain in a position to benefit."
4. Technology. With people forced to keep their distance during the pandemic, technology became real estate pros' ally in keeping transactions moving. Nick Bailey, chief customer officer at RE/MAX LLC, said during last week's REALTOR® Conference & Expo that the average real estate transaction takes 181 steps from beginning to end, and technology has increasingly responded to those steps. During state shutdowns earlier this year, real estate professionals increasingly relied on virtual and 3D tours, videoconferencing, augmented reality, automation, artificial intelligence, and remote online notarizations, Jeb Griffin, NAR's director of strategy and innovation, said during the conference. "Technology is playing a more active role through the buying and selling cycle, and agents are playing an even bigger role to consumers who [have] less access to homes in person [due to the pandemic]," Griffin said. The future now requires "taking the traditional way of doing business and augmenting it with new ways that will allow you to serve customers in a variety of ways—and on their terms," added Andy Ambrose, DocuSign practice lead director at DocuSign Notary. (Read more: Tech Tools to Help Pros Thrive During the Pandemic.)
5. New priorities. "The coronavirus without a doubt led home buyers to reassess their housing situations and even reconsider home sizes and destinations," Jessica Lautz, vice president of demographics and behavioral insights for NAR, said about recent findings from the "2020 Profile of Home Buyers and Sellers." "Buyers sought housing with more rooms, more square footage, and more yard space, as they may have desired a home office or home gym. They also shopped for larger homes because extra space would allow households to better accommodate older adult relatives or young adults that are now living within the residence." (Read more: NAR Survey Reveals 14 Home Buying, Selling Trends Since the Pandemic.)
6. Affirmation of your value. As Americans reevaluated what they wanted from a home, they increasingly relied on real estate agents to guide them through purchase and sales transactions. Eighty-eight percent of buyers reported using an agent to purchase their home, and 89% of sellers used an agent to help with their sale, according to NAR's survey. "We are all in unknown territory with this pandemic, so it's no surprise that more buyers than ever turned to agents to help them navigate through some of the uncertainties and one of the most complex, competitive markets any of us have ever seen," said NAR's immediate past president Vince Malta when the Home Buyer and Seller Profile was released.
7. The sanctity of home. "Nothing feels more precious this year than the safety of our homes," Shannon McGahn, NAR's chief advocacy officer, told REALTOR® Magazine in addressing advocacy efforts of the association this year, "and we believe all Americans should have equal opportunity to a home of their own."
---
Money Matters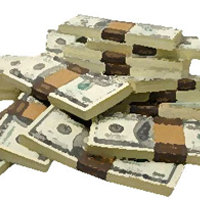 Home Ownership vs Renting
from Francis Phillips
by MMG Weekly

Benchmark Mortgage
Francis Phillips
Mailing: 1000 Cordova Place PMB 934
35 Mescalero Trail
Santa Fe, NM 87505
Phone: (505) 982-3400
Cell Phone: (505) 690-7251
---
Santa Fe Real Estate News
Aldea Stats
2020 Stats: Sold, Pending, Listed
SOLD: 40 Homes, DOM 47 | 1 Lots, DOM 1015
PENDING: 5 Homes | 0 Lots
LISTED: 5 Homes, Avg $586,120 | 1 Lots, Avg $65,000
Aldea de Santa Fe consists of 345 acres, with 205 acres of perpetual open space with 13 miles of walking trails, basketball & tennis courts, community center, (which offers yoga classes, exercise equipment & gathering space for events), a local cafe, superbly located in the high-value northwest corridor of Santa Fe County, with easy access to Highway 599, all just 10 minutes from downtown Santa Fe.
Current Listings December 1, 2020:
---
Tessera Real Estate Stats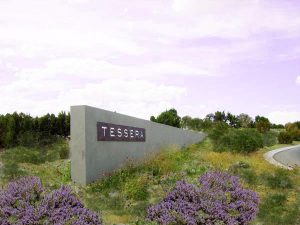 2020 Stats: Sold, Pending, Listed
SOLD: 11 Homes, DOM 14
PENDING: 1 Homes
LISTED: 1 Homes, Avg $631,000
Located in the hills of northwest Santa Fe and an adjacent neighbor to Aldea, Tessera features stunning mountain views, generous dedicated open space and an extensive trail system. Built to exacting standards and quality, the to-be-built homes at Tessera are ideal for those who enjoy customizing their home finishes to suit their personal taste.
Home sites boarder greenbelt for a private and natural ambiance. Close proximity to La Tierra Trails, public golf and more. Tessera is located next to Aldea and just min
---
Las Campanas Real Estate News
2020 Stats: Sold, Pending, Listed

SOLD: 70 Homes, DOM 99 | 47 Lots, DOM 205
PENDING: 16 Homes | 5 Lots
LISTED: 45 Homes, Avg $1,896,253 | 54 Lots, Avg $192,376
Sales increased in Las Campanas in 2019 for homes (61) vs 2018 (56) and land sales increased in 2019 (44) vs 2018 (43). New inventory of lots and newly built homes have boosted sales in 2019.
Las Campanas Realty recently shared that 2018 was a record year in terms of sales and average sale prices since the downturn a decade ago for both the developer and the overall community. Average home prices for resales (excluding new construction) increased 9%, while average homesite prices increased 12.5% for the overall community and 15% for the developer. The demand for many to find the perfect location to enjoy the best four-season weather in the nation, a world-class private club and a special city that is recognized for its rich culture and diverse art community, makes Santa Fe the perfect fit. "Many buyers this year were already sold on Santa Fe and Las Campanas. They just needed to find the perfect site within the Las Campanas community," says Jonathan Bartlett, VP of Sales for Las Campanas Realty.
Las Campanas is the only luxury master-planned community in Santa Fe. Stretching across 4,700 acres surrounded by pristine high desert, the community is comprised of exclusive neighborhoods. Las Campanas is also home to The Club at Las Campanas, where members can enjoy two award-winning Jack Nicklaus Signature golf courses, the 46,000 square foot Hacienda Clubhouse, a peerless Equestrian Center and the Fitness & Tennis Center, which includes a luxurious spa.
There are currently 45 homes for sale in Las Campanas
3 Homes under $1,000,000
42 Homes over $1,000,000
There are currently 54 Lots for sale in Las Campanas
16 Lots under $100,000
38 Lots over $100,000
Let me take you on a tour in Las Campanas!
---
Marketing Properties, Not Just Listing Properties
If you are thinking of selling your property, why not list it with a realtor who will market the property, not just list it in the MLS? By actively marketing your property, the property gets the most exposure to other realtors and to the general public through online blogging, email campaigns & the typical MLS exposure.
Call me, Dianne, 505.603.9300, to discuss your property needs, or for a tour of Lots & Homes in Aldea, Las Campanas and the Santa Fe region.
Taos Office: 575.776.7576
Visit the website for Santa Fe information: RealEstatePropertiesSantaFe.com
Visit the Kachina Mountain Realty company main website: KachinaMountainRealty.com
---
Taos Real Estate News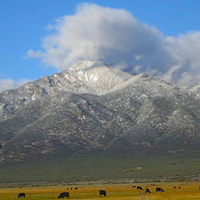 2020 Stats: Sold, Pending, Listed

*SOLD: 186 Homes, DOM 157 | 67 Lots, DOM 539
*PENDING: 66 Homes | 44 Lots
*LISTED: 61 Homes, Avg $786,713 | 188 Lots, Avg $222,528
* Areas tracked:
Lower North, Upper North, West North, Town of Taos, Taos Ski Valley, South West, South East
See map for areas »
Recently, I have received inquiries from out of town buyers who are researching homes in the Taos area. These buyer profiles are looking to live in a safe community, with a country atmosphere, small homes, with flexible spaces. They are wanting to move to the area, but can't find the properties that offer amenities that don't include huge HOA fees. They want walking trails, localized eateries, a small grocery store, community activities and a sense of neighborhood. The are either downsizing their home and retiring or wanting a second home. They are wanting to go smaller, but the quality of their lifestyle and home features are upscale. "Does such a community even exist?" they ask.
In the coming months, I will be featuring such a community.
If you have been thinking about selling your home, now is probably a good time. Inventory is low and the demand for quality homes is up.
Call our Taos Office: 575.776.7576
---
Home Decor Insights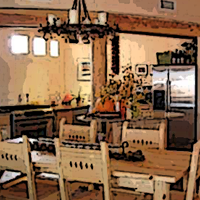 Holiday Décor Dos And Don'ts When Your Home Is On The Market
The real estate market never sleeps. Homes are sold year 'round and that includes the holidays. If you put your home on the market during the holidays, here are some things to consider regarding your holiday décor. The answer is not "Go all out!" Here's why.
When to decorate when selling your home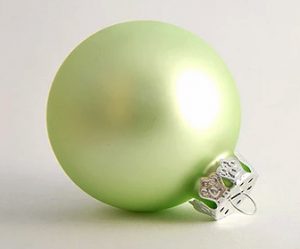 If you want to create that festive atmosphere for your family and friends with your holiday décor, I strongly recommend to my clients that they do it after the photographs are taken. This way, should the home not sell immediately, your photos online will not reflect a timestamp once the holidays are over. In February, a listing of a home for sale with holiday décor screams dated. Which can result in the home being on the market for even longer. It could even net you a lower offer as buyers and brokers know the home has been on the market for a long time.
In short, holiday décor in listing photos can lessen your chances of top offers and a quick sale. I try to remind my clients that the online listing photos are not an invitation to showcase your holiday décor, nor a contest for the best tree! The goal is to sell your home as soon as possible for the highest potential.
What if decorating for the holidays simply can't wait?
I understand. You want to dress your home for the holidays for family and friends so you can all enjoy the season — especially as this is probably your last year in this particular home. I have certainly encountered this dilemma in the past. To make sure extra décor doesn't contribute to a cluttered look in photographs online, I have a few suggestions.
1. Pare it down
It's always important to declutter and reduce the number of items in a home for sale at any time of year. But doing so during the most wonderful time of the year is equality critical. It will probably require you to edit your regular décor accessories as you bring out the holiday ornaments.
Rather than decking the halls with your entire collection of nutcrackers, Santa's or angels, pick one or two to use as a centerpiece with a couple candles, or add your favorite item to a cluster of poinsettias on a dining table or fireplace mantel. It can look elegant, uncluttered and even be a decorative accessory in photos.
2. Keep holiday décor to just two rooms
To keep the holiday décor at a minimum, limit it to one or two rooms. Kitchens, bathrooms, and bedrooms should stay free of holiday décor. Remember, you're trying to get a potential buyer to see themselves living in your home. This is why homes for sale should always be edited down to remove overly personal items. The holidays hold many emotional connections for most people, and seeing how your family celebrates the holidays may prevent a buyer from imagining their own traditions in the space.
I know that entertaining during the holidays is particularly important to many people. If you do plan to entertain, feel free to pull out all the stops for the event — but be prepared to tuck it all away before your next showing or open house.
3. Where should the Christmas tree go?
Even if you usually put the tree front and center, when your home is on the market, Christmas trees should be placed in a corner or away from trafficked areas. Allowing buyers the ability to walk easily with a clear path between furniture and hallways is always important. Make certain if it's a live tree to keep it healthy and watered. Turn on the tree lights (and of course, the other lights in the room) for showings and photographs. Keep your gifts out of sight during showings and photos. Gifts have an emotional connection, unfortunately the emotional connection has nothing to do with the potential buyer.
4. Go for a shorter time frame
When you're selling your home during the holidays and need to decorate, schedule it for a shorter time frame than what you would normally decorate. Rather than setting everything up the day after Thanksgiving, wait a couple of weeks, then remove it shortly after Christmas, rather than after January 5th.
5. Keep the outdoor décor to an absolute minimum
Holiday greenery flanking your entrance is fine. Adding boughs of greenery in flower pots with a collection of pine cones gives a festive look and can even fill the void of empty vessels. I do recommend staying away from fake flowers.
Just make sure everything is fresh, green, and welcoming. A garland or wreath that looks like it has been through all kinds of weather or is outdated gives an unfavorable first impression. You never want that first impression to give the buyer pause, wondering if the inside is as unfavorable as the outside.
I always recommend my clients remove all yard art prior to listing their home for sale. And this is especially true for the holidays. Blow up Santas, reindeer on the roof, candy canes in the landscaping — it's best to keep those in their boxes for your new home.
You want to sell a buyer their home, not yours
Buyers want to see if your home has the potential to be their home, rather than being on a holiday decorating tour. Too much décor prohibits their ability to look past the emotional connections you have created with your holiday traditions. Selling the home means allowing buyers to envision creating their own traditions with their loved ones.
If you simply can't resist going all out… If your family insists on making Christmas as fun and festive and full of ornaments, stockings, and blow-up Santas… If you want to do up the holidays as you've always done, go ahead and have one more holiday extravaganza in your home. But then just wait to put your home on the market until after the holidays.
If you ever need help, that's what I'm here for.
Especially considering the emotional attachments the holidays bring, it can be difficult to part with these traditions, even when it means getting a better price for your home. I can help you pare down so you have a better chance of getting a good listing, rather than one that will languish.
_____
Photos courtesy jmiltenburg and gleangenie respectively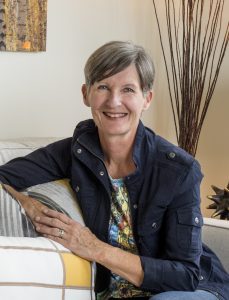 Debbie DeMarais
Certified Home Stager & Designer
HSR, CLIPP™, CCE, ASID Allied Member
505-699-4989 | homestagingsantafe.com
For ideas on decorating with spring in mind, check out Pinterest and explore a whole new way to spend your time online and check out my Pinterest page: KachinaRealty Happy pinning!
While you are surfing the "net" check out Flipboard for a variety of news and lifestyle reading.
---
Sierra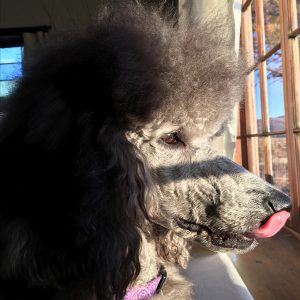 CFO, (Chief Fun Officer)
Our 1.9 year old silver standard poodle
Sierra: November 1-30, 2020
Part of Sierra's job includes bunny patrol! Sierra loves her view and her new found hobby. She has growled at the coyotes outside the window where she endlessly watches over her "domain".
With all the wide open spaces on the ranch where the cows roam freely, we have fenced in an area where Sierra can chase her ball. She loves running and catching her ball!
I weigh & measure Sierra once a month, so here are her stats as of November 30, 2020: 14″ collar, girth: 24″, height to shoulder: 25″ weight: 32.5 lbs.
I weigh & measure Sierra once a month, so here are her stats as of October 18, 2020: 14″ collar, girth: 24″, height to shoulder: 24″ weight: 32lbs (2lbs less than last month for some reason, perhaps due to more exercise?)
Sierra November link to Photos »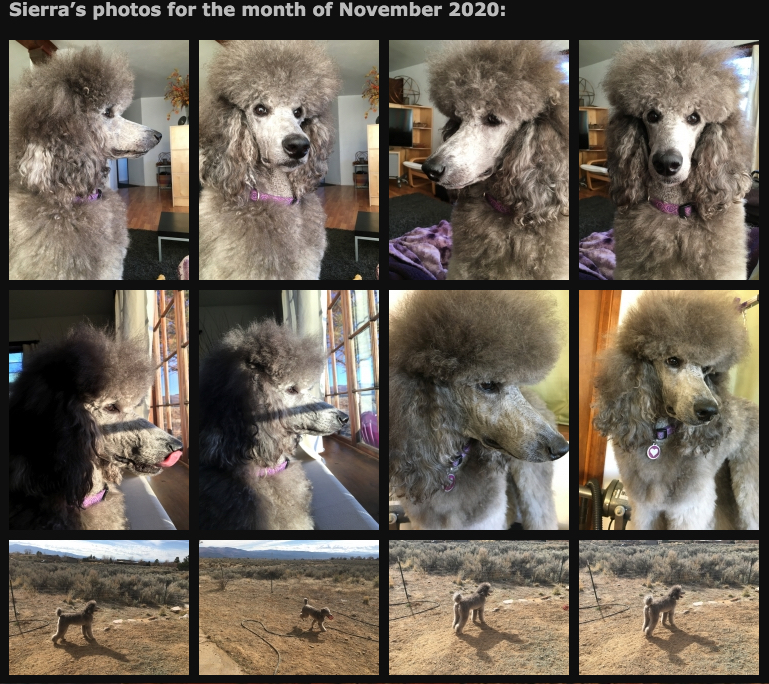 You really need to watch Sierra's videos as they capture her spirit!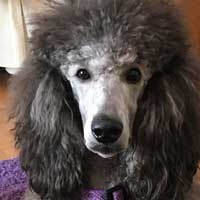 Here is the link to Sierra's Videos »
Sierra's 1st video explains who she is and her new role at Kachina Mountain Realty. In Sierra's 2nd video she talks about Dianne's role at Kachina Mountain Realty in the era of COVID-19. In Sierra's 3rd video, Sierra talks about selling and buying real estate during the COVID-19 pandemic. In Sierra's 4th video she talks about how staying safe in the era of COVID-19.
Sierra's web page: www.diannemckenzie.com/sierra
More photos will be continually posted on her own web page, so check back monthly, as we chronicle her life with us!
---
Calendar of Events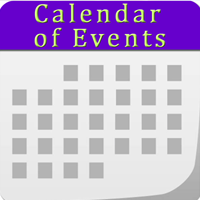 New Mexico has long been a center for arts, culture, classes and gourmet food. With such a strong art market, there are hundreds galleries to explore and experience, along with a wide selection of thriving restaurants. Our Museums feature culture, history and traditions of the region and the world. Santa Fe, Taos County and beyond have something scheduled every day & night of the week, all year long.
---
Entertainment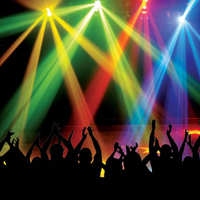 If there's one thing you can count on when spending time in New Mexico, it's the treasured experiences and wide selection of entertainment: music venues, great sporting events, theatrical and musical entertainment as well as year-round festivals.
From festivals, music concerts and dance performances to theatrical offerings by local and touring groups, the performing artists work hard to keep its locals and visitors entertained by both New Mexico performers and acclaimed stars from around the world.
---
About Kachina Mountain Realty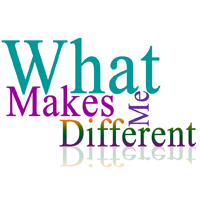 I am passionate about real estate development. I consider myself a "Dream Maker", and strive to help my clients manifest their dreams and lifestyle goals.
I believe that, "…the dreams which accompany all human actions should be nurtured by the places in which people live and work".
To promote this possibility, I encourages my clients to develop and share their dreams and lifestyle goals as part of the process of selling, buying or investing in property.
I have over thirty years of business experience as an executive producer, web architect, social media marketer, business developer, architecture assistant, real estate marketing developer and real estate consultant.
I am a licensed real estate qualifying broker for Kachina Mountain Realty & an accredited ACRE® real estate consultant. I have worked in the Santa Fe & Taos real estate market for years. I specialize in working with buyers and sellers who are looking for a solid real estate investment.
Contact me, Dianne McKenzie, for your real estate transactions & let me help you manifest your dreams!
I am readily available by cell phone, text, (505.603.9300) & email. I return calls promptly, seven days a week!
Taos Office: 575.776.7576

---
Go Green: Recycle This E-Newsletter!

After you've enjoyed our Eco Lifestyle and Home newsletter, please recycle it by emailing it to a family member, friend, neighbor or coworker!
---