Eco Lifestyle And Home News – August 2021

Dear Friends, Clients, Business Associates and Neighbors,
August marks the fifty-sixth edition of Eco Lifestyle and Home Newsletter produced by Kachina Mountain Realty. We offer Real Estate & Lifestyle news in the email newsletter covering Santa Fe, Taos County and beyond.
In this edition, we offer the following: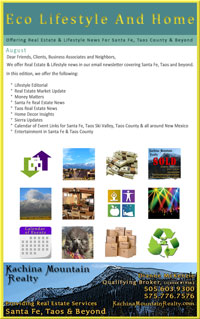 COVID-19 UPDATE
Lifestyle: Mindfulness
Real Estate Market Update
Money Matters
Santa Fe Real Estate News
Taos County Real Estate News
Home Decor Insights
Sierra Updates!
Calendar of Event Links for Santa Fe, Taos Ski Valley, Taos County & all around New Mexico
Entertainment Links for Santa Fe, Taos County & around New Mexico
---
COVID-19
NM recommends masks indoors again — even for the vaccinated
from Taos News
New Mexico Governor Michelle Lujan Grisham echoed a recommendation from the Centers for Disease Control and Prevention this week that even vaccinated individuals should resume wearing face masks while indoors.
"In accordance with the latest official guidance from the CDC, [we recommend] fully vaccinated New Mexicans wear a face-covering in indoor settings out of an abundance of caution," said Nora Sackett, press secretary for the governor, in an email.
Government officials in many other states are also pushing the recommendation to wear a mask again as the highly-transmissible COVID-19 Delta Variant causes case numbers to spike again across the United States.
Case rates rising
As part of its regularly scheduled pandemic updates, the New Mexico Department of Health held a press conference Wednesday (July 28) to inform the public about the state's vaccination program and rising case rates.
The national COVID-19 case rate was 109 cases per 100,000 people from July 20–26, up from 67 the week prior. In New Mexico, case rates increased 38 percent, to 58 cases per 100,000 people over the same time frame.
"About 75 to 80 percent of all cases in New Mexico are now the Delta Variant," said New Mexico Human Services Department Secretary David Scrase.
The Delta Variant is a highly transmissible version of the SARS-CoV-2 virus. The original virus, the Alpha Variant, accounted for 98 percent of all U.S. COVID-19 cases just 2 months ago, according to Johns Hopkins University.
The average daily case count in New Mexico increased 54 percent, to 222 cases per day, from July 20–26. There were 19 new cases in Taos County during that same time frame, bringing the total number of cases to 1,800, according to Town of Taos GIS Analyst Tim Corner.
"New Mexico does remain among the vaccine leaders in the whole United States," said New Mexico Department of Health Acting Secretary Laura Parajón. "We have 73 percent of New Mexicans (18+) having received at least their first shot, and 65 percent of New Mexicans (18+) are now fully vaccinated."
Parajón announced that, nationwide, 86.9 percent of distributed vaccine doses have been administered as of July 21, but in New Mexico, 99.9 percent have been administered — the largest share of any state.
New Mexico has reported 208,487 cases and 4,397 deaths since the pandemic began in March 2020.
Bottom Line
Buckle up and hold tight, this pandemic is not over and we are not returning to "normal" any time soon!
It is important to note that private businesses and localities may maintain
mask and
social distancing
mandates, even for vaccinated
persons.
Please be mindful that many people who have been fully vaccinated may have underling health issues such as pulmonary, respiratory and immune issues, therefore they should still take precaution in wearing masks, as well as continue with social distancing.
What We Know
COVID-19 vaccines are effective at preventing COVID-19 disease, especially severe illness and death.
COVID-19 vaccines reduce the risk of people spreading COVID-19.
The Delta Variant is more infectious.
What We're Still Learning:
How effective are the vaccines against variants of the virus that causes COVID-19?
Early data show the vaccines masks work against some variants but could be less effective against others.
How well the vaccines protect people with weakened immune systems, including people who take immuno-suppressive medications.
How long COVID-19 vaccines can protect people?
As we know more, CDC will continue to update our recommendations for both vaccinated and unvaccinated people.
The Delta variant, which was first detected in India, now accounts for most of all infections in the United States, according to the Centers for Disease Control and Prevention. And this highly transmissible variant may be responsible for more cases in the U.S. states. The Delta variant may be associated with more severe disease for those who have underling health issues such as pulmonary, respiratory and immune issues, and therefore have a higher risk of hospitalization.
Resources & Links:
CORONA VIRUS
---
Lifestyle
Mindfulness
"Mindfulness means paying attention in a particular way; On purpose, in the present moment, and nonjudgmentally."
~ Jon Kabat-Zinn's
Meditation practices are tools for training the mind. Mindfulness is the intentional, accepting and non-judgmental focus of one's attention on the emotions, thoughts and sensations occurring in the present moment. Mindfulness helps one develop a greater clarity of awareness.
Mindfulness training has roots in Buddhist meditation, however a secular practice of mindfulness has entered the American mainstream & business environments in recent years. Thousands of studies have documented the physical and mental health benefits of mindfulness, inspiring countless programs to adapt the mindfulness training model for schools, prisons, hospitals, veterans' centers, and more recently corporations.
Studies have shown that practicing mindfulness, even for just a few weeks, can bring a variety of physical, psychological, and social benefits.
Mindfulness is good for our bodies, our minds, and our spirit. Mindfulness improves physical health, mental health and increases well-being.
I was exposed to mindfulness meditation in the 1980's before & after the Spirit Rock Meditation Retreat Center was built in Marin County, California. During the next 15 years I attended meditation silent retreats at Spirit Rock Center from weekends to up to month long retreats. I experienced the mindfulness meditation as a training that helps me respond to situations instead of just react to them. In essence meditation, as I experience it, increases the length of ones "fuse", giving me more time to think, respond more appropriately, than just an immediate reaction. When I can respond with clear thinking, the results are often much more helpful and insightful. Mindfulness training works, in part, by helping me to accept my experiences, including painful emotions, rather than react to them with aversion and avoidance.
When one cultivates mindfulness and compassion, it will lead to better understanding and decisions. 15 minutes of mindfulness meditation every day can change your life for the better. Give it a try for a month and feel the difference! Consider mindfulness meditation as a 15 minute spa treatment for your soul.
Thank you for reading our newsletter & feel free to pass it on to other kindred spirits. ~ Dianne McKenzie & Sierra

---
Real Estate Market Update
Due Diligence is the Key to Buying Property
by Dianne McKenzie
Buyer Beware
Whenever a Buyer is considering purchasing property, the most important aspect before purchasing is Buyer Due Diligence. Due diligence means taking precautions and doing ones homework by researching the property and the surrounding area before one makes a purchase.
Buyers are responsible for conducting their own independent due diligence on any property they are considering purchasing. Before purchasing property, Buyers should always verify data at the local government authorities.
A Realtor's® role is to help a Buyer by advising them on where to get the information needed to do the Buyer's independent Due Diligence. Sellers and Realtors® have the legal responsibility is to disclose adverse material facts about the property that they are aware of. It is not possible for them to disclose facts that they are not aware of.
Role of a Realtor®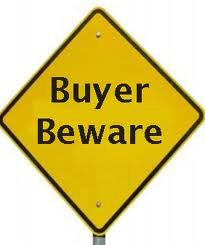 A real estate broker (Realtor®) works to negotiate and arrange real estate transactions. This licensed individual has daily duties that include writing contracts and overseeing transactions for sales and purchasing activities on homes, land and commercial properties. A Realtors® role in a real estate transaction is to provide real estate services to their clients while following a strict code of ethics.
A Realtor® is the source of the source, not the source of information.
Some of a Realtor® duties on behalf of Sellers include:
• Listing homes for sale on the local, MLS, Multiple Listing Service
• Sharing the brokerage listings with other MLS broker members to get Buyers to the property
• Sharing the listing commission with successful Buyer brokers
• Advising the home seller in preparing their home for listing and showings
• Supervising showing, report to sellers results and feedback
• Submitting any offers to the Seller for consideration
• Helping the Seller negotiate offers to try and execute a purchase contract with a buyer
• Working on the Seller's behalf in coordinating the transaction process
• Delivering and explain documents, disclosures and transaction items
• Working with the Seller through the closing and their move-out from the home
On the Buyer's side of the transaction, Realtors® work with people wanting to buy a property by providing advice and services to help them to find a property that fits their needs and completing the steps of the transaction, such as:
• Helping Buyers locate all properties in their desired area in their price range and meeting their criteria
• Coordinating and helping Buyers to visit and view properties
• When a decision is made to attempt a purchase, helping the Buyer craft their initial offer and purchase agreement
• Working with the Buyer on their behalf in negotiations with the seller through their Realtor®
• Once a purchase contract is executed, coordinating the transaction process on the Buyer side
• Delivering and explaining documents in the transaction process
• Coordinating inspections, reports and repair negotiations
• Assisting Buyers through to closing and taking possession
Realtor Code of Ethics:
https://www.nar.realtor/about-nar/governing-documents/code-of-ethics/2021-code-of-ethics-standards-of-practice
Title Companies Role in Due Diligence
A title company is a firm that researches legal ownership claims on real estate. Title companies come into the home buying process after an offer has been made and the property is under contract. Title companies work to protect the Buyer from fraud by making sure there are no outstanding liens or mortgages on the house so the buyer can be confident in their purchase.
When a Buyer purchase real estate, it's essential to be aware of any liens (old debts secured by the home), omitted heirs (those who should have inherited the home but didn't), mistakes in the public record and other title issues. The title company can also provide a map of plotted easements.
Title companies perform title research and property surveys, issue title insurance and provide other services related to title search and title insurance. The title insurance company sends a closing protection letter (CPL) to the lender that protects against fraudulent activity or errors by contracted closing agents working on the mortgage. This is a standard part of any real estate transaction.
Most of the time, lenders require a property survey to establish property lines and boundaries. The survey will also point out any issues that may arise, like a neighbor's fence over the property line. According to the American Land Title Association (ALTA) and the National Society of Professional Surveyors (NSPS), a land title survey can include:
• Boundary lines of the purchasing property
• Access points
• Water features
• Improvements and structures
• Plottable recorded documents (easements, utility rights, etc.)
• Historical monuments
• Cemeteries
The survey inspector notes structures on the premises, such as fences, sheds or decks. Title companies also conduct survey inspections. During a survey inspection, the title agency sends someone to observe the property in person. The state of the property is then compared with the survey notes to look for discrepancies. Title companies generally require a survey before they will insure a property without exceptions.
Further information on Title Companies: https://www.consumeraffairs.com/finance/what-does-a-title-company-do.html
Final Thoughts
Do as much research as you can before even submitting an offer. That way, you will know what you are purchasing and understand the surrounding area. Further research, if needed, can be part of the Purchase Agreement written in an Addendum.
Remember, it is the duty of the Buyer to do their own DUE DILIGENCE. It is not the responsibility of the Realtors® or Seller to investigate the property & surrounding area for zoning, building codes and other pertinent information.
The information provided by the Seller, Realtor® and title company will usually not address everything that you might want to know about the property and may not be sufficient for you to decide whether or not you want to buy the property. The Realtor® and Seller will tell you what they already know concerning adverse material facts concerning the property, but beyond that it is your responsibility to do whatever additional research is needed.
For example, if the corners are unmarked, it is not the Seller's responsibility to mark the corners of the land unless you explicitly wrote a survey into your offer and the Seller agreed to do it. It is not your Realtor's® responsibility to perform detailed research on building requirements. It is not the title company's responsibility to plot easements on adjacent land unless you explicitly ask them to do that. A Buyer must do their own independent due diligence.
"Won't My Agent Do All This Research For Me?"
A Realtor's® role is to help a Buyer by advising them on where to get the information the Buyer needs as they move down the path of doing their own independent due diligence.
"The key point here is that your Realtor®, who has your back, knows that it is in your best interest for you to do your own due diligence. The information you will receive will be more accurate and helpful if you get it straight from the information-provider, not filtered through a Realtor® as an intermediary." ~Tammy Tengs
Here is a great article that covers many Buyer's frequently asked questions:
http://buyingandsellingland.com/due-diligence-when-purchasing-vacant-land-buyers-frequently-asked-questions/
---
Money Matters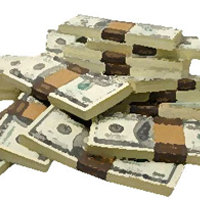 Zillow Market Pulse
By Matthew Speakman on Jul. 23, 2021
Existing home sales rose in June, ending a streak of four straight monthly declines. Home construction activity improved last month, but a decline in permits suggests that builders are being hampered by supply-side constraints. As forbearance protections are due to expire, the federal government announced more protections for at-risk mortgage borrowers.
Existing home sales resumed growth following a four-month hiatus
June existing home sales were up 1.4% from May, to 5.86 million (SAAR)
Inventory rose 3.3% from May, to 1.25 million for-sale homes.
Housing starts surprisingly rise, but lagging permits point to enduring struggles for builders
June housing starts rose 6.3% from May to 1.643 million (SAAR)
Housing permits fell 5.1% from May, to 1.598 million (SAAR).
The federal government announced more protections for some mortgage borrowers behind on payments
The White House announced a program that allows some borrowers to reduce their monthly payments by up to 25%.
The program is targeted towards borrowers with government (FHA, VA, USDA) loans.
---
Santa Fe Real Estate News
Aldea Real Estate Stats
2021 Stats: Sold, Pending, Listed
SOLD: 20 Homes, DOM 280 | 2 Lots, DOM 30
PENDING: 4 Homes | 0 Lots
LISTED: 0 Homes, Avg 0 | 1 Lots, Avg $99,000
Aldea de Santa Fe consists of 345 acres, with 205 acres of perpetual open space with 13 miles of walking trails, basketball & tennis courts, community center, (which offers yoga classes, exercise equipment & gathering space for events), a local cafe, superbly located in the high-value northwest corridor of Santa Fe County, with easy access to Highway 599, all just 10 minutes from downtown Santa Fe.
Spring is here and the listings have not yet picked up. Homes go pending within hours of being listed. Let me take you on a tour!
Current Listings: None

Sold: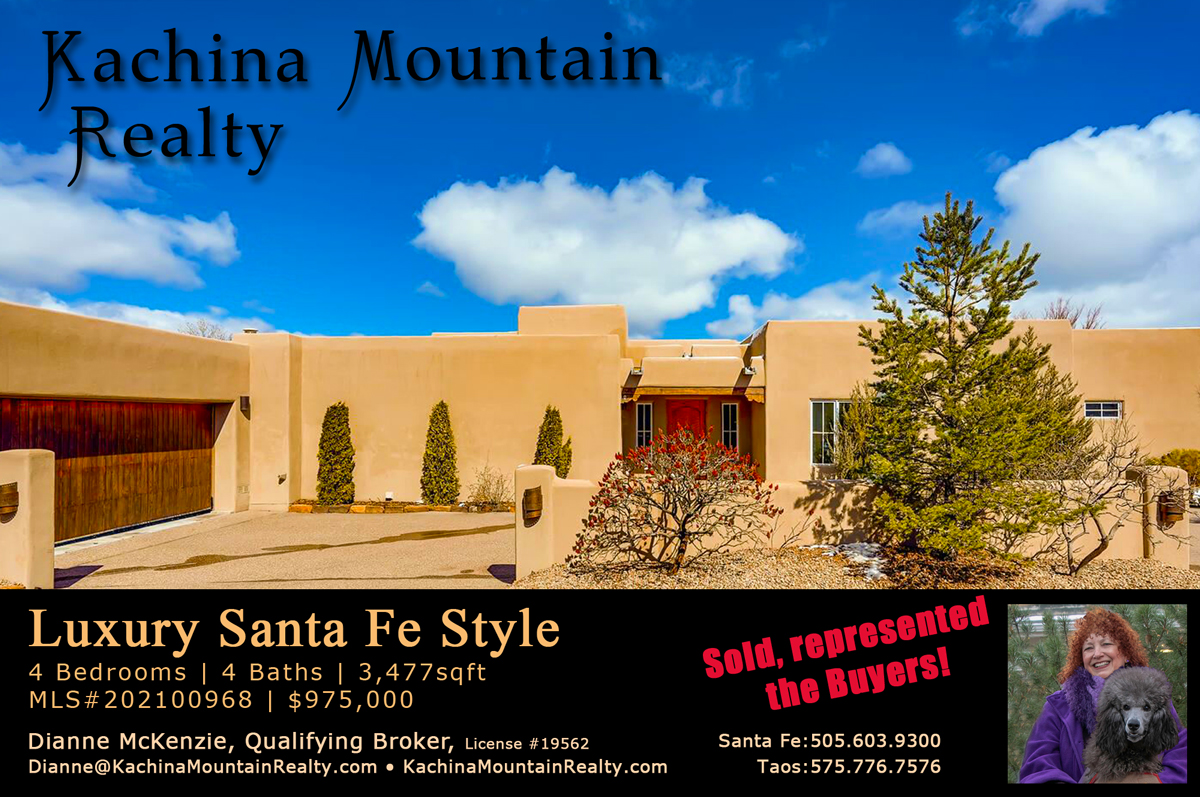 ---
Las Campanas Real Estate Stats
2021 Stats: Sold, Pending, Listed

SOLD: 53 Homes, DOM 66 | 50 Lots, DOM 151
PENDING: 18 Homes | 7 Lots
LISTED: 32 Homes, Avg $2,400,218 | 42 Lots, Avg $219,000
Las Campanas is the only luxury master-planned community in Santa Fe. Stretching across 4,700 acres surrounded by pristine high desert, the community is comprised of exclusive neighborhoods. Las Campanas is also home to The Club at Las Campanas, where members can enjoy two award-winning Jack Nicklaus Signature golf courses, the 46,000 square foot Hacienda Clubhouse, a peerless Equestrian Center and the Fitness & Tennis Center, which includes a luxurious spa.
There are currently 32 homes for sale in Las Campanas
0 Homes under $1,000,000
32 Homes over $1,000,000
There are currently 42 Lots for sale in Las Campanas
7 Lots under $100,000
35 Lots over $100,000
Let me take you on a tour in Las Campanas!
---
Marketing Properties, Not Just Listing Properties
If you are thinking of selling your property, why not list it with a realtor who will market the property, not just list it in the MLS? By actively marketing your property, the property gets the most exposure to other realtors and to the general public through online blogging, email campaigns & the typical MLS exposure.
Call me, Dianne, 505.603.9300, to discuss your property needs, or for a tour of Lots & Homes in Aldea, Las Campanas and the Santa Fe region.
Taos Office: 575.776.7576
Visit the website for Santa Fe information: RealEstatePropertiesSantaFe.com
Visit the Kachina Mountain Realty company main website: KachinaMountainRealty.com
---
Taos Real Estate News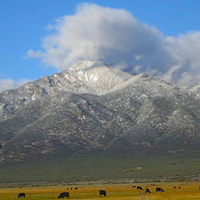 2021 Stats: Sold, Pending, Listed

*SOLD: 122 Homes, DOM 189 | 70 Lots, DOM 350
*PENDING: 70 Homes | 55 Lots
*LISTED: 62 Homes, Avg $722,885| 193 Lots, Avg $309,000
* Areas tracked:
Lower North, Upper North, West North, Town of Taos, Taos Ski Valley, South West, South East
See map for areas »
Recently, I have received inquiries from out of town buyers who are researching homes in the Taos area. These buyer profiles are looking to live in a safe community, with a country atmosphere, small homes, with flexible spaces.
Buyers are wanting to move to the area, but can't find the properties that offer amenities that don't include huge HOA fees. They want walking trails, localized eateries, a small grocery store, community activities and a sense of neighborhood. They are either downsizing their home and retiring or wanting a second home. They are wanting to go smaller, but the quality of their lifestyle and home features are upscale.
"Does such a community even exist?" they ask.
In the coming months, I will be featuring such a community.
If you have been thinking about selling your home, now is probably a good time. Inventory is low and the demand for quality homes is up.
Call our Taos Office: 575.776.7576
---
Home Decor Insights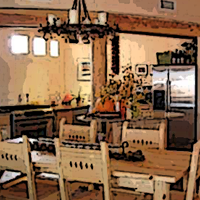 How A Pro Interior Designer Deals with COVID-Related Supply Chain Shortages
by Debbie DeMarais
Here's a big understatement: Covid has a major impact on all our lives. But it's fascinating how far-reaching that impact is. Working in the home design industry, I've seen first-hand the effect of COVID on something as basic as window curtains.
It's important to note that, in reality, it's not just the pandemic that's to blame. In our global, interconnected economies, the supply chain has a ton of different pressures coming at it from all angles. The result is that lumber, couches, refrigerators—just about every element that might go into a home improvement project has been hit by supply-chain woes.
Where's my chair?
Seeing the effects play out in real life, I've had customers wonder if it isn't just bad luck or some sort of human error that's making the needed materials and supplies take so long. And I can assure them, they are not alone in this waiting game. The whole country is wondering when that armchair they ordered—back in January—will finally arrive.

In a normal year, special orders and custom pieces might take six to eight weeks. Now they're taking 17 weeks or longer.

COVID of course is a driving factor. Just take for example that armchair I mentioned. The textile mill, the foam factory, the frame builders, the lumber mills, they're probably all working at a reduced capacity thanks to a combo of distancing standards, labor shortages, and the upstream slowdown of their own supply chain.
If each step in the production of an armchair is taking two weeks longer, that pretty quickly adds up to a couple months tacked onto the turnaround time.
It's not just COVID slowing the supply chain
There's the added issue of extreme weather fueled by climate change, and the toll it takes on the goods we rely on. Winter storm Uri in February of this year caused billions of dollars of damage in Texas, wiping out crops and harming businesses. Wildfires and droughts in the west, severe hurricane seasons in the east and south, all of this is having a considerable effect.
Then just this March, one of the largest container ships in the world became wedged in the banks of the Suez Canal when strong winds pushed the ship sideways. The blockage held up $9.6 billion of goods each of the six days the ship was stuck.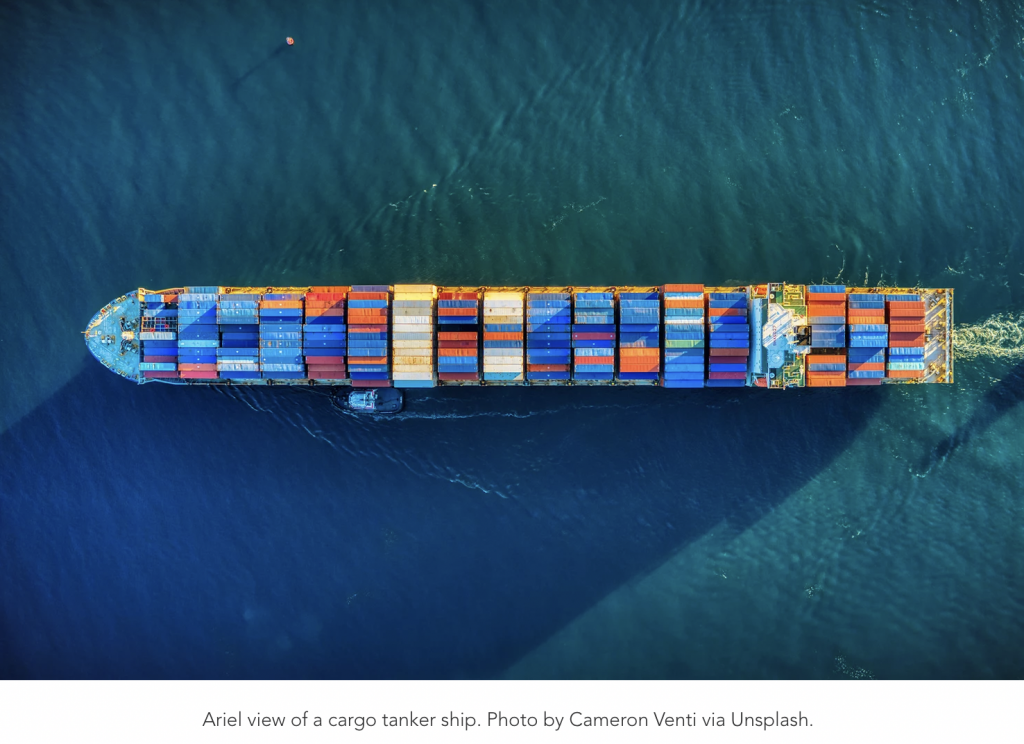 How much for a two-by-four?
The current supply chain issues are maybe best represented by the current surge in lumber prices. COVID has seen more people at home, taking on home improvement and expansion projects, so the demand for lumber has gone up. Wildfires and bark beetle infestations have harmed forests in Canada causing the supply to go down. Add them together and you understand the 300% increase in lumber prices.
So what does all of this mean to a home designer like me? It means that I, like the rest of the world, will need to learn to adapt. To be nimble, and flexible in finding solutions that take this new reality into account.
How a pro handles supply chain issues
Working with my clients, the first thing I try to do is explain the situation, like I just did in this post. After we take a deep breath together, we can accept that projects will simply take a little longer right now. Next, I'll take my years of experience navigating the home design supply chain to find the best way to bring a project to completion. It may involve finding alternatives to a particular material, or even approaching the project from a different angle.

In the end, I will be there for my clients, helping them to understand through clear, honest communication what we can accomplish in the current situation. And while a project may not go quite as fast, I'll make sure the end results are always beautiful.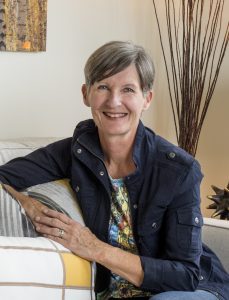 Debbie DeMarais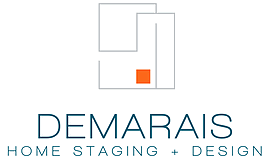 Certified Home Stager & Designer
HSR, CLIPP™, CCE, ASID Allied Member
505-699-4989
homestagingsantafe.com
For ideas on decorating with spring in mind, check out Pinterest and explore a whole new way to spend your time online and check out my Pinterest page: KachinaRealty Happy pinning!
While you are surfing the "net" check out Flipboard for a variety of news and lifestyle reading.
---
Sierra
CFO, (Chief Fun Officer)
Our 2.4 year old silver standard poodle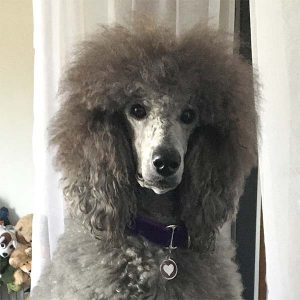 July 1-31 2021

I weigh & measure Sierra once a month, so here are her stats as of June 30, 2021: 14″ collar, girth: 24″, height to shoulder: 25″ weight: 34.5 lbs.
Sierra loves being on the ranch. She gets to run free and explore. She always stays close and watches out for John.
Lots of thunder during our monsoon weather every afternoon. I have made a game out of the loud crashing thunder roar. I get excited when there is thunder anyway, so now I make a big fuss and yell out, "Thunder Treats" and Sierra comes happily running to get a treat. She is not frightened by the thunder and enjoys extra treats!
Sierra's photos for the month of July 2021 Link »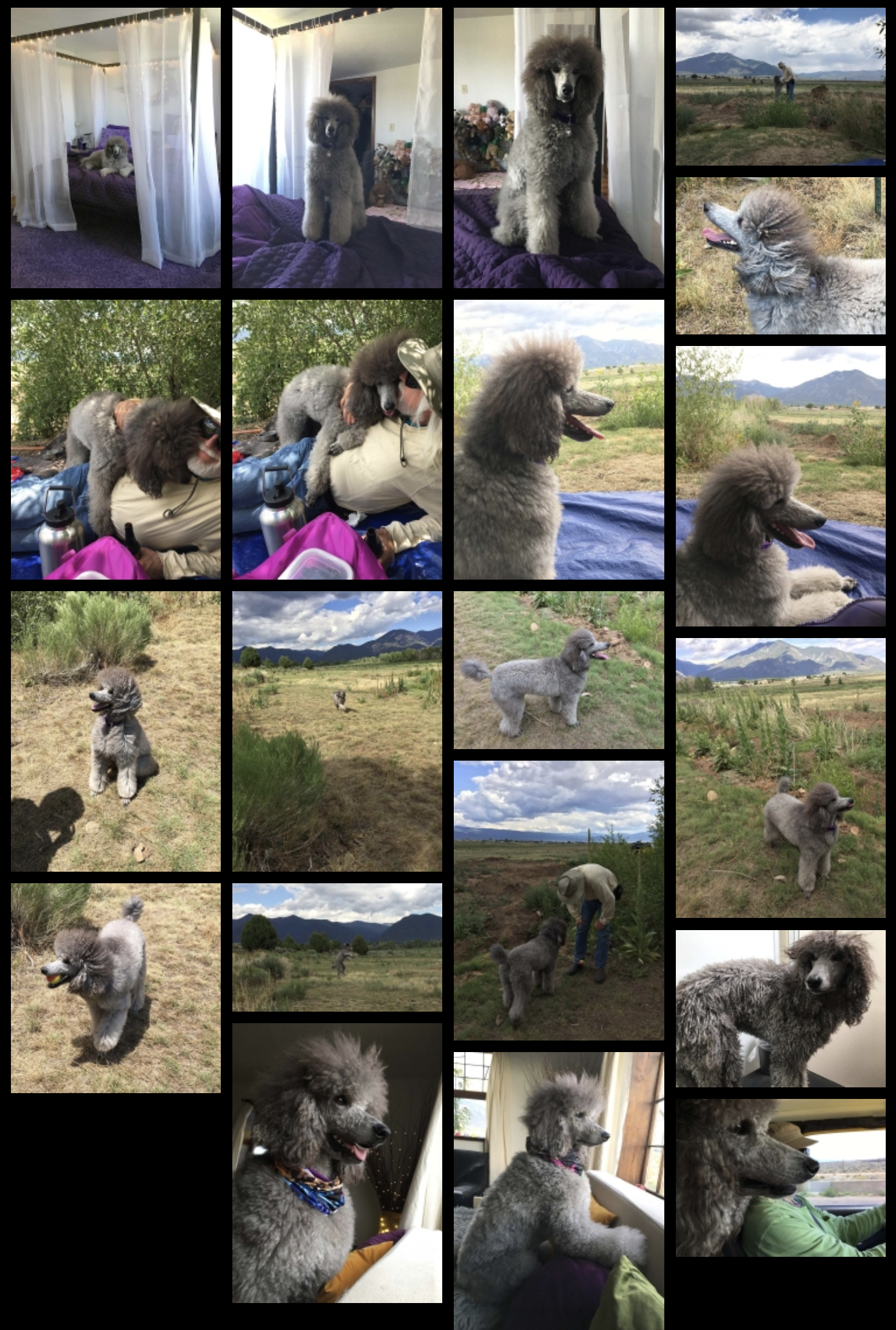 Celebration of 2 years: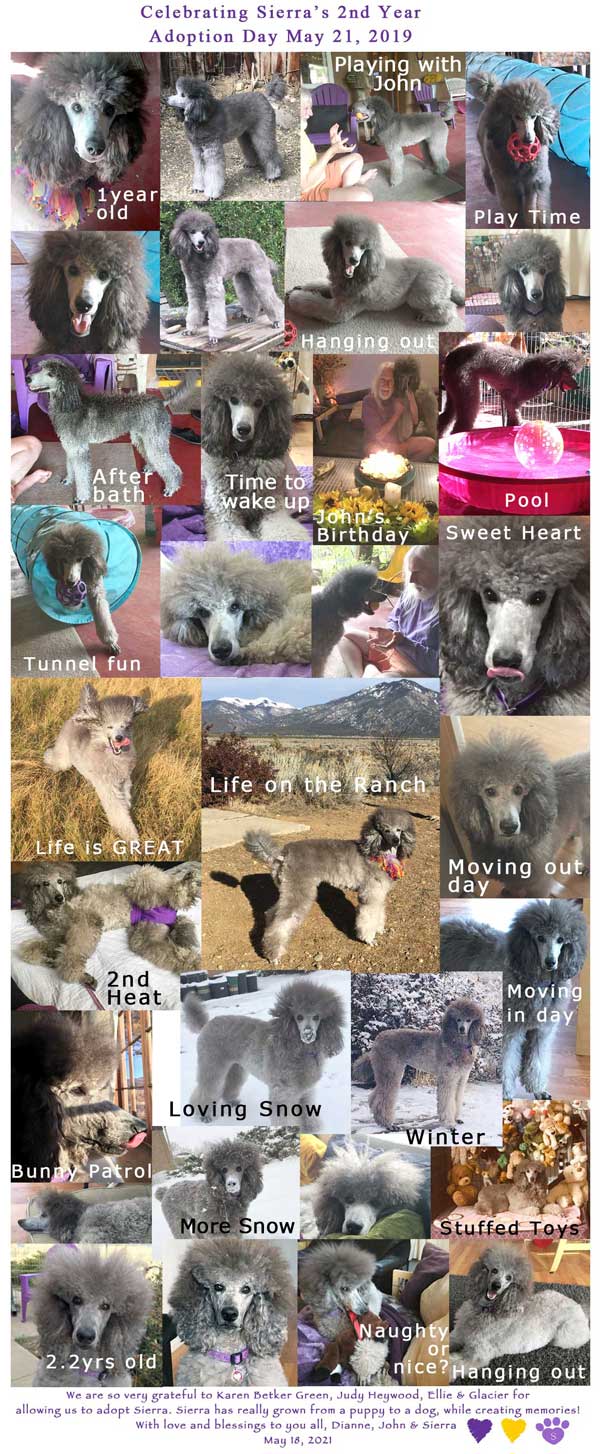 You really need to watch Sierra's videos as they capture her spirit!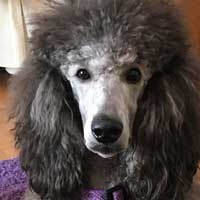 Here is the link to Sierra's Videos »
Sierra's 1st video explains who she is and her new role at Kachina Mountain Realty. In Sierra's 2nd video she talks about Dianne's role at Kachina Mountain Realty in the era of COVID-19. In Sierra's 3rd video, Sierra talks about selling and buying real estate during the COVID-19 pandemic. In Sierra's 4th video she talks about how staying safe in the era of COVID-19.
Sierra's web page: www.diannemckenzie.com/sierra
More photos will be continually posted on her own web page, so check back monthly, as we chronicle her life with us!
---
Calendar of Events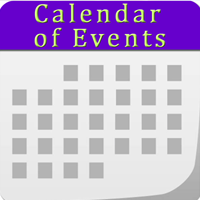 New Mexico has long been a center for arts, culture, classes and gourmet food. With such a strong art market, there are hundreds galleries to explore and experience, along with a wide selection of thriving restaurants. Our Museums feature culture, history and traditions of the region and the world. Santa Fe, Taos County and beyond have something scheduled every day & night of the week, all year long.
---
Entertainment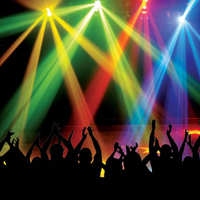 If there's one thing you can count on when spending time in New Mexico, it's the treasured experiences and wide selection of entertainment: music venues, great sporting events, theatrical and musical entertainment as well as year-round festivals.
From festivals, music concerts and dance performances to theatrical offerings by local and touring groups, the performing artists work hard to keep its locals and visitors entertained by both New Mexico performers and acclaimed stars from around the world.
---
About Kachina Mountain Realty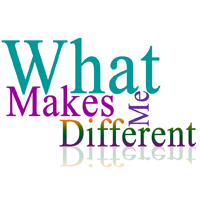 I am passionate about real estate development. I consider myself a "Dream Maker", and strive to help my clients manifest their dreams and lifestyle goals.
I believe that, "…the dreams which accompany all human actions should be nurtured by the places in which people live and work".
To promote this possibility, I encourages my clients to develop and share their dreams and lifestyle goals as part of the process of selling, buying or investing in property.
I have over thirty years of business experience as an executive producer, web architect, social media marketer, business developer, architecture assistant, real estate marketing developer and real estate consultant.
I am a licensed real estate qualifying broker for Kachina Mountain Realty & an accredited ACRE® real estate consultant. I have worked in the Santa Fe & Taos real estate market for years. I specialize in working with buyers and sellers who are looking for a solid real estate investment.
Contact me, Dianne McKenzie, for your real estate transactions & let me help you manifest your dreams!
I am readily available by cell phone, text, (505.603.9300) & email. I return calls promptly, seven days a week!
Taos Office: 575.776.7576

---
Go Green: Recycle This E-Newsletter!

After you've enjoyed our Eco Lifestyle and Home newsletter, please recycle it by emailing it to a family member, friend, neighbor or coworker!
---