Are you looking for a handyman or handywoman, personal assistant, a cook, caterer, dog trainer, dog walker and /or a company that can help you live your life more easily?
We have some personal recommendations for helping you find the right help for the right task here in Santa Fe & Taos.
If you know someone that you would recommend, send us their contact information and we will check them out to see if they are appropriate for our website recommendations.
We will be adding more names & resources over the next few months, but here is what we have so far:
---
Appliance Repair
Appliance Star
Repair & Service
Catherine Peralta, Owner/Technician
Major Home Appliance Repair & Service
Taos area: 575.779.1034
Catherine is a real genius!!!!
---
Appraisers
Smedly Enterprises
John Smedly
P.O. Box 3559
623 East Kit Carson
smedly@Taosnet.com
575.758.2147
Martinez & Associates, Inc.
Bernadette Martinez
505.271.9300
Appraisal Works
Barry Hunnicut
505.983.9352
Don Hall & Associates
Don Hall
505.982.8100
Hippauf & Associates
505.988.8059
Bill Keefe
505.466.1188
Trusty & Associates
Jane Trusty
505.988.8085
George Vazquez
505.203.8509
---
Architecture – Planning, Design & Development Services & Solar Solutions
Comet Studios
John Edmund Halley
Phone: 505.231.1454
Email: comet@cometstudios.com
Web: http://www.CometStudios.com
Specializing in environmentally conscious planning, design & development for new construction & remodels. Solar solutions for your home & office!
Gaia Quest
Web: GaiaQuest.com
Email: gaia@gaiaquest.com
Planning eco-villages, permaculture and more.
---
Attorneys – Real Estate
Rubin Katz Law Firm
Jim Rubin
505.982.3610
Scheuer Yost & Patterson
Ralph Scheuer
505.982.9911
Simons & Slattery
Tom Simons
505.988.5600
Sommer Law Firm
Karl Sommer
505.989.3900
Worcester & McKay
Janet McKay
505.820.2244
---
Banks
Taos Banks
US Bank
Phone: (575) 758-7800
120 W Plaza
Taos, NM 8757
Peoples Bank
Phone: (575) 758-5657
1100 Paseo Del Pueblo Sur
Taos, NM 87571
Hillcrest Bank
Phone: (575) 758-4211
219 Paseo Del Pueblo Norte
Taos, NM 87571
Centinel Bank
Taos-Main Office
512 Paseo del Pueblo Sur
Taos, NM 87571
Phone: (575) 758-6700
Fax: (575) 758-6712
Hours: Monday-Friday 9:00 am – 5:00 pm
Nusenda Credit Union
Phone: (575) 776-2703
630 Paseo del Pueblo Sur
Taos, NM 87571
_________________________________________
Santa Fe Banks:
First National Bank of Santa Fe
All offices 505-992-2000
Toll-free 1-888-912-BANK
Main Office
62 Lincoln Avenue
Santa Fe, NM 87501
Monday-Friday 8-5
Offices in Santa Fe, Albuquerque, Los Alamos & Denver Colorado
Web: http://www.fnb-sf.com
Washington Federal
208 Washington
Santa Fe, NM 87501
Phone: 505-946-6555
Fax: 505-946-6574
809 St. Michael's Dr
Santa Fe, NM 87505
Phone: 505-946-6500
Fax: 505-992-1775
Web: http://www.washingtonfederal.com
---
Builders/Contractors
Taos Builders:
coming soon…
Santa Fe Builders:
HomePro
Highly recommended by Aldea residents!
Matthew Simpson
Stone work, Landscaping, Flooring, Plaster & Drywall, Painting & Staining, Stucco, Plumbing & Heating, Driveway & Pavers, Drip Irrigation, Remodelling expert and Aldea Resident!
matt@homeprosf.com
505.427.2757
M43 LLC
Jim Salopek, General Contractor
Address: PO Box 32199, Santa Fe, New Mexico 87594
Phone: 505-660-8801
Email: jimmis@aol.com
John Hansen & Company
Office: 29 Rabbitbrush
Mail: P.O. Box 8170 Santa Fe, New Mexico 87504
Santa Fe, New Mexico 87506
Office Telephone & Fax: 505.982.5409
John's Cell: 505.660.1582
Email: john@jhansenco.com
Web: www.jhansenco.com
John Hansen Company, Inc. is a fully insured, bonded and licensed award winning home builder in Santa Fe, New Mexico.
McDowell Construction
Doug McDowell
505.982.5238
BlueLine Construction
A full service heavy construction company, specializing in excavation and utility installation work for a wide variety of large and small land developments and private developers within the greater Santa Fe and Albuquerque area. Surveying, ILR
Brian McClintok, Owner, surveyor
Web:http://bluelinenm.com
Telephone: 505.216.7909
Fax: 505.866.204.9391
Email:bkm@bluelinenm.com
---
Carpet Cleaners
Oxi Fresh
Green Carpet Cleaning
Office: 505.847.8333
Web: www.oxifresh.com
---
Concierge Services
Business Name: Concierge Associates
Contact Name: Colette Feinberg
Address: 2501 W. Zia Rd. 4103
Phone: 505 466-2657
Email: colettefeinberg@comcast.net
Brief Description:
Established profitable concierge services business and ran it for 10 years, serving office and apartment buildings. Negotiated with vendors for special prices on goods and services.
---
Feng Shui Master to Help your Home or Office
Feng Shui For Real Life
Carol M. Olmstead
Mailing Address: 369 Montezuma Avenue, Santa Fe, NM 87501
Work Phone: 505-690-1814
Email address: carol@FengShuiForRealLife.com
Web Site: www.FengShuiForRealLife.com
---
Furniture
Custom Furniture Design
Name: Stacy Pearl
Home Phone: 505-982-3089
Cell Phone:505-913-0230
Email Address:askrula@mouthofwonder.com
Business/Interest Name: Pearl and Guld Ltd.
Mailing Address: 4375 Center Place unit#2
City, State, Zip: Santa Fe, NM 87507
Work Phone: 505-474-7447
Web Page:www.pngltd.com
---
Home Inspections
Taos Home Inspectors
Chaney Becker with Enchanted Circle Home Inspections
111 Amber Ln. Ranchos de Taos, New Mexico 87557
Phone – 575-779-1983
Email: enchantedinspections@gmail.com
Rio Grande Equity Home Inspections LLC
Patrick Austin Trujillo
575.779.4282
https://www.rgehomeinspections.com
Typical costs: $450 for homes above 1200 sq ft (typical) / $350 for condos/smaller homes / additional rates for sq ft over 3500 and guest homes (casitas). This fee does include travel throughout Taos County and Angel Fire. Tax is applicable.
Santa Fe Home Inspectors
Home Pro Santa Fe, LLC.
39 Centaurus Ranch Road Santa Fe, NM 87507
Phone: 505-427-2757
Email: pro@homeprosf.com
WIN Home Inspection Santa Fe
A home inspection from WIN Santa Fe provides a comprehensive analysis of the current condition of a home.
505-466-7243
Email: Jeff
Website:https://santafe.wini.com
PLM Construction Services LLC
Professional Building Inspections for Residential & Commercial Buildings
Peter Meek
684 La Vineza Court
Santa Fe, New Mexico 87501
Telephone: 505.424.4100
Fax: 505.424.1334
Zsako Home Inspections LLC
Zsako Home Inspections is certified by the American Home Inspectors Institute
Istvan Zsako, Owner
Web: zsako.com
Office: 505.474.5699
Fax: 505.242.3455
Email: istvan@zsako.com
Scott Bird, Owner
Web: www.ScottBirdInspections.com
Office: 505.259.9452
Email: ScottBirdnm@gmail.com
Mold Inspection
Klean Force
Gary O'Leary
505.234.6550
---
Home Warranty
American Home Shield
888-682-1043
Select Home Warranty
855-628-7988
Choice Home Warranty
866-218-4119
American Home Warranties
884-577-9549
Old Republic Home Protection
---
Home Services
Stuff Happens
Kendra Henning
505.412.2544
stuffhappensnm@gmail.com
www.StuffHappensnm.com
I highly recommend Kendra's services. She is extremely organized and can make miracles happen in a very short time. She is a downsize & senior moving specialist.
The Lone Arranger, LLC
Michelle Moreland
505.699.7369
I highly recommend Michelle's services. She is an amazing resource for helping my clients through epic transitions in their life, helping pack, sort, sell, property tending, VRBO/AIRB&B concierge services, digital organization, and so much more. I am impressed with her abilities to turn chaos into organized solutions!
---
Housekeeping
Santa Fe:
Crown Cleaning
Mina Carrera
‭(505) 216-2084
Josie Sanchez
Home: 505.466.8484‬
Mobile: 505.690.8980‬
26 Tetilla Road Santa Fe NM 87508
Email: josiesanchez0319@gmail.com
---
Insurance – Home, Auto, Life, Business, Motorcycle, Recreational
Knowledgeable, professional, highly recommended!
Farmers Insurance
Grady C. Utley, Agent/Owner
Address: 228 St Franciss Dr. Bldg. D
Santa Fe, New Mexico 87501-2802
Telephone: 505.983.2302
Fax: 505.983.0635
Email: gutley@farmersagent.com
Web: http://www.farmersagent.com/gutley
---
Interior Design
Jennifer Ashton Interiors
Telephone: 505.913.0104
468 W.Water Street #3
Santa Fe, NM 87501
Web: www.JenniferAshtonInteriors.com
Email: ashtoninteriors@gmail.com
Claudia Lucas Interiors
Telephone: 505.331.0486
Web: http://claudialucasinteriors.com
Email: info@claudialucasinteriors.com
---
Landscape Design Services
Debe Holland
Address:2442 Cerrillos Road #455
City: Santa Fe, NM 87505
Phone:505.930.3393
Email: debe@debeholland.com
Web page:www.debeholland.com www.dhebestudio.com
---
Leaks
Sonic Leak Detection
If you have a leak, you must call these guys & save $$$…They can find your leak before you spend $$$!!!
http://www.sonicleakdetection.com
Toll-free:
866.982.8414
Santa Fe:
505.982.8414
Albuquerque:
505.349.3811
Taos:
575.613.4028
Las Cruces:
575.635.4250
---
Medical, Health & Well Being
Humana Medicare Insurance
Bobby Joe White, Humana Sales Agent
Mobile: (505) 301-4848
Sales: 1 (877) 256-1640 Extension 113481
A terrific, helpful Humana representative. Highly recommended!
Health & Wellness
Specializing in helping anyone who struggles with life's challenges can get help with stress, anxiety, isolation, depression, phobia's and much more.
The Journey Within
Valarie McKenzie, E.P.
Call: (702) 378-8367
Web:https://thejourneywithin.biz/
---
Mortgage Lenders
Taos:
Taos Mountain Mortgage
Donna Nelson
Home Finance Specialist
NMLS# 2003295
Tel: 575-770-3347
Email: donna@taosmountainmortgage.com
Sarah Lopez
Loan Origination Specialist
NMLS# 1639803
Tel: 575-779-1271
Email: sarah@taosmountainmortgage.com
Taos Mountain Mortgage Location
218 Beimer St.
Taos, NM 87571
Dimond Mortgage
705A Paseo del Pueblo Sur
Taos, NM 87571
info@dimondmortgage.com
(575) 758-5566
Hillcrest Bank
Phone: (575) 758-4211
219 Paseo Del Pueblo Norte
Taos, NM 87571
Centinel Bank
Taos-Main Office
512 Paseo del Pueblo Sur
Taos, NM 87571
Phone: (575) 758-6700
Fax: (575) 758-6712
Hours: Monday-Friday 9:00 am – 5:00 pm
Nusenda Credit Union
Phone: (575) 776-2703
630 Paseo del Pueblo Sur
Taos, NM 87571
_________________________________________________________
Santa Fe: (some can finance in many states too!)
Waterstone Mortgage
Cissy Moore
Senior Loan Officer | NMLS# 539901
Cell: 505.466.8129
Office: (505) 780-4918
119 East Marcy Street, Suite 101 & 106
Santa Fe, NM 87501
Email: CMoore@WaterstoneMortgage.com
Website: https://newmexico.waterstonemortgage.com/CissyMoore.html
Santa Fe Mortgage
459 Cerrillos Road
Santa Fe, New Mexico 87501
Cell: 505.501.6100
Main: 505.988.2501
Wells Fargo Home Mortgage
Melissa Naylor
Mortgage Consultant
NMLSR ID 424842
Serving all 50 States
105 Paseo Del Canon W Taos, NM 87571
MAC M6308-011
Tel (575) 751-4208 | Toll-free 866-811-8492 | Fax 866-888-3718
Email: melissa.naylor@wellsfargo.com
website: https://www.wfhm.com/wfhm/melissa-naylor/
Bank of Albuquerque
Sandra Claymore, Sr. Mortgage Banker
Santa Fe Branch
706A St Michael's Drive
Santa Fe, New Mexico 87505
Telephone: 505.989.5353
Fax: 505.855.7353
Email: sclaymore@bokf.com
First National Bank of Santa Fe
Marita DeVargas
62 Lincoln Ave (on the Plaza)
Santa Fe, NM 87501
Telephone: 505.992.2343
Email: mdevargas@1stnationalBanknm.com
Web: www.maritad.com
Gateway Mortgage Group
Scott Robinson, Branch Manager
502 W. Cordova Road
Santa Fe, New Mexico 87505
Telephone: 505.428.0331
Fax: 505.428.0337
Email: scott.robinson@gatewayloan.com
---
Painting
Freshcoat Painting & Wallpapering Company
Karen L. Capozzi, Owner
101 A Williams Street
Santa Fe, NM 87506
Cell:505.471.9655
Email: freshcoat@earthlink.net
---
Personal Assistant
Virtual Personal Assistant
Erika Yocom
Email: erika@vp-assistant.com
Web: http://vp-assistant.com
Telephone: 505.515.4616
---
Pest Control
Pest Control-Organic
Real Pest Solutions LLC
Web site : http://www.realpestsolutions.com
Name: Deana Frye
Address: PO BOX 640, Bernalillo NM 87004
Telephone: 505-771-0493
Cell: 505-710-1067
Email: realpestsolutions@hotmail.com
---
Pet Training
coming soon…
---
Pet Tags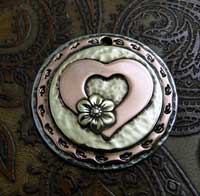 IslandTop Design Custom Tags & Pendants
Web: www.paulanc.com
Email: paulanc@bellsouth.net
Call: 828.429.5322
Great custom Pet Tags!!!! This one is custom designed for Aeowyn.
---
Plumbing
Kevin Thomas, Owner
Cell: 505.507.3519
TLC
TLC is a locally owned and operated Plumbing, HVAC and Construction Company. TLC is fully licensed, bonded and insured to perform a wide range of residential, commercial and construction services.
Call Dave Mazur
505.471.0119
Email:dmazur@tlcplumbing.com
Santa Fe Express Plumbing
505.234.7812
https://www.santafeexpressplumbing.net/residential/hvac/evaporative-coolers
---
Plumbing & Electrical
Territorial Plumbing, Heating & Electrical LLC
William (Bill) Elrite
505.438.9636
territorial.plumbing@yahoo.com
---
Real Estate Energy Cleansing
Are you having trouble selling your house or land? Jane Philips is a ghost buster who can balance the energy & open the flow.
Geyser Holistic Living
Business Name: Geyser Energy Clearing Services
Contact Name: Jane Phillips
Address: 2037 Placita de Quedo, Santa Fe, NM 87505
Phone: 505-471-4826 (Office) 505-204-2059 (Mobile Office)
Email: jane@geyserllc.com
Web: www.ghostbusting.org
Brief Description: Geyser offers ghostbusting and energy-clearing services to create safe, energetically-healthy environments. Geyser specializes in working with Realtors to help get their listings SOLD.
---
Restoration Services
ServPro of Santa Fe
8 Forest Lane, #2
Santa Fe, New Mexico 87508
Telephone: 505.780.8368
Fax: 505.780.8040
Web: servpro.com
Email: santafeservpro.com
---
Title Companies
Taos:
First New Mexico Title & Abstract Company, Inc.
Title company
602 Paseo Del Pueblo Sur Taos NM 87571
(575) 758-4264
Tierras Title, LLC
515 Gusdorf Rd #6 Taos NM 87571
(575) 758-4046
Santa Fe Title Companies
Artisan Title
John Salinas and Paige Bradley are the co-owners of Artisan Title.
My very favorite Title company!
Paige Bradley, Owner
1520 Paseo de Peralta,
Santa Fe, New Mexico 87505
Office: 505.930.5844
ArtisanTitle.com
Paige Bradley: 505.780.8225
Email: Paigeb@artisantitleco.com
First American Title Insurance Company
Robyn Tyra, Senior Escrow Officer
220 Otero Road
Santa Fe, New Mexico 87501
Telephone: 505.986.5314
Fax: 866.520.5186
Email: rtyra@firstam.com
SouthWestern Title & Escrow Inc.
Carla Pogemiller, Senior Closing Officer
236 Montezuma Ave
Santa Fe, New Mexico 87501
Telephone: 505.946.2970
Fax: 505.820.1882
Email: CarlaP@sftitles.com
Stewart Title
Marc Martin, Escrow Officer
433 Passeo de Peralta
Santa Fe, New Mexico 87501
Telephone: 505.982.5582
Fax: 505.988.5913
Email: marc.martin@stewart.com
---
Window Cleaning
coming soon…
---
Save